Multi-Process Human Resources Outsourcing (MPHRO) – Annual Report 2018
---
by

Rajesh Ranjan, Anil Vijayan, Priyanka Mitra, Krishna Charan
The global Multi-Process Human Resource Outsourcing (MPHRO) has been able to consistently maintain an upward growth trajectory, witnessing a CAGR of 6-7% between 2014-2016. The growth has been particularly strong in the emerging markets of Asia Pacific and Middle East & Africa, and is expected to continue the momentum in 2018 and beyond. The growth continues at a time when the market is undergoing a significant transformation spearheaded by next-generation technologies such as advanced analytics, service delivery automation, cloud, and mobility. Enterprises are increasingly looking for strategic partners with the technological capability and domain expertise required to transition to the next-generation HR model, which in turn is opening up the MPHRO market.
In this research, we analyze the MPHRO market across various dimensions:
Key emerging themes and technology trends
Market overview and key dynamics
Buyer adoption and solution trends
Service provider landscape
SCOPE OF ANALYSIS
MPHRO deals in which a minimum of three HR processes are included
Deals where buyer employee size is 3,000 or more
All geographies and industries
The following service providers have been analysed as a part of this report: Accenture, ADP, Alight Solutions, Ascender, Capgemini, Capita, CGI, Conduent, DXC Technology, Hexaware, IBM, Infosys, Intelenet, MHR, Neeyamo, NGA Human Resources, OneSource Virtual, TCS, Toutatis, Wipro, WNS, and Zalaris.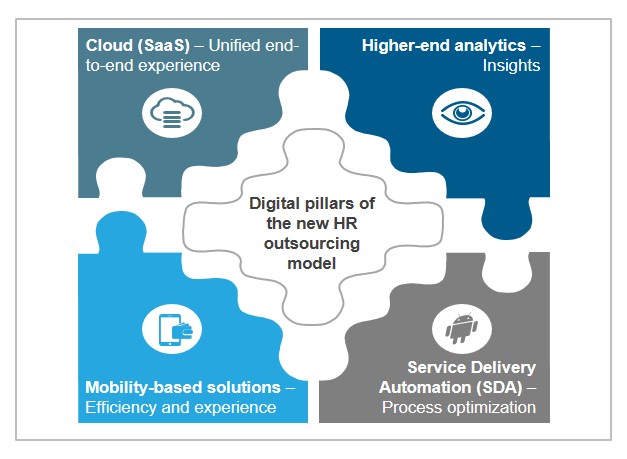 CONTENT
This research provides comprehensive coverage of the 2016-2017 HRO market and analyzes it across various dimensions such as market overview, evolving market situation, and buyer adoption trends. Some of the key findings are:
Globally, the traditional paradigm of HR services is giving way to the next-generation paradigm, as the significance of HR as a strategic business process is increasing. Several trends are emerging with respect to the way talent is acquired and managed, which are opening new opportunities as well as posing challenges to MPHRO players
In 2016, there was growth in the number of new MPHRO deals signed. These deals consisted of larger scope and wider process coverage compared to previous deals, highlighting the growing confidence in the MPHRO construct
Manufacturing, financial services, and services industries have been witnessing higher traction in terms of adoption, while retail, healthcare, and public-sector industries saw relatively lower activity. In terms of process scope, traditional transactional processes such as payroll, contact center, EDM, HRIS, and benefits were more frequently included in new MPHRO deals signed in 2016
The top five MPHRO providers continued to dominate the market, both in terms of revenue and number of active deals. They accounted for over 50% of all active deals and over 60% of all active ACV in the MPHRO market
Membership(s)
---
Page Count: 57