Our Pinnacle Model™ research identifies and details what the best—Pinnacle Enterprises™—are doing to achieve outstanding outcomes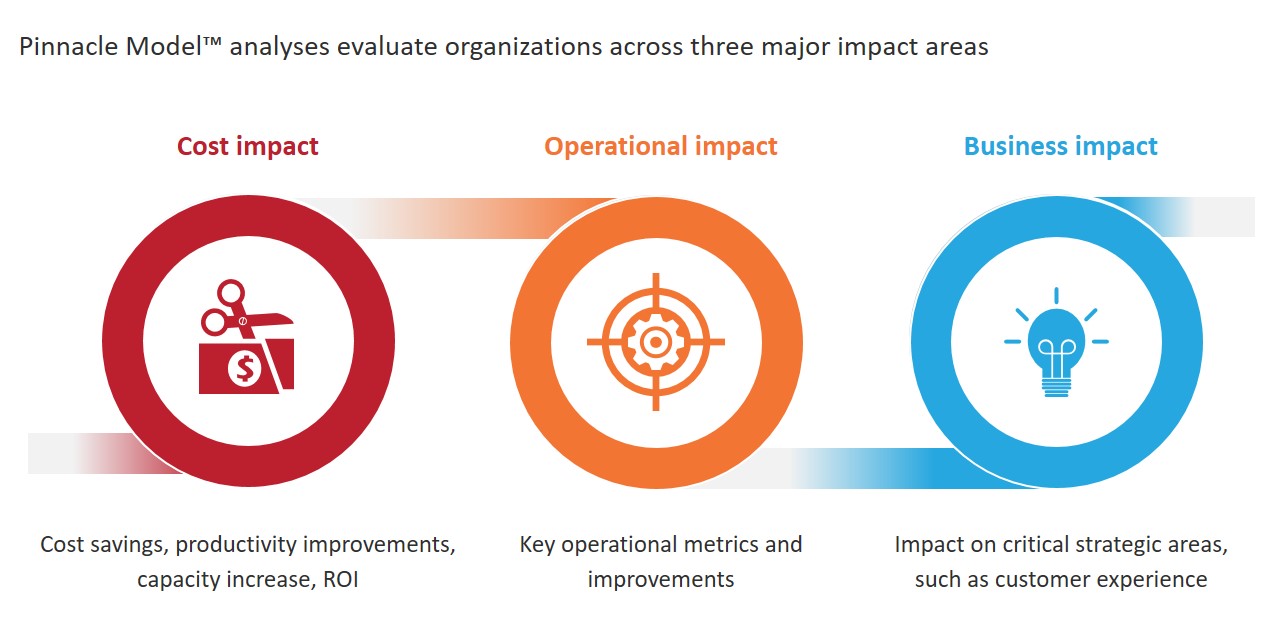 Recently completed Pinnacle Model™ analyses:
Enterprise Robotic Process Automation (RPA) Adoption
Can a robot replace a human? In some cases, absolutely yes. And many pundits suggest we are just beginning. But where does the hype diverge from reality? And what kinds of business impacts are realistic?
The rise of next-generation technologies, such as mobility, analytics, cloud, automation, and other enabling technologies, offers GICs a unique opportunity to drive their enterprises' digital agendas. Pinnacle performance doesn't just happen, it is built by design. So what do these designs and journey's look like?
Digital Transformation Readiness
Your IT organization must be ready to reinvent the enterprise through digital technology that dramatically alters their customers' experience and their business processes. To do so requires first a reinvention of the IT organization itself.
To participate in upcoming Pinnacle Model analyses, please click on a topic below. As a participant, we will provide you with a 30-minute debrief of your position versus other organizations when the analysis is complete.
Accelerating Customer Experience Through an Optimized Outsourced Contact Center Delivery Model
Digitally-driven CX strategies seek more impactful engagement with customers via their contact centers. Smart utilization of a contact center outsourcing (CCO) model can accelerate the path to achieving industry-leading customer experiences. How do leading CX enterprises approach their CCO engagements to achieve these outcomes?
Building GIC Talent of the Future
Talent is becoming a critical component and differentiator for GICs as enterprises embark upon their digital journeys. How are GICs stepping up to address the need to transform and create future-proof talent management models? This analysis will look at how GICs can identify, develop, and retain skills critical for future service delivery, including best practices for building agile delivery teams and enabling talent management processes, how to create the right employee experience for the future, and how the GIC can maximize the ROI on talent investments.
Security
As enterprises rotate more of their business to digital models, leverage data more aggressively than before, and create more intimate engagements with customers, the security threat has moved from an IT issue to a board-level imperative to protect the firm.
Services Automation Impacts It All
Automation has been a mainstay of process improvement for years. Today, the potential impact is arguably 10 times greater than ever before given the sheer number of processes and insights that can be digitally connected to drive more accuracy, speed, and intelligence…all with less human intervention. This analysis will uncover the impacts enterprises are actually seeing, explore where automations can/do play a role in the portfolio, and understand what working in people, process, and technology.