Our Pinnacle Model™ research identifies and details what the best—Pinnacle Enterprises™—are doing to achieve outstanding outcomes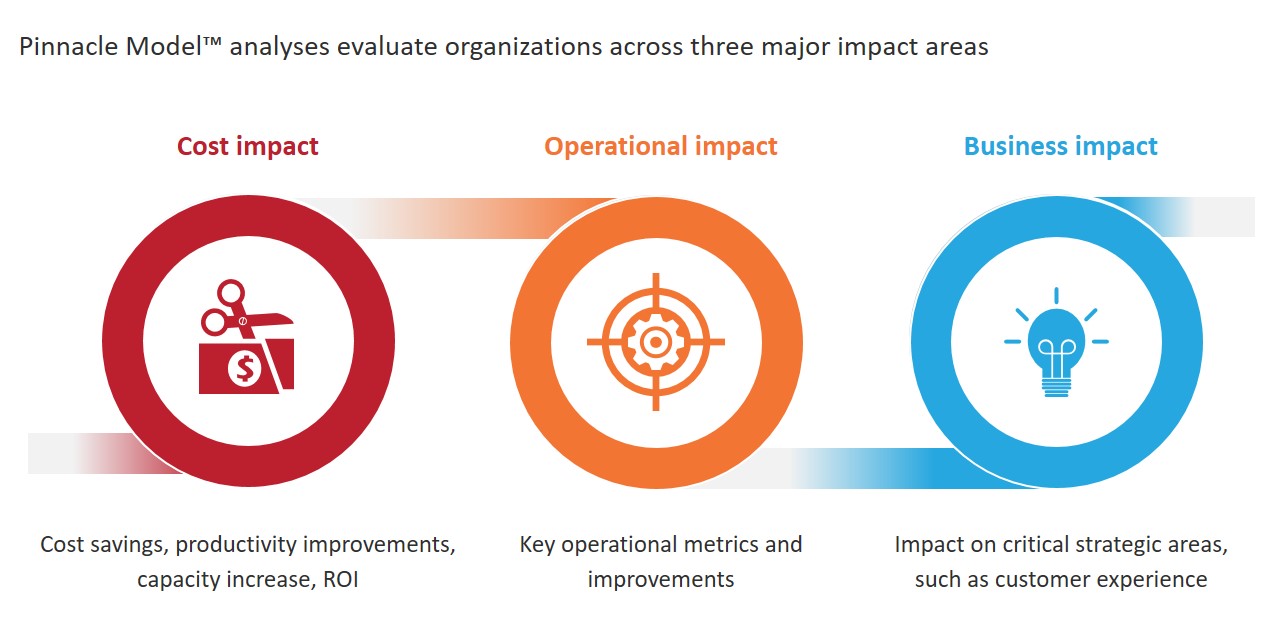 Recently completed Pinnacle Model™ analyses:
Data & Analytics Maturity in Shared Services/GICs
As technology adoption increases exponentially, organizations are confronted with the challenge of dealing with the proliferation of data that this technology generates. Increasingly, shared services centers or Global In-house Centers (GIC) are leading the efforts to tame data and derive insights from it. This research is aimed at identifying and understanding what Pinnacle, best-in-class, delivery centers are doing differently as they manage and use vast amounts of data – how have they built data & analytics capabilities and what business outcomes they have delivered to their organizations?
Building GIC Talent of the Future
Talent is becoming a critical component and differentiator for GICs as enterprises embark upon their digital journeys. How are GICs stepping up to address the need to transform and create future-proof talent management models? This analysis will look at how GICs can identify, develop, and retain skills critical for future service delivery, including best practices for building agile delivery teams and enabling talent management processes, how to create the right employee experience for the future, and how the GIC can maximize the ROI on talent investments.
Accelerating Customer Experience Through an Optimized Outsourced Contact Center Delivery Model
While most enterprises are leveraging Contact Center Outsourcing (CCO) providers to achieve their Customer Experience (CX) vison, only some enterprises have been able to build exceptional CX capabilities and derive strategic business outcomes, having partnered with their CCO service providers. Everest Group recognizes such Pinnacle Enterprises™ by assessing organizations' CX outsourcing strategy on Everest Group's proprietary Pinnacle Model™
Enterprise Robotic Process Automation (RPA) Adoption
Can a robot replace a human? In some cases, absolutely yes. And many pundits suggest we are just beginning. But where does the hype diverge from reality? And what kinds of business impacts are realistic?
The rise of next-generation technologies, such as mobility, analytics, cloud, automation, and other enabling technologies, offers GICs a unique opportunity to drive their enterprises' digital agendas. Pinnacle performance doesn't just happen, it is built by design. So what do these designs and journey's look like?
Digital Transformation Readiness
Your IT organization must be ready to reinvent the enterprise through digital technology that dramatically alters their customers' experience and their business processes. To do so requires first a reinvention of the IT organization itself.
To participate in upcoming Pinnacle Model analyses, please click on a topic below. As a participant, we will provide you with a 30-minute debrief of your position versus other organizations when the analysis is complete.
Innovation in GICs
GICs are evolving and becoming more integral to enterprise strategy. With a strong understanding of their business' needs and a deep foundation in service delivery, GICs are uniquely positioned to drive innovation, a key competitive differentiator for global enterprises. This Pinnacle Model assessment will address how a GIC becomes innovative, answering the following questions:
How are GICs leading/supporting the enterprise innovation agenda to create impact?
What are successful GICs doing differently to build effective innovation teams?
What key capabilities (talent, process, funding mechanisms) do GICs need to drive innovation
How does the relationship between the GIC and parent stakeholders need to evolve to enable GICs to drive innovation, and how is this approach different from typical GICs?
Contingent Workforce Management
The contingent workforce is reinventing itself with the emergence of new types of talent, different talent engagement models, and the use of next-generation digital solutions. In the face of tremendous change, what practices and technologies are yielding the best outcomes for overall contingent workforce management? In particular,
What spend, talent, and supplier management practices should you adopt, and what capability changes do you need to make to succeed?
Which innovative practices are yielding the best results?
How are Pinnacle Enterprises leveraging technology to achieve optimal outcomes through their contingent workforce programs?
Enterprise Intelligent Automation
Automation-led business transformation has been at the top of most organizations' agendas recently, and for good reason – an effective strategy to leverage intelligent automation (robotic process automation and artificial intelligence) can build sustainable competitive advantage. How do you maximize ROI and business value from your intelligent automation investments?
Sourcing Innovation
The accelerating pace of change in business today makes innovation a vital competency in all functions, including procurement and sourcing. Everest Group, SIG, and SIGInnova are joining forces to explore sourcing innovation – which innovative practices and technologies are yielding the best outcomes for the procurement function and more specifically in areas such as spend management, sourcing strategy development, and supplier selection and management, among others. Join the research and see how you compare.