Traditionally considered to be a cost-function by life sciences enterprises, the pharmacovigilance and device-vigilance / complaint management market is finally getting its long-due attention from all industry sections – including regulatory agencies, drug safety teams, and media. This attention stresses on the need to effectively monitor drugs/devices and prioritize patient safety. The enterprise community is pursuing strategic technology investments and realigning its focus on value-added drug safety activities while outsourcing case processing to third-party service providers.
Service providers – CROs, IT/BPOs, and product safety specialists – are helping enterprises address these challenges by providing well-established drug/device vigilance processes/services, offering staff augmentation capabilities with access to highly trained resources, and supporting the regional QPPV activities. Notably, the service provider community is investing in technology IP across pharmacovigilance / complaint management activities to improve efficiency, reduce costs, manage volumes, and remain compliant. The pharmacovigilance and complaint management market has reached an inflection point, and these process- and technology-driven investments will start paying off in the coming years, as both the parties try to achieve more with less.
In this research, we present an assessment and detailed profiles of 22 service providers featured on the Pharmacovigilance and Complaint Management Operations – Services PEAK Matrix ®.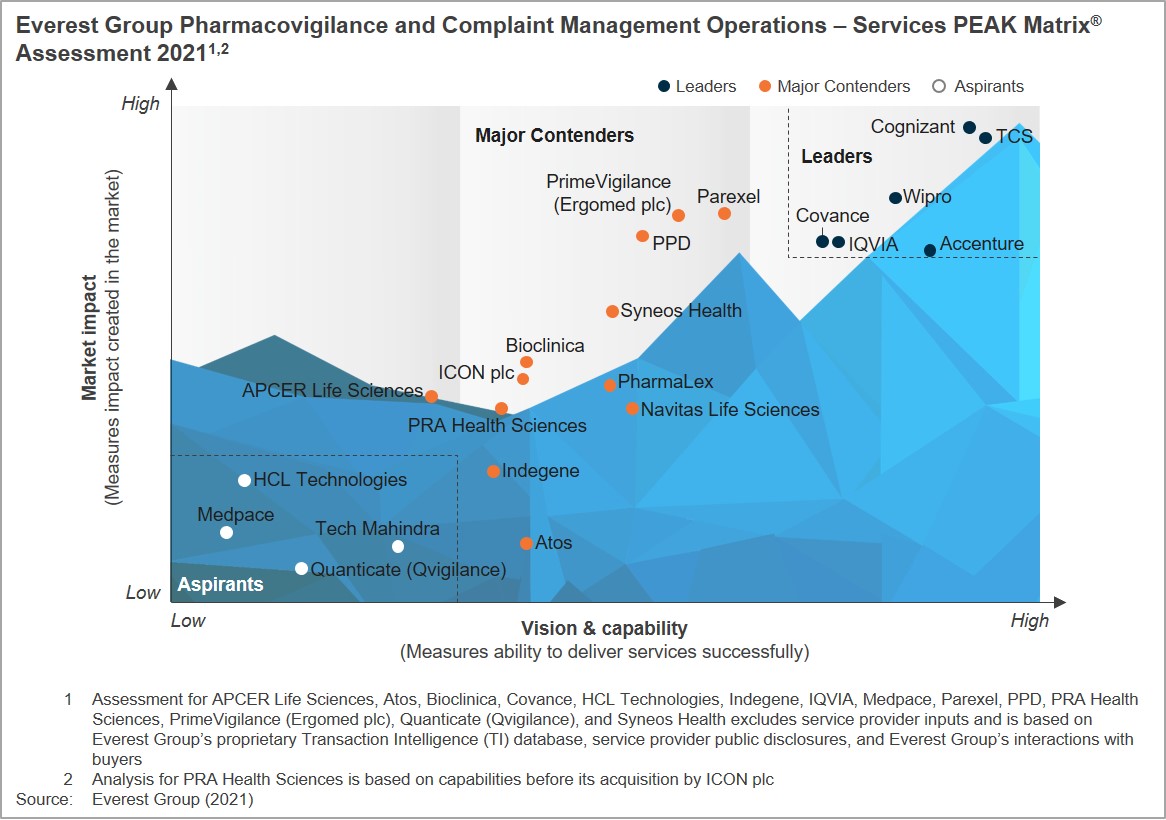 Scope
Function: pharmacovigilance and complaint management business process services
Industry: life sciences BPS
Geography: global
Companies evaluated: Accenture, Cognizant, Covance, IQVIA, TCS, Wipro, APCER Life Sciences, Atos, Bioclinica, ICON plc, Indegene, Navitas Life Sciences, Parexel, PharmaLex, PPD, PRA Health Sciences, PrimeVigilance (Ergomed plc), Syneos Health, HCL, Medpace, Quanticate (Qvigilance), Tech Mahindra
Contents
This report provides detailed profiles and assessments of 22 operations service providers featured on Everest Group's Pharmacovigilance and Complaint Management Operations – Services PEAK Matrix®. Each service provider profile provides a comprehensive picture of its service focus, key IP/solutions, domain investments, and case studies.
Membership
Life Sciences Business Process Services (BPS)