Digital Adoption Platforms (DAPs) play a pivotal role in enabling digital transformation for organizations globally. The year 2020 was eventful for the DAP market as enterprises faced unprecedented pressure to undergo rapid changes in the digital technology leveraged to tackle the pandemic and maintain business continuity. They realized the need to focus on customer and user experience and used DAPs to achieve business goals such as boosting employee efficiency, reducing support tickets and costs, improving customer satisfaction scores, increasing trial conversion, and minimizing customer churn.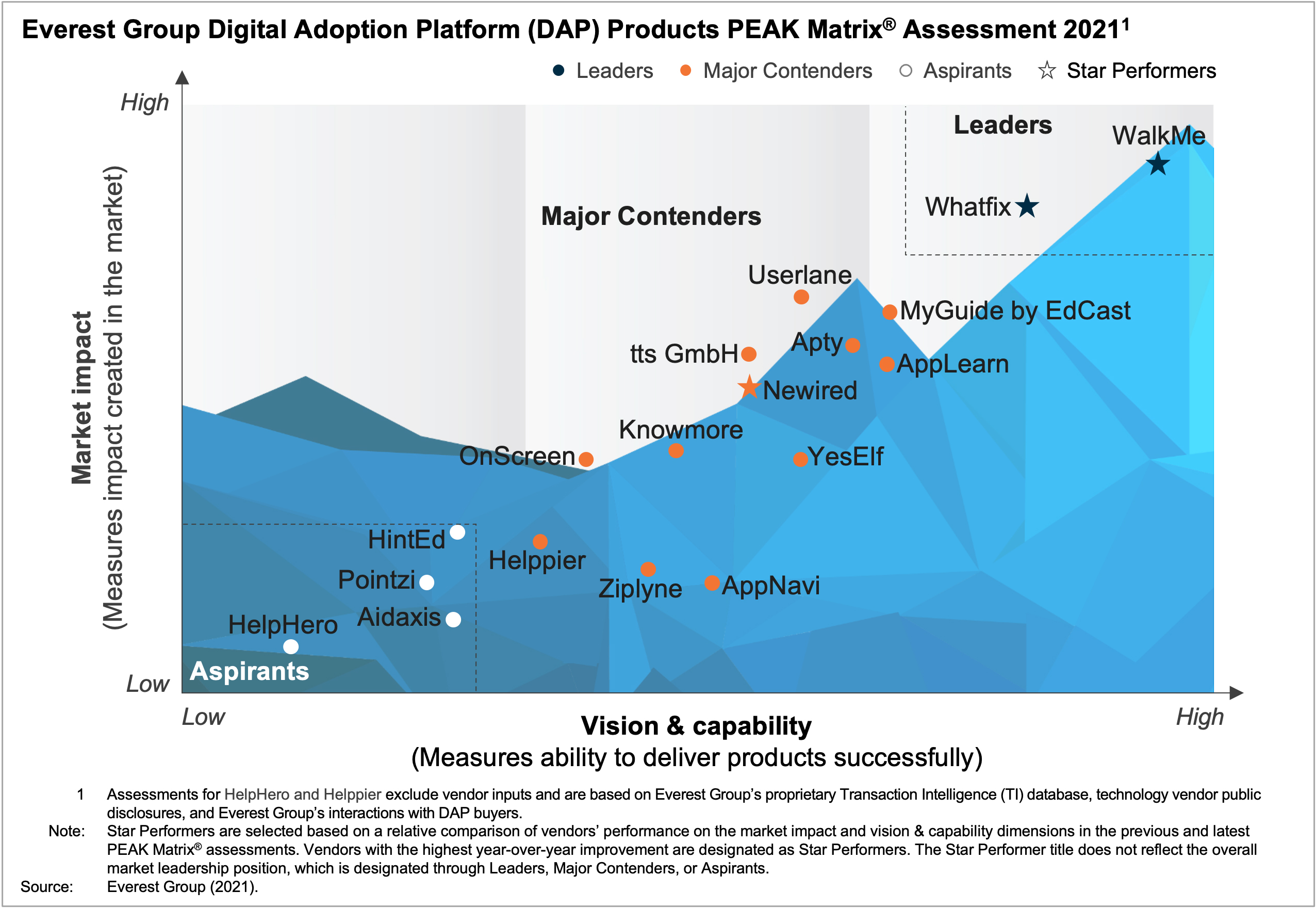 On the supply side, DAP vendors have been investing heavily in enhancing their product capabilities and global reach to better serve their clients. The technologies used in DAPs are evolving, with offerings such as user behavior analytics without deploying walkthroughs, integrated chatbots, content management and aggregation systems, and enhanced content editing options.
In this report, we evaluate 18 DAP technology vendors in terms of their DAP products, vision & capability, and market impact and position them on Everest Group's PEAK Matrix® as Leaders, Major Contenders, and Aspirants. The research will help buyers select the right-fit technology vendor for their needs, while technology vendors will be able to benchmark themselves against each other.
Scope
All industries and geographies
Contents
This PEAK Matrix® report covers the following topics:
Everest Group's PEAK Matrix

®

evaluation of DAP technology vendors and their categorization into Leaders, Major Contenders, and Aspirants
Competitive landscape of the DAP technology vendor market
Key enterprise sourcing considerations (strengths and limitations) for each of the 18 technology vendors evaluated
Membership(s)
Service Optimization Technologies (SOT)