Conversational AI is an ecosystem of advanced technologies and solutions that work in an integrated fashion by interacting with each other and sharing information across systems. Businesses globally are realizing the importance of conversational AI solutions to serve customers across different channels and meet enterprise expectations, especially during peak demand and to support internal processes such as HR support, IT helpdesk, sales, F&A, and marketing.
Here lies a huge market opportunity for conversational AI vendors to cater to this surging market demand, while continuously improving capabilities to make their products more powerful, comprehensive, and amenable for wide-scale adoption. As the impact of conversational AI platforms keeps increasing, it becomes crucial to select solutions that can meet present objectives while possessing the capability to accommodate any future demands.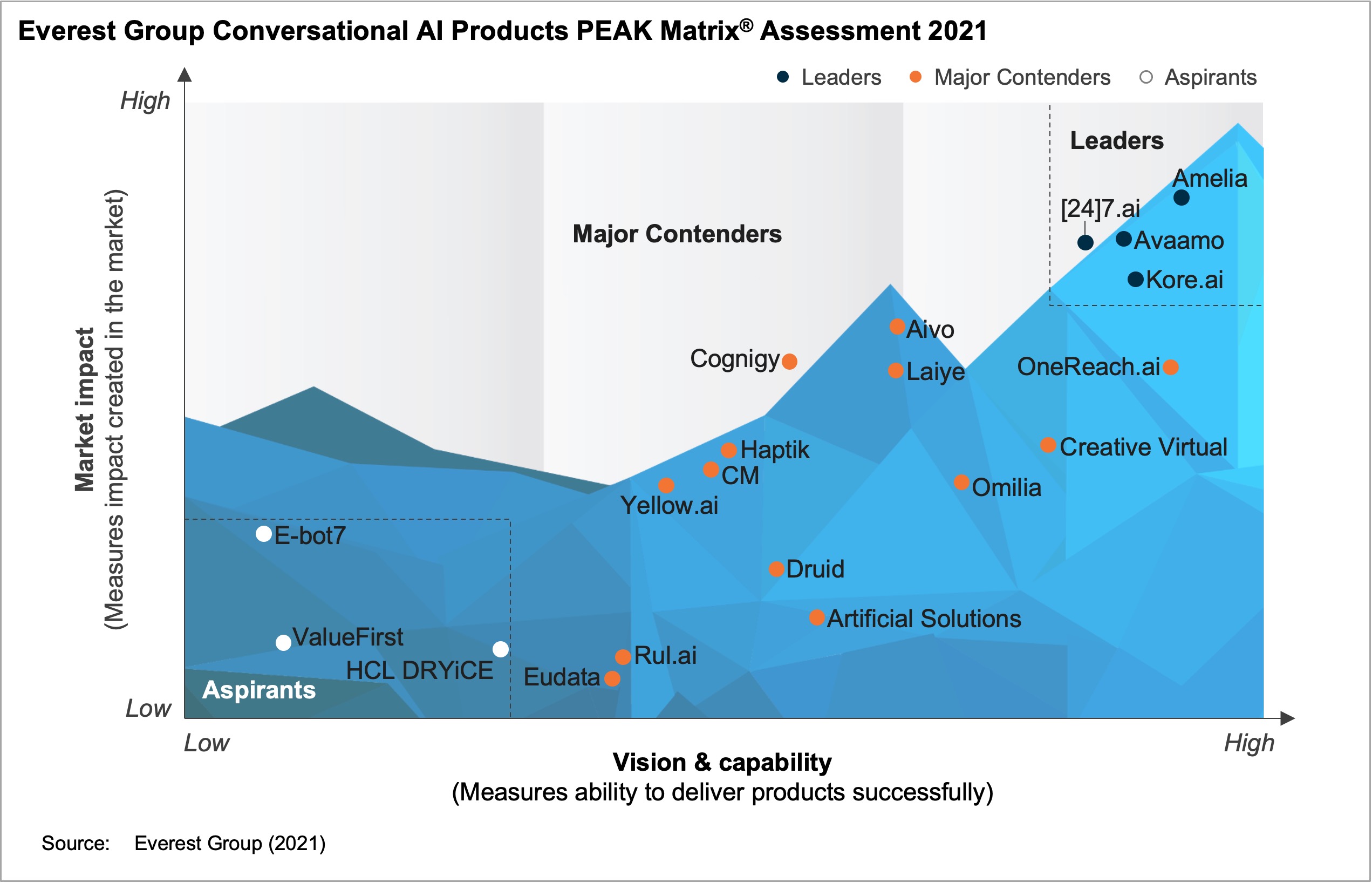 In this research, we assess 20 conversational AI technology vendors featured on the Conversational AI PEAK Matrix® and categorize them into Leaders, Major Contenders, and Aspirants based on their capabilities and market offerings.
Scope
All industries and geographies
This assessment is based on Everest Group's annual RFI process for the calendar year 2020, interactions with leading conversational AI technology vendors, client reference checks, and an ongoing analysis of the conversational AI market
Contents
The report assesses the conversational AI technology vendor landscape across various dimensions:
Everest Group's PEAK Matrix

®

evaluation, a comparative assessment of 20 leading conversational AI technology vendors
Competitive landscape in the conversational AI technology vendor market
Remarks on key strengths and limitations for each conversational AI technology vendor
Membership(s)
Customer Experience Management (CXM) Services, including Contact Center Outsourcing
Service Optimization Technologies (SOT)