Following the COVID-19 pandemic, Customer Experience Management (CXM) outsourcing has increased, as enterprises look to cut costs, balance risks, and maintain CX levels. They have turned to service providers to digitalize their operations, shift to non-voice channels, and migrate to cloud services, while complying with regulatory and security norms and ensuring agent well-being. Service providers have shown resiliency by setting up Work-At-Home-Agent (WAHA) models, designing hybrid offices and operating frameworks, and establishing instant scaling and flexing options, as well as invested in digital offerings such as Intelligent Virtual Assistants (IVAs), intelligent automation, cloud-based contact centers, and omnichannel delivery to ensure business continuity for clients.
Providers are also forging more strategic partnerships through consultative engagements, risk-sharing through outcome-based pricing models, and agent engagement through advanced learning and collaboration platforms.
In this research, we present detailed assessments of 39 CXM service providers featured on the CXM Services PEAK Matrix® Assessment 2021. Each assessment provides a comprehensive picture of the service provider's market success, vision and strategy, service focus and capabilities, digital and technological solutions, domain investments, and buyer feedback.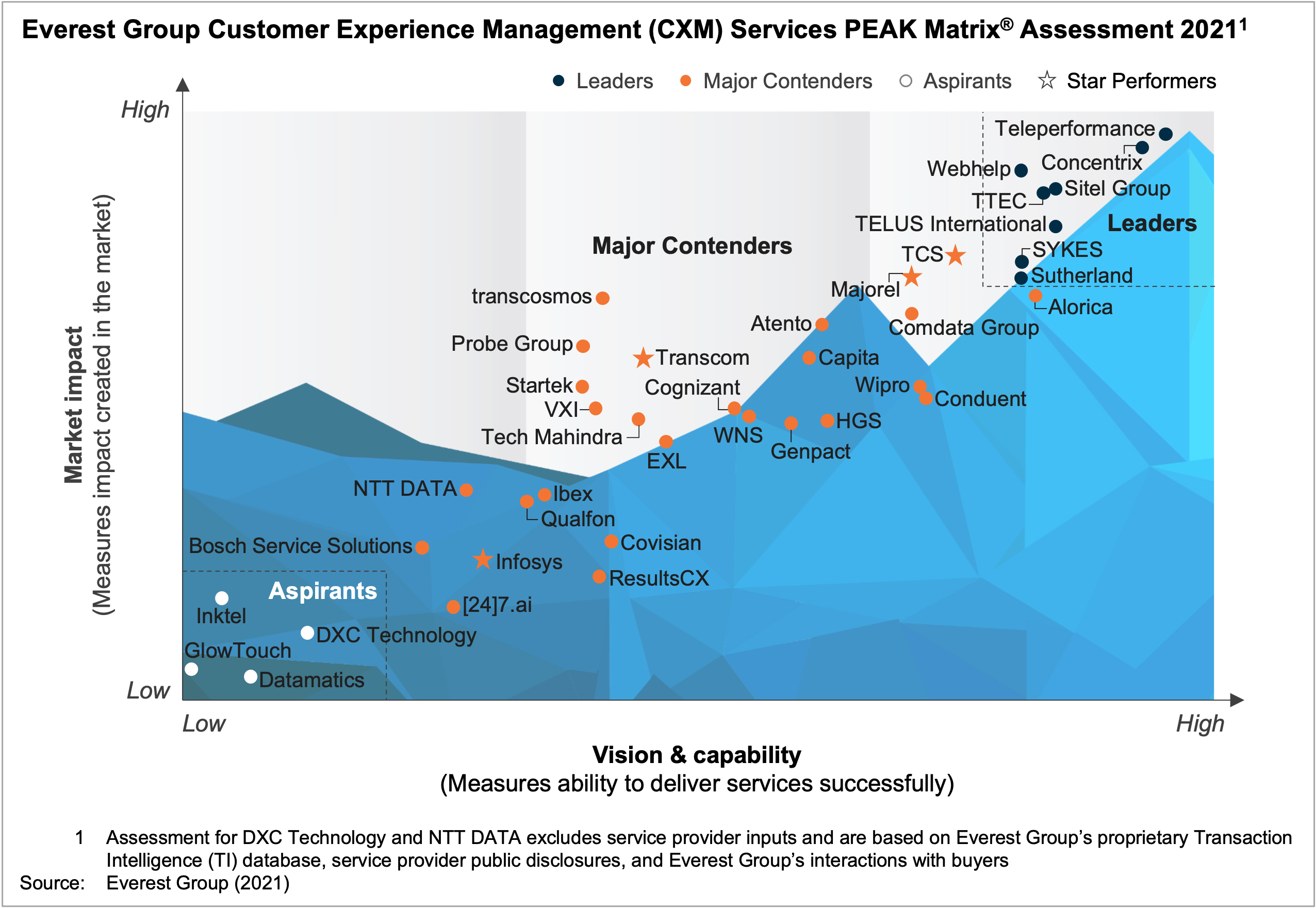 Scope:
All industries and geographies
The assessment is based on Everest Group's annual RFI process for the calendar year 2020, interactions with leading CXM service providers, client reference checks, and an ongoing analysis of the CXM market
Contents:
This report examines:
The CXM Services PEAK Matrix

®

Assessment 2021
Key insights into PEAK Matrix

®

dimensions
Strengths and limitations of individual service providers
Sourcing considerations for buyers
Membership(s)
Customer Experience Management (CXM) Services, including Contact Center Outsourcing