Early adopters of Salesforce services were looking to effectively manage customer relationships, market targeted products, explore sales performance, and drive cost efficiency. As the Salesforce technology landscape broadened, enterprises' approaches to Salesforce have evolved from a reactive relationship management to a proactive approach to Customer Experience (CX).
Enterprises seek to create a 360-degree customer view leveraging a suite of Salesforce products to better engage and offer personalized experience. With changing enterprise expectations and the evolving Salesforce tech landscape, service providers are building strong industry-specific solutions to expedite time-to-market for clients and are continually evaluating their capabilities and are looking to acquire firms to fill gaps across their Salesforce services portfolio.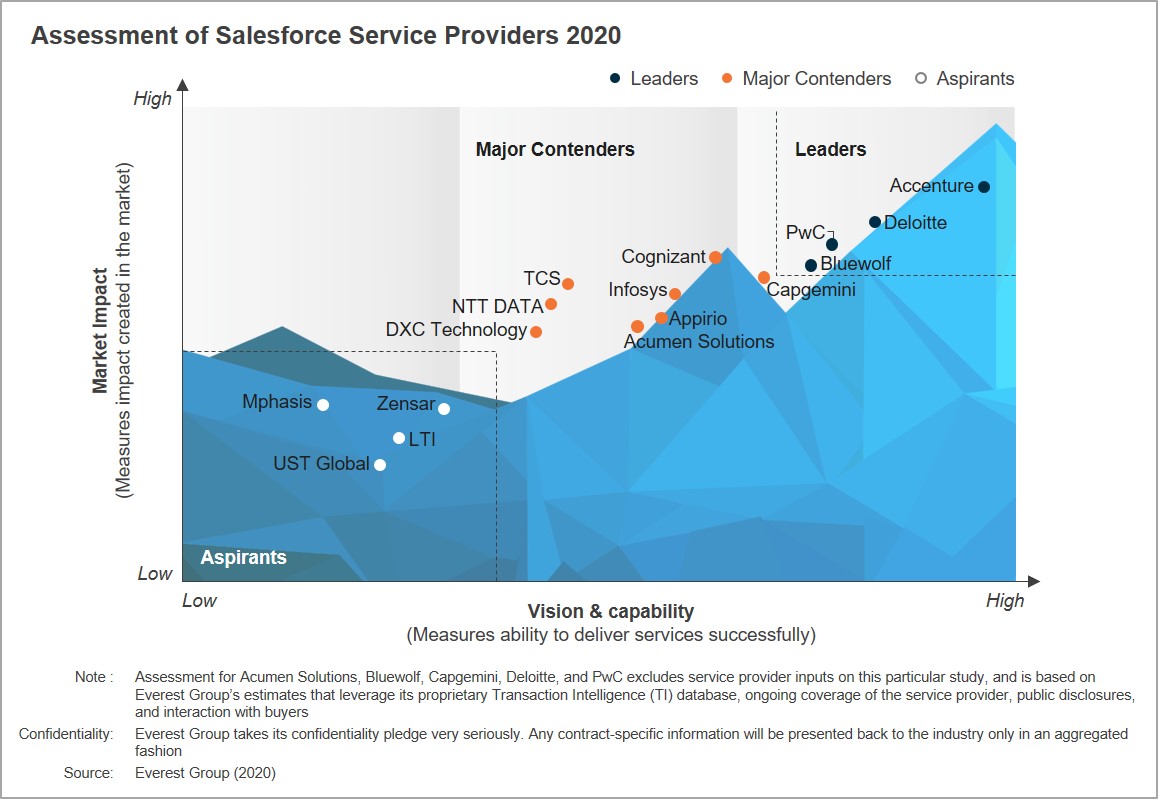 In this research, we present detailed assessments of 16 IT service providers featured on the Salesforce Services PEAK Matrix®. Each profile provides a comprehensive picture of the service provider's service focus, key Intellectual Property (IP) / solutions, and domain investments. The assessment is based on Everest Group's annual RFI process for calendar year 2019, interactions with leading Salesforce service providers, client reference checks, and an ongoing analysis of the Salesforce services market.
Scope
This research covers the following IT service providers / system integrators associated with Salesforce services: Accenture, Acumen Solutions, Appirio, Bluewolf, Capgemini, Cognizant, Deloitte, DXC Technology, Infosys, LTI, Mphasis, NTT DATA, PwC, TCS, UST Global, and Zensar.
Contents
This report features detailed assessments of 16 Salesforce service providers, along with their strengths and areas of improvement.
Membership(s)