The rise of the sharing economy, rapidly evolving customer demands, the changing nature of risks, and significant COVID-19-caused shifts in the business environment have prompted carriers to institute new business models by enabling products, services, pricing, and channel innovation.
To support insurers in their business model innovation journeys, IT service providers are adopting a business-first lens to operating model transformation, demonstrating rapid prototyping capabilities, showcasing high levels of strategic thinking and innovation credentials, and showing willingness to engage via flexible commercial constructs to fund transformation programs.
In this report, Everest Group studied the vision, capability, and market impact of 16 leading IT service providers with respect to their business model innovation enablement services portfolio in the insurance sector. The service providers were positioned on Everest Group's proprietary PEAK Matrix® and categorized into Leaders, Major Contenders, and Aspirants.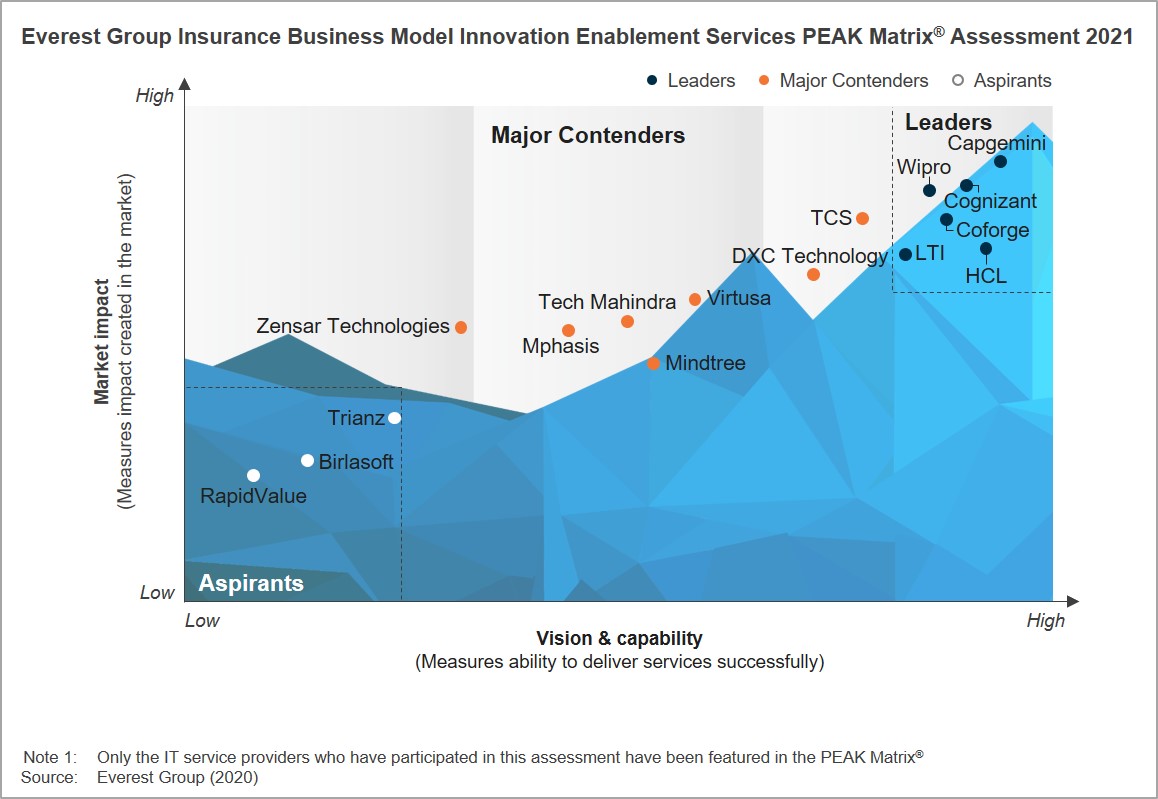 Scope
This research covers the following IT service providers associated with insurance business model innovation enablement services: Birlasoft, Capgemini, Coforge, Cognizant, DXC Technology, HCL Technologies, LTI, Mindtree, Mphasis, RapidValue, TCS, Tech Mahindra, Trianz, Virtusa, Wipro, and Zensar Technologies.
Contents
In this report, we focus on:
Assessment of service providers on several capability-related dimensions related to insurance business model innovation enablement services
Key market trends and their implications for key stakeholders
Everest Group PEAK Matrix for insurance business model innovation enablement services
Characteristics of Leaders, Major Contenders, and Aspirants
Profiles of service providers
Membership