With an annual spend of about US$100 billion every year, Revenue Cycle Management (RCM) is a key focus area for service providers. While providers were already operating on thin margins, COVID-19 has further hit their cash flows and forced them to work under negative operating margins. With many physician groups shutting shop or getting acquired, and even the larger providers struggling to stay afloat, it is vital for providers to have an effective and efficient RCM strategy to save costs and prevent revenue leakages. RCM outsourcing and subsequent vendor selection has hence become an important decision for healthcare providers.
In this research, we present detailed analysis and assessments of 26 operations service providers featured on the RCM Operations – Services PEAK Matrix®. We provide a relative positioning, analysis of the service provider market, and our evaluation of the providers' strengths and areas of improvement. The assessment is based on Everest Group's annual RFI process for the calendar year 2019, interactions with leading RCM service providers, client reference checks, and an ongoing analysis of the RCM operations market.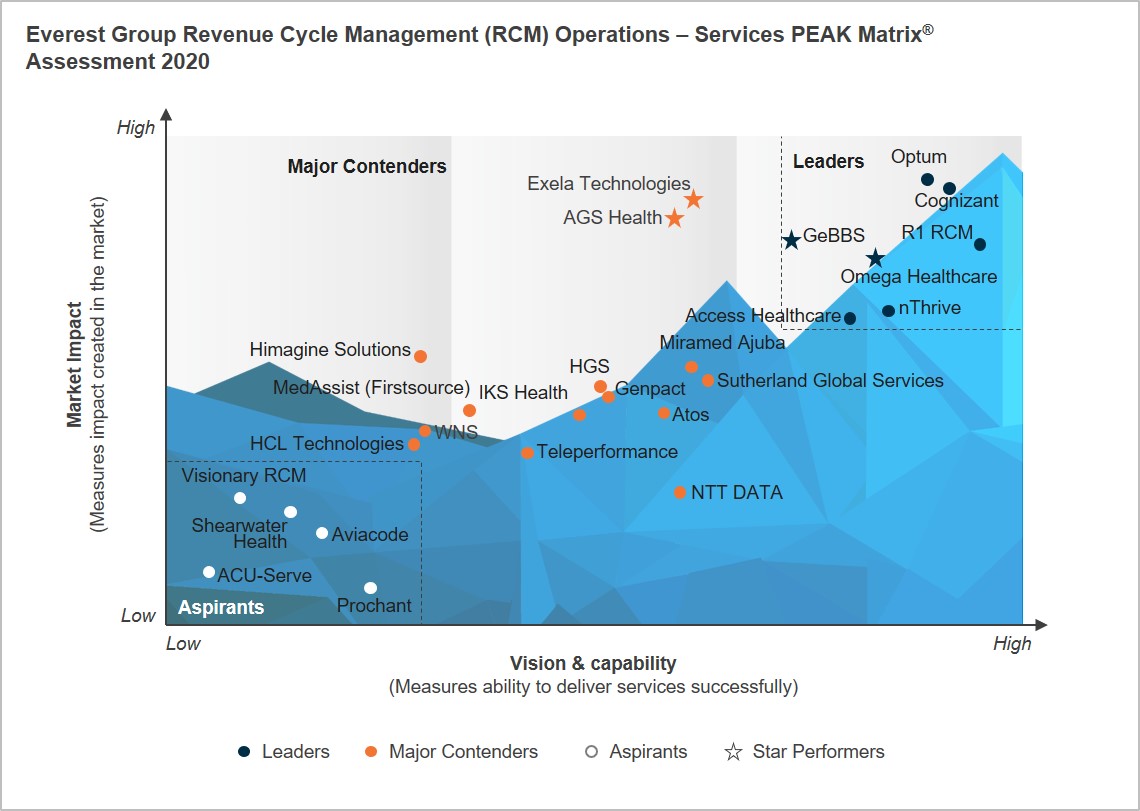 Scope
This research studies the following operations RCM service providers: Access Healthcare, ACU-Serve, AGS Health, Atos, Aviacode, Cognizant, Exela Technologies, GeBBS, Genpact, HCL Technologies, HGS, Himagine Solutions, IKS Health, MedAssist (Firstsource), Miramed Ajuba, nThrive, NTT DATA, Omega Healthcare, Optum, Prochant, R1 RCM, Shearwater Health, Sutherland Global Services, Teleperformance, Visionary RCM, and WNS.
Content
This report features a detailed analysis of 26 operations service providers and includes:
Relative positioning of the service providers on Everest Group's PEAK Matrix

®

for RCM Operations
Analysis of the service providers' market shares
Everest Group's analysis of service provider strengths and areas of improvement
Membership(s)
Healthcare Payer and Provider Business Process