Software is playing an increasingly important role in helping enterprises bring innovation across products and services. It is enabling enterprises deliver a superior user experience as well as introduce new and intelligent products to the market.
As enterprises embrace this software-led innovation, they are also looking to drive modularity, scalability, and mass customization in their software products in order to meet the evolving end-user expectations. Leveraging emerging themes such as Artificial Intelligence / Machine Learning (AI/ML) and Augmented Reality / Virtual Reality (AR/VR) to create differentiated offerings as well as accelerating the time-to-market for new products and product features are also among their key priorities.
These dynamics have necessitated the adoption of new software architectures and software product engineering best practices by enterprises.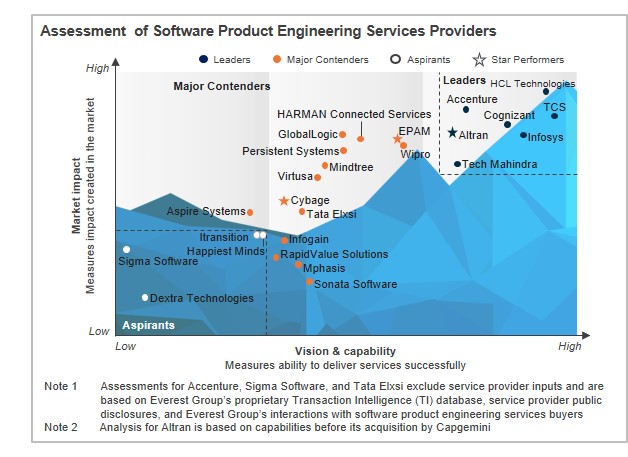 Service providers are playing a crucial role in helping enterprises adapt to the changing software product engineering landscape. Their active investments across talent capabilities, global delivery, and proprietary assets/frameworks are enabling them to effectively partner enterprises on their software product engineering initiatives.
In this research, we present fact-based trends impacting the software product engineering services market, along with the assessment and detailed profiles of 25 service providers featured on the software product engineering services PEAK Matrix™.
Scope of this report
Services: software product engineering services
Geography: global
Service providers: 25 leading software product engineering service providers
Contents
The research comprises three broad chapters:
Software product engineering services market trends:

Market size and projected growth
Market breakdown by verticals, geographies, value chain elements, and prominent pricing models
Analysis of key trends driving the growth
Emerging themes

PEAK Matrix for software product engineering services:

Analysis of market impact and capabilities of 25 service providers based on the Everest Group PEAK Matrix™, which is a composite index of a range of distinct metrics related to a service provider's vision & capability and market impact
Key characteristics of the three service provider categories – Leaders, Major Contenders, and Aspirants

Software product engineering service provider profiles: Detailed profiles of 25 service providers that give a comprehensive picture of their software product engineering services vision, scale & scope of operations, key solutions, and partnerships
Membership(s)