Property and Casualty (P&C) Insurance BPO – Service Provider Landscape with Services PEAK Matrix™ Assessment 2019
---
by

Somya Bhadola, Skand Bhargava, Rohit Sharma
The P&C insurance BPO market has been continually growing as buyers of services aim at containing costs, optimizing processes, improving customer experience, and leveraging digital technologies for multiple strategic objectives. Different P&C insurance clients have different asks from their BPO service providers depending on their business objectives and maturity of outsourcing engagements. Some of the recent trends that are driving market expansion are:
Geographies outside of the United States and the United Kingdom have picked up pace due to the demand for digital interventions
In order to enhance the customer experience, underwriting and claims operations are being targeted for lean and digitalization
The growing prominence of InsurTechs is now beckoning traditional, large insurers to either invest in them or setup their own digitally-backed insurance operations
Buyers are demanding analytics services for customer, agent, and broker insights; fraud prevention to improve margins; as well as for improving operational KPIs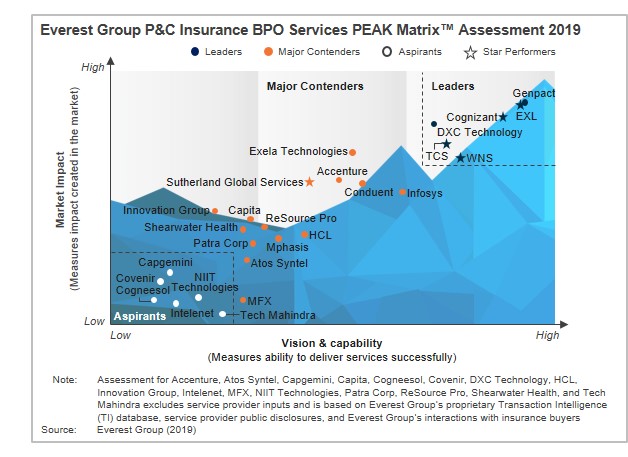 Consequently, service providers are responding to buyer demands by building multiple requisite capabilities including:
Augmentation solutions around data digitization, workflow automation, cognitive, IoT, and analytics, either through partnerships such as with RPA vendors and InsurTechs or acquisitions
Domain-led consulting units to assist insurers in more transformative engagements such as process optimization or reengineering for automation leverage
Expansion of scope of services, specifically around end-to-end underwriting and claims processing including claims adjustment
While almost all the service providers are making investments to augment their competitive positioning, the ability to customize these investments for P&C insurers and the right go-to-market strategies are creating the differentiation.
Scope and methodology
In this research, we analyze the global P&C insurance BPO service provider landscape. We focus on:
Relative positioning of 26 service providers on Everest Group's PEAK Matrix for P&C insurance BPO
Service provider market impact
Service provider vision and capability assessment across key dimensions
Comments about service providers
Content
This report examines the global P&C insurance BPO market and its service provider landscape. It provides detailed analysis of the capabilities and market performance of service providers and their relative position on the Everest Group PEAK Matrix and will assist key stakeholders (insurance providers, service providers, and technology providers) understand the current state of the P&C insurance BPO service provider landscape.
P&C insurance BPO PEAK Matrix 2019 positioning is as follows:

Leaders: There are six service providers in the Leaders category – Cognizant, DXC Technology, EXL, Genpact, Tata Consultancy Services, and WNS
Major Contenders: The Major Contenders category has fourteen service providers – Accenture, Atos Syntel, Capita, Conduent, Exela, HCL, Infosys, Innovation Group, Mphasis, MFX, Patra Corp, ReSource Pro, Shearwater Health, and Sutherland Global Services
Aspirants: Capgemini, Cogneesol, Covenir, Intelenet, NIIT Technologies, and Tech Mahindra are the Aspirants on the PEAK Matrix for P&C insurance BPO
Cognizant, EXL, TCS, Sutherland Global Services, and WNS are the "Star Performers" on the P&C insurance BPO Everest Group PEAK Matrix for 2019

Market share assessment of 26 service providers by

Revenue
Revenue growth
Geography (signing region)
Buyer size

Everest Group's assessment for 26 service providers
Membership(s)
---
Page Count: 61