The rise of consumer orientation toward next-generation digital technologies has changed the role of enterprise IT from a cost center to a new-found revenue center for insurance firms. Digital is needed for survival in this fast-evolving ecosystem. Insurers are adopting digital to improve market share, engage customers, and explore alternate channels for revenue.
Digital adoption elicits transformation in the organizational DNA, involving both strategic and operational changes. As the pace of transformation intensifies in a few enterprises, it produces leaders and laggards.
The scope of this report deep dives into these organizations, culminating in the Digital Pinnacle Enterprises™ in insurance, a set of enterprises that have outperformed their peers in several dimensions.
This report offers a deep look at five key capabilities encompassing 18 key dimensions in which insurers are making investments for digital transformation, and further evaluation of five key dimensions where Digital Pinnacle Enterprises™ in insurance showcase higher maturity compared to other insurers.
SCOPE OF THE ANALYSIS
Market segment: Digital services
Geography: Global
Industry: Insurance
SOURCES LEVERAGED
Everest Group's survey of 23 insurance enterprises with US$1 billion or more in global revenue
Survey was taken by Director, Vice President, and CXO-level executives
Expert analyst inputs
Previous Everest Group research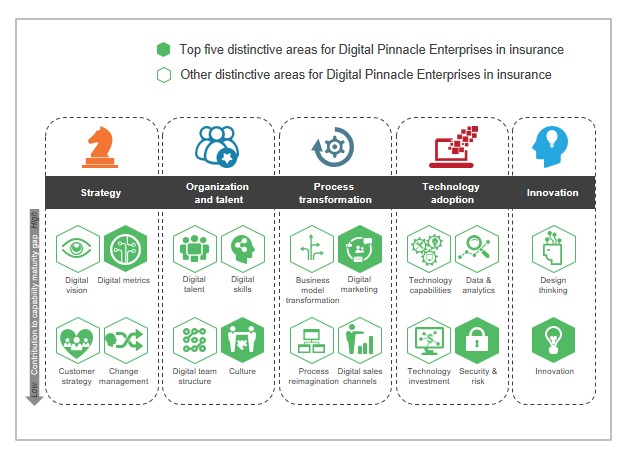 CONTENT
The research focuses on Digital Pinnacle Enterprises™ in insurance and includes:
Definition of Digital Pinnacle Enterprises™ in insurance
Differentiators of Digital Pinnacle Enterprises™ in insurance
Maturity assessment
Performance of the insurance enterprises on key dimensions of digital adoption
Implications for enterprises and service providers
Membership(s)
Banking, Financial Services & Insurance (BFSI) - Information Technology Outsourcing (ITO)