Increased exposure due to proliferation of touch points, consumerization of IT, and rapid adoption of digital technologies have superannuated the role of traditional IT security services. In addition, challenges such as increasing threat complexity, technology choices, user/customer education, and lack of skills/talent have made the enterprise IT security journey more complex.
With IT security increasingly seen as the enabler of digital businesses, enterprises are being pushed to take a more guided and contextualized approach toward security within business transformation. Moreover, contextualizing security services based on vertical, geography, and unique organization nuances requires careful evaluation on the part of the enterprises in terms of their technology adoption roadmap, budget spend optimization, and broader business goals.
In this research, we present the assessment and detailed profiles of 21 IT service providers featured on the PEAK Matrix for IT security services. Each service provider profile gives a comprehensive picture of the provider's IT security services vision and strategy, scope of services offered, innovation & investments, and delivery capabilities.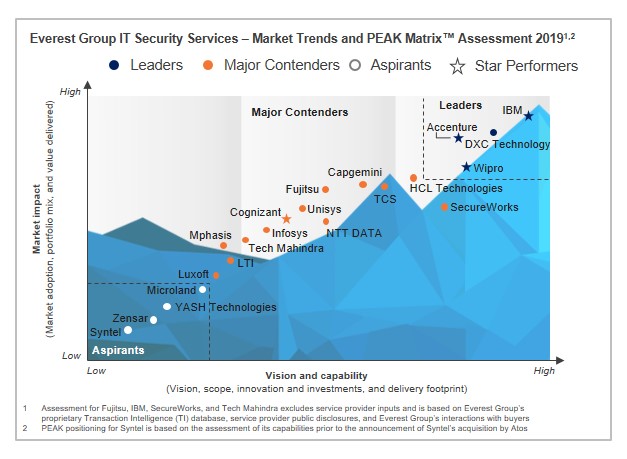 Scope of the analysis
This research also provides fact-based trends impacting the IT security services market and an assessment of the below-mentioned IT service providers / system integrators that are associated with IT security services.
The report covers the following IT service providers: Accenture, Capgemini, Cognizant, DXC Technology, Fujitsu, HCL Technologies, IBM, Infosys, LTI, Luxoft, Microland, Mphasis, NTT DATA, SecureWorks, Syntel, TCS, Tech Mahindra, Unisys, Wipro, YASH Technologies, and Zensar.
Contents
Each profile covers the following aspects for the featured service providers:
General overview of the provider's IT security services business – vision, scale, overall focus, and extent of adoption of the provider's IT security services across enterprise segments and geographies
Overview of the provider's IT security services offerings – overall portfolio of services and relative focus across service lines
Assessment of the provider's IT security services delivery capability, domain investments, key solutions, and key partnerships
Strategic focus areas and market success for IT security service areas
Membership(s)