Banks and financial institutions in North America, the United Kingdom, and Europe are inundated by regulations introduced in the aftermath of the financial crisis of 2008. Macroeconomic events, such as Brexit and presidential elections in the United States as well as the pace of digital disruption, are paving the way for new regulations, and at the same time leading to new emerging risks. Through the introduction of these regulations, the authorities primarily wanted to prevent another systemic breakdown and financial collapse. The world has moved beyond the 2008 financial crisis and regulators across the world have realized the need to drive innovation and disruption through digital technologies (such as PSD 2 and GDPR). The regulatory compliance space, while complex and overbearing, has been a top priority for senior executives at banks and financial institutions for the last few years, and will continue to be so for the foreseeable future.
Through this report, Everest Group explores the different regulations that banks and financial institutions need to comply with, and the key business, technology, and sourcing implications these regulations have. The report also captures the key trends for regulatory compliance-related transactions in banking and capital markets, and regulatory compliance-related investments made by service providers.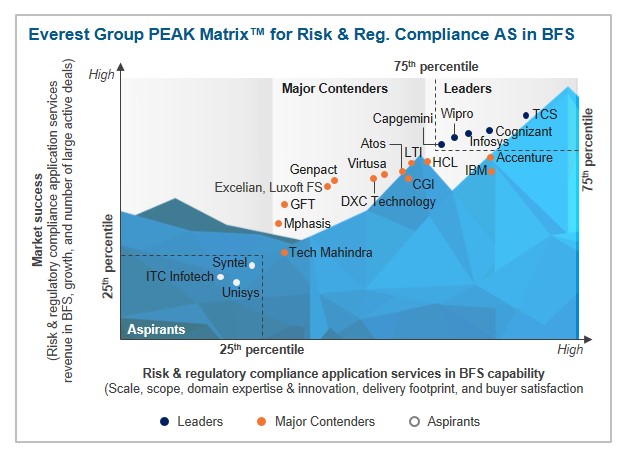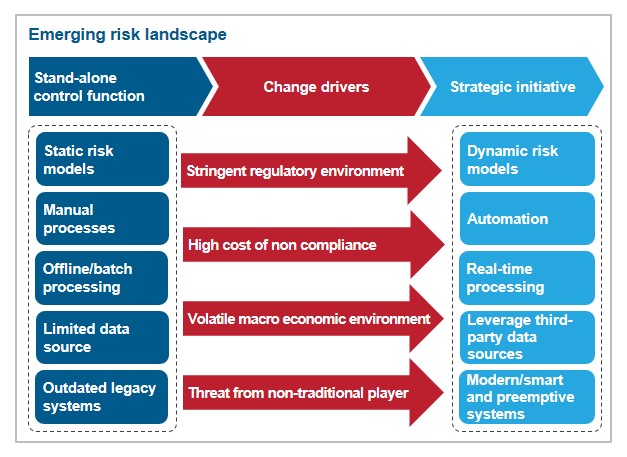 In this research, we analyze the capabilities of 21 leading AO service providers, with capabilities to serve BFS enterprises in the risk and regulatory compliance space. These providers were mapped on the Everest Group PEAK Matrix, which is a composite index of a range of distinct metrics related to each provider's capability and market success. In this report, we focus on:
Risk and regulatory compliance IT services market trends
Assessment of the service providers on a number of capability-related dimensions
Characteristics of Leaders, Major Contenders, and Aspirants on the Everest Group banking AO PEAK Matrix™
Scope of this report
Industry: Banking (retail banking, commercial banking, credit cards, loans, and mortgages) and capital markets (investment banking, asset management, custody, fund administration, and brokerage); excludes insurance
Geography: Global
Service providers: Includes 21 leading IT service providers (list given on page 10)
Content
This report analyzes IT applications outsourcing in the risk & regulatory compliance in BFS, with a focus on large (TCV > US$25 million), annuity-based, multi-year (over three years) relationships:
Risk & regulatory compliance IT services market trends in BFS
Everest Group PEAK Matrix
Risk & regulatory compliance application services in BFS PEAK Matrix characteristics:

Domain expertise & innovation
Buyer influencers and deterrents

Profiles of IT service providers
Everest Group has a complimentary five-page PEAK Matrix preview document for this service provider landscape report.
Membership(s)
Banking, Financial Services & Insurance (BFSI) - Information Technology Outsourcing (ITO)