Challenges facing the healthcare sector have never been greater. Amid COVID-19, there is increased demand for services but not enough resources to pay for them. In this scenario, emerging technologies can help bridge the gap. Intelligent automation, including Robotic Process Automation (RPA), Natural Language Processing (NLP), Artificial Intelligence (AI) / Machine Learning (ML), and cloud platforms, not only help reduce costs and increase efficiencies, but also enhance member/patient satisfaction and engagement. In countries facing a shortage of medical and administrative personnel, automation can provide the much-needed support in catering to healthcare operations.
Service providers that are leveraging this opportunity are emerging as leaders in this segment and paving the way for smaller organizations to adopt next-generation technologies to keep up with the dynamic healthcare needs globally.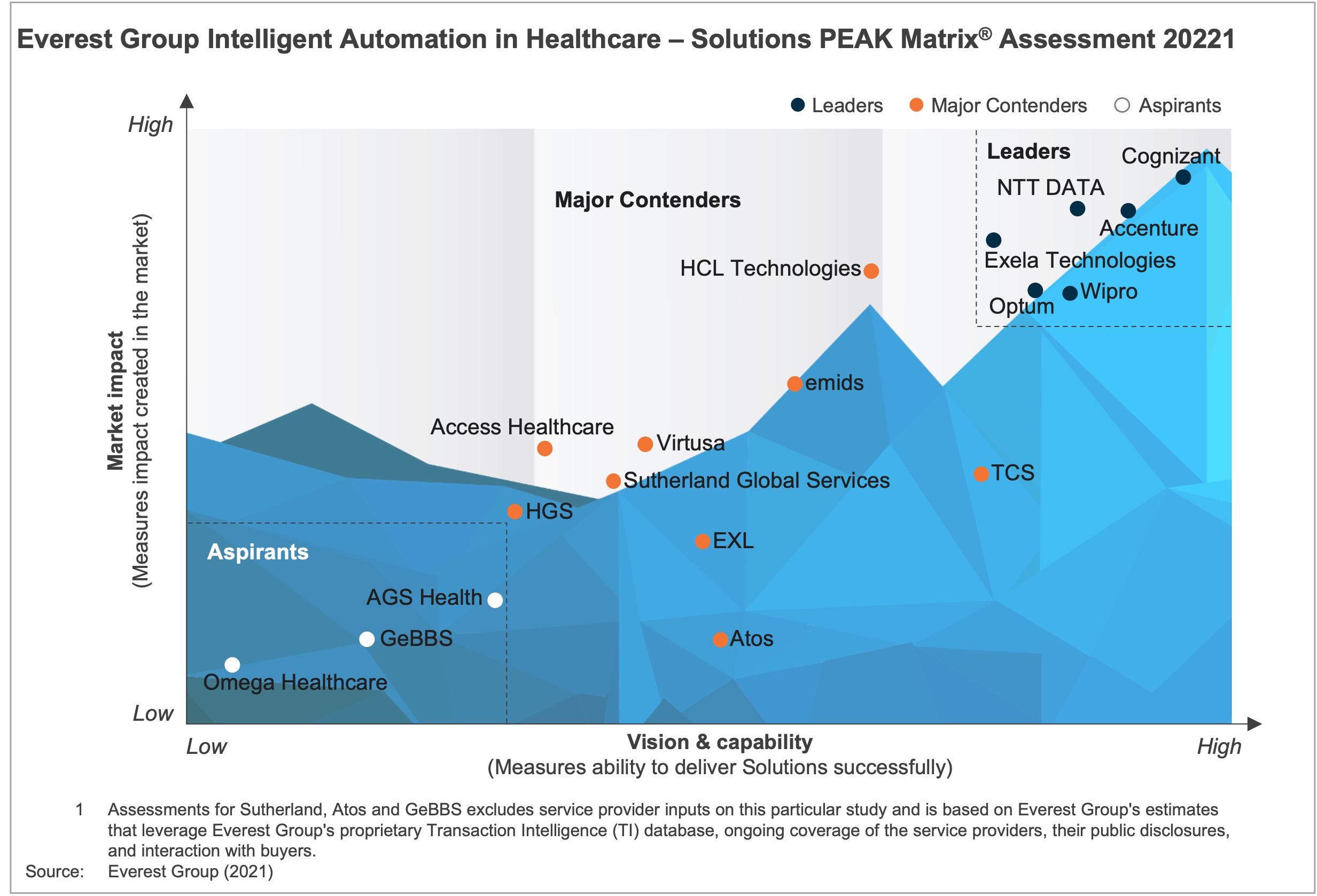 In this research, we present a detailed analysis and assessment of 18 operations service providers featured on the Intelligent Automation in Healthcare – Solutions PEAK Matrix®. We provide the relative positioning, a comparison of the service providers' capabilities, and our evaluation of the providers' strengths and limitations.
Scope
Industry: Healthcare BPS and Healthcare ITS
Geography: global
This assessment is based on Everest Group's annual RFI process for the calendar year 2021, interactions with leading healthcare service providers, client reference checks, and an ongoing analysis of the intelligent automation in healthcare market
Contents
This report features a detailed analysis of 18 healthcare service providers and includes:
A relative positioning of the service providers on Everest Group's PEAK Matrix

®

for Intelligent Automation in Healthcare
A comparison of the service providers' capabilities
Everest Group's analysis of the service providers' strengths and limitations
Membership(s)
Healthcare Payer and Provider Business Process
Healthcare Payer and Provider Information Technology