Decentralized Clinical Trials (DCTs), in which clinical trial data is collected through sensors or remote monitoring devices carried by a patient without the need to visit a site, can deliver many benefits to pharmaceutical companies, including cost savings, better patient recruitment and retention, and improved data quality. Before the COVID-19 pandemic, there was significant information on DCT benefits but only a few pilots, as enterprises grappled with regulatory uncertainties, upfront capital investment in sensors and products, and limited functionalities to decentralize clinical trials. In recent times, DCTs have proved to be a saving grace to restart paused clinical trials. Additionally, recent technological advances, the proliferation of wearables, and FDA's push to the industry to adopt DCTs following the COVID-19 situation have made the DCT landscape ripe for disruption.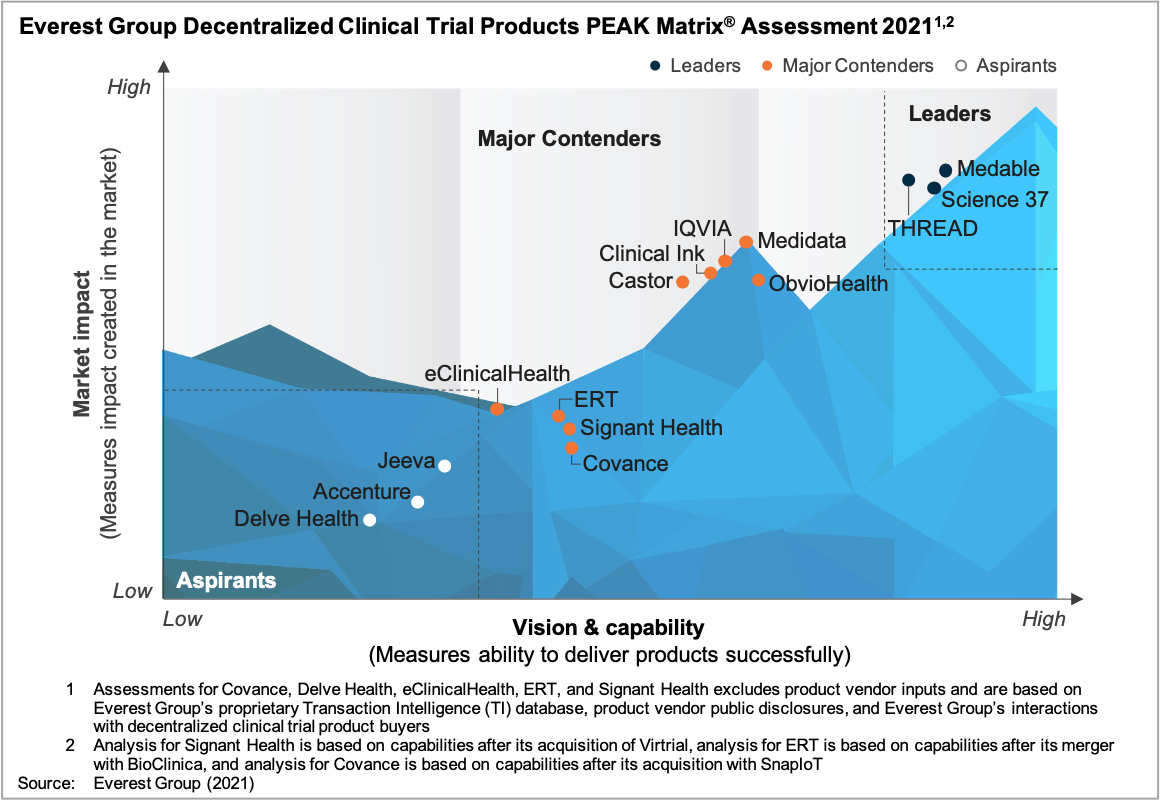 Numerous start-ups that address DCT requirements have recently emerged. The landscape has also experienced heavy fundraising and M&A activity. Through co-innovation, continuous product improvement, and market education, DCT vendors are focusing on increasing trust, speeding trial timelines, and delivering a smooth experience in running DCTs.
In this report, we assess the capabilities of 15 IT vendors specific to decentralized clinical trial products. The vendors are mapped on the Everest Group PEAK Matrix®, a composite index of a range of distinct metrics related to a vendor's capability and market impact.
Scope
Industry: life sciences
Services: decentralized clinical trial products
Geography: global
Contents
In this research, we:
Examine the vendor landscape for decentralized clinical trial products
Assess product vendors on several capability and market success-related dimensions
Membership(s)
Life Sciences Information Technology