Veeva Services PEAK Matrix® Assessment 2021
PEAK Matrix® Report
---
by

Nitish Mittal, Chunky Satija, Sonal Singh
As an increasing number of pharmaceutical companies experiment with different ways to cut costs while boosting productivity amid the pandemic, the industry is increasingly switching to cloud-based technologies. In this scenario, Veeva has become indispensable for the life sciences industry, helping life sciences enterprises manage customer databases, track drug developments, and organize clinical trials.
Veeva entered the life sciences market with its Commercial Cloud business, including the core Customer Relationship Management (CRM) offering, which has now transitioned into a mature product with a market share of about 80% across all global pharma companies. Lately, Veeva has been experiencing an increasing demand for its Development Cloud (R&D) suite, which now drives more than half of its total revenue.
With the changing enterprise expectations and evolving Veeva product landscape, service providers are investing in building strong Veeva-specific solutions to expedite clients' time-to-market . In this report, we analyze 15 IT service providers' Veeva services capabilities. These service providers are classified as Leaders, Major Contenders, and Aspirants based on their positioning on the Everest Group PEAK Matrix® – a composite index of distinct metrics related to a provider's capability and market impact.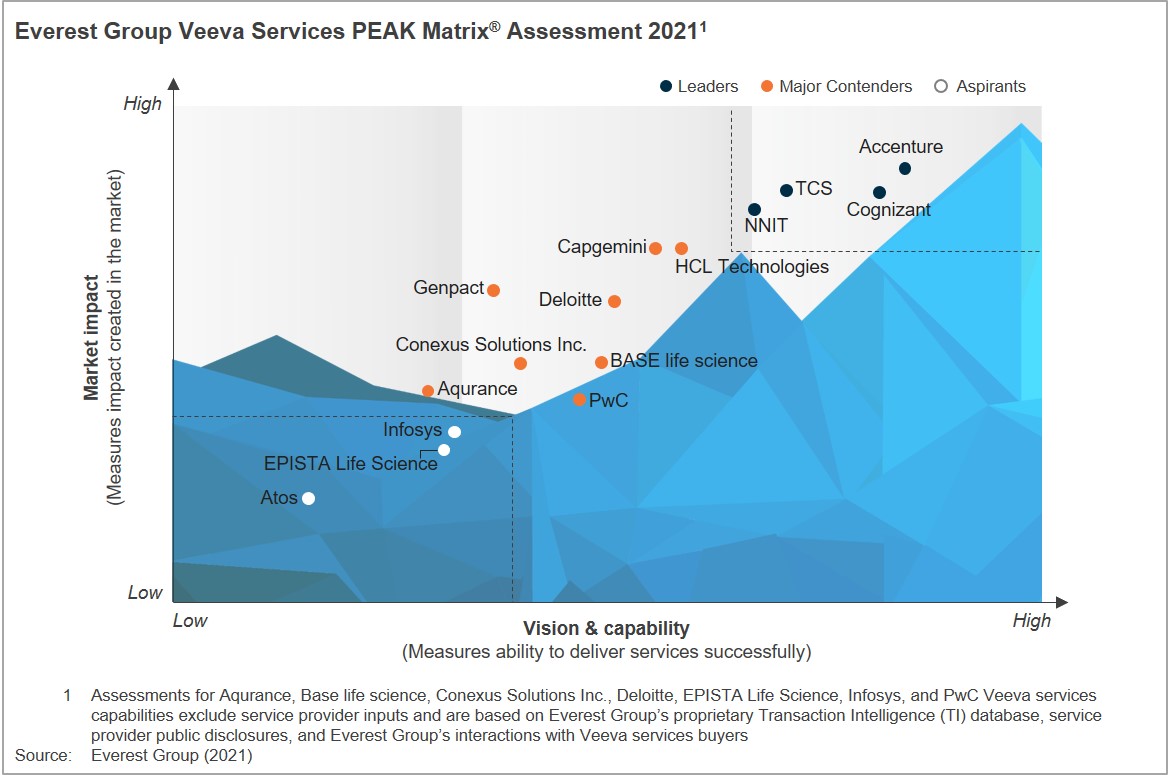 Scope
Industry: life sciences
Services: Veeva services
Geography: global
Service providers covered: Accenture, Aqurance, Atos, BASE life science, Capgemini, Cognizant, Conexus Solutions Inc., Deloitte, EPISTA Life Science, Genpact, HCL Technologies, Infosys, NNIT, PwC, and TCS
Contents
This report comprises three sections, each containing insights into the Veeva service provider landscape:
Market trends for Veeva services
Assessment of service providers for Veeva services on several capability and market success-related dimensions
Enterprise sourcing considerations, highlighting the strengths and limitations of each service provider
Membership(s)
Life Sciences Information Technology
---
Page Count: 43