Following the COVID-19 pandemic, creating a seamless, frictionless, and digital customer-centric insurance experience has become the new standard for insurers. Technology adoption – including AI-enabled chatbots to assist in the customer journey, Machine Learning (ML) algorithms for personalized recommendations, and data and content management to provide agents with a holistic customer view and help in upselling – plays a major role in empowering customers and agents.
At the same time, the entry of digital-native companies and InsurTechs, and a legacy technology stack are posing a threat to insurers. Insurance companies are thus leveraging Digital Experience Platforms (DXPs) for content management, customer experience, and agent enablement to stay competitive. DXPs possess capabilities for targeted campaigning, hyper-personalization, self-service portals, collaboration tools, and a customer/agent 360-degree view to improve retention rates and response times.
This report examines the dynamics of the insurance DXP product landscape and presents detailed assessments of 11 DXP products featured on Everest Group's Digital Experience Platforms in Insurance Industry Products PEAK Matrix®.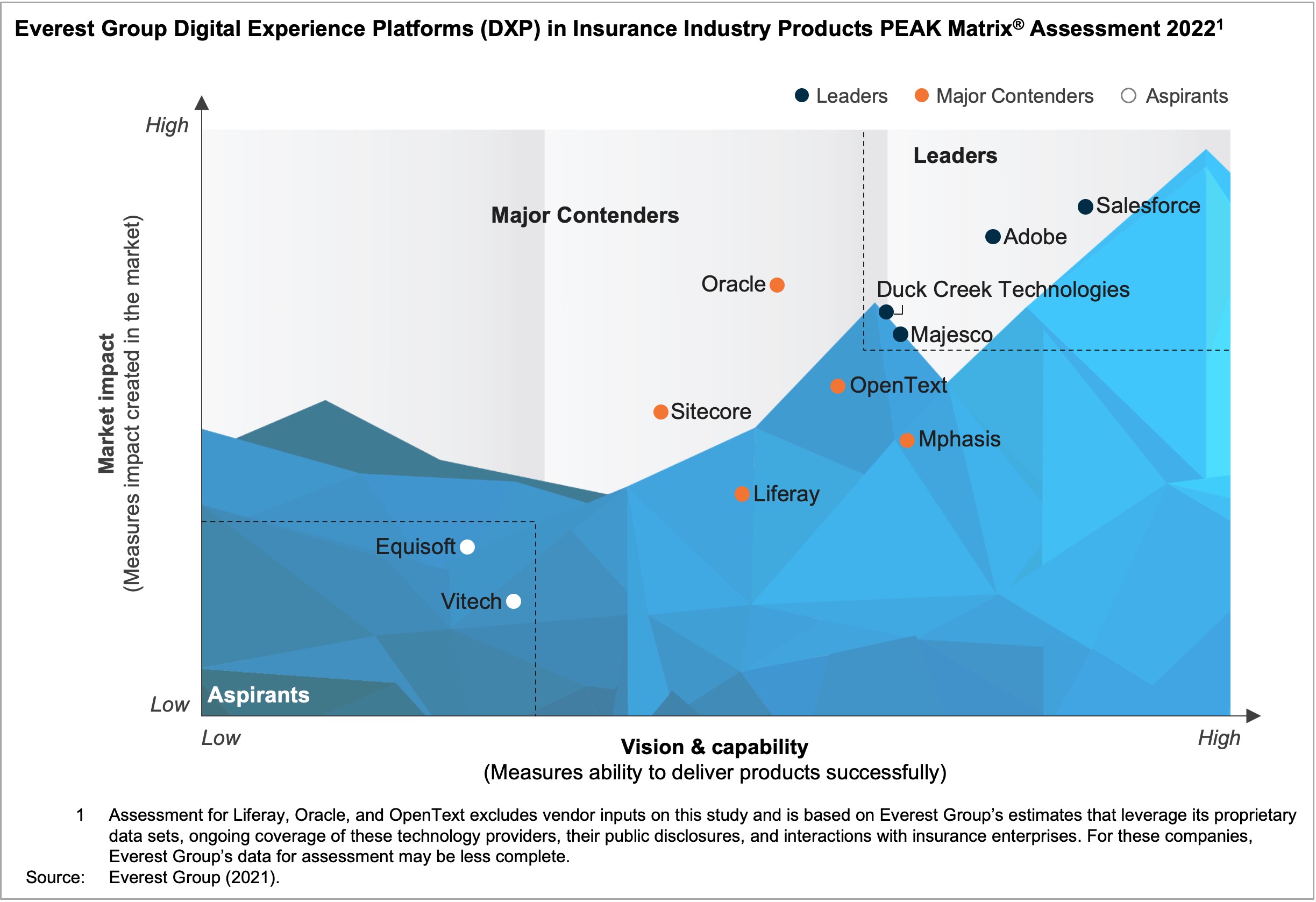 Scope
Insurance IT services, InsurTech
Industry: Insurance
Geography: Global
Contents
In this report, we provide:
An assessment of 11 DXP providers in the insurance market on Everest Group's Products PEAK Matrix® evaluation framework
Characteristics of Leaders, Major Contenders, and Aspirants in the insurance DXP market
An overview of the DXP providers' offerings, including vision, product capabilities, adoption across geographies, case studies, partnerships, and investments
Membership(s)
Insurance Information Technology