Software-driven innovation has helped unlock new frontiers for products, platforms, and processes across multiple domains. However, it has also created multiple challenges for enterprises in the form of:
Developing robust and secure products that are resilient against vulnerabilities and uncertainties such as the COVID-19 pandemic
Ensuring speed-to-market and differentiation, with user-experience-centered software products
Keeping pace with ever-evolving software products and changing customer expectations and demand
Leveraging data to generate new revenue streams and drive efficiency in software product engineering
To help enterprises deal with these challenges and develop products that are focused on experience enhancement, engineering service providers are playing an elevated role of strategic partners.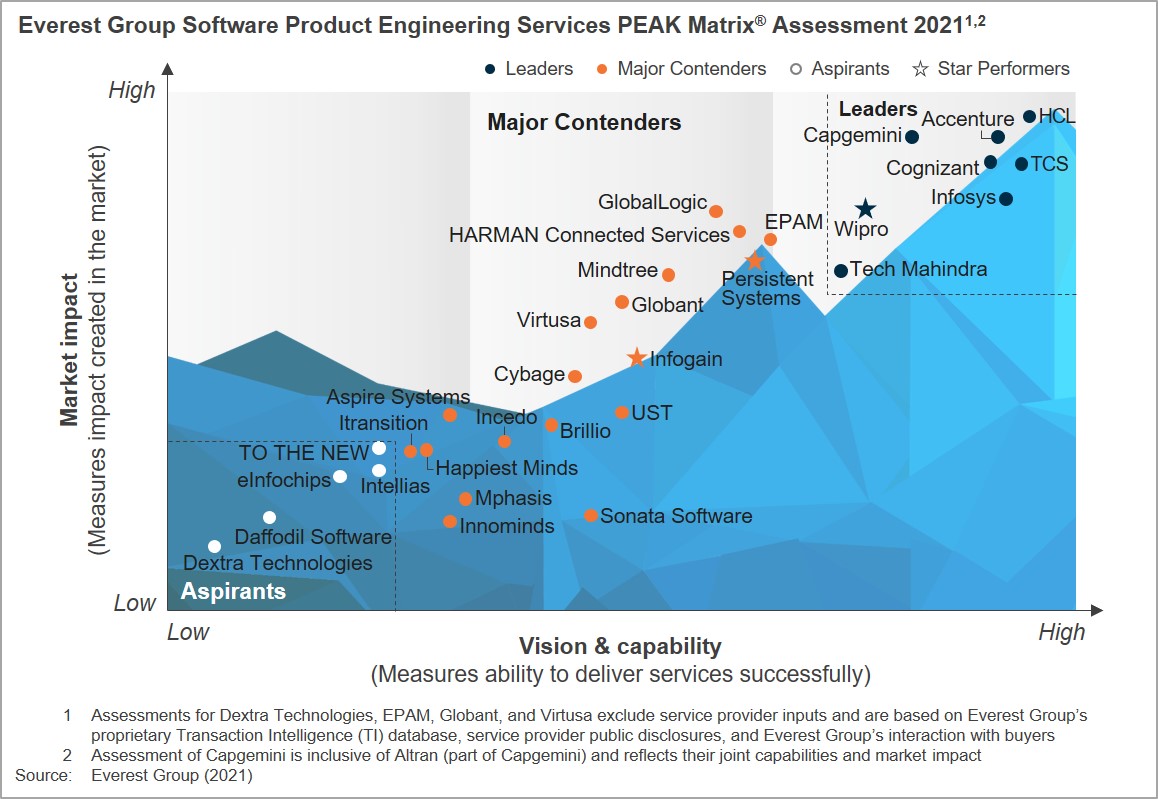 This research, the third edition of Everest Group's Software Product Engineering PEAK Matrix® Assessment, evaluates 31 engineering service providers, features them on the PEAK Matrix®, and shares insights on enterprise sourcing considerations. The study is based on RFI responses from service providers, interactions with their software product engineering leadership, client reference checks, and an ongoing analysis of the engineering services market.
Scope
The report studies the following engineering service providers associated with software product engineering services: Accenture, Aspire Systems, Brillio, Capgemini, Cognizant, Cybage, Daffodil Software, Dextra Technologies, eInfochips, EPAM, GlobalLogic, Globant, Happiest Minds, HARMAN Connected Services, HCL Technologies, Incedo, Infogain, Infosys, Innominds, Intellias, Itransition, Mindtree, Mphasis, Persistent Systems, Sonata Software, TCS, Tech Mahindra, TO THE NEW, UST, Virtusa, and Wipro.
Geography: global
Contents
In this report, we focus on:
Everest Group's services PEAK Matrix

®

evaluation of engineering service providers associated with software product engineering services
Categorization and characteristics of Leaders, Major Contenders, and Aspirants
The key strengths and limitations of each of the 31 software product engineering services providers featured in the assessment
A summary dashboard assessing market impact, and vision and capability of each service provider
Membership(s)