Intelligent Document Processing (IDP) – Technology Vendor Landscape with Products PEAK Matrix® Assessment 2021
PEAK Matrix® Report
---
by

Anil Vijayan, Ashwin Gopakumar, Samikshya Meher, Shiven Mittal, Utkarsh Shahdeo
Intelligent Document Processing (IDP) products find a wide variety of uses in classifying and extracting information from structured, semi-structured, and unstructured documents by leveraging AI technologies such as Optical Character Recognition (OCR), computer vision, Natural Language Processing (NLP), and machine/deep learning. They are offered as either platforms that can be deployed as out-of-the-box solutions using pre-built modules or as custom solutions based on buyer requirements.
IDP solutions help enterprises achieve cost savings, while improving their workforce productivity and employee and customer experience. These products are also rapidly evolving in the sophistication of their capabilities, features, and functionalities. To achieve success, it is critical to select the right enterprise-grade IDP technology partner.
In this report, we assess 27 leading technology vendors in terms of their IDP product's vision & capability and market impact and categorize them into Leaders, Major Contenders, Aspirants, and Star Performers. The research will help buyers select the right-fit technology vendor for their needs, while technology vendors will be able to benchmark themselves against each other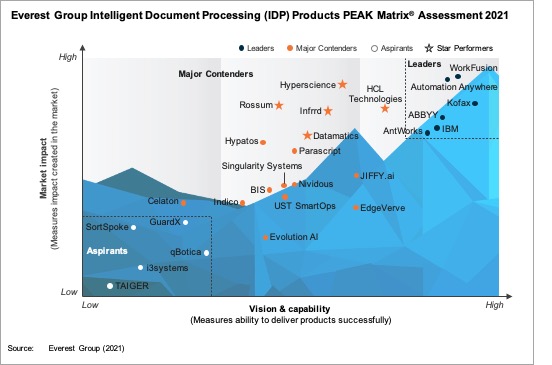 Scope
IDP products that are sold on license and irrespective of any ongoing business or IT process outsourcing or managed services were considered for this report
We have assessed IDP products from 27 leading technology vendors globally: ABBYY, AntWorks, Automation Anywhere, BIS, Celaton, Datamatics, EdgeVerve, Evolution AI, GuardX, HCL Technologies, Hypatos, Hyperscience, i3systems, IBM, Indico, Infrrd, JIFFY.ai, Kofax, Nividous, Parascript, qBotica, Rossum, Singularity Systems, SortSpoke, TAIGER, UST SmartOps, and WorkFusion
Contents
This report analyzes the IDP technology landscape across various dimensions:
Everest Group's PEAK Matrix

®

evaluation, a comparative assessment of 27 leading IDP technology vendors
Overview of IDP software products
Competitive landscape in the IDP technology vendor market
Everest Group's remarks on key strengths and limitations for each IDP technology vendor
IDP product capability trends and predictions
The assessment is based on Everest Group's annual RFI process for the calendar year 2020, interactions with leading IDP technology vendors, client reference checks, and an ongoing analysis of the IDP market.
Membership(s)
Service Optimization Technologies (SOT)
---
Page Count: 108