Intelligent Process Automation (IPA) is one of the most potent digital levers enabling digital transformation for organizations globally. Enterprises are facing unprecedented pressure to reduce costs, optimize operations, and increase business resilience due to the ongoing COVID-19 crisis. Multiple digital elements are disrupting the status quo. Both on the demand and supply side, digital technologies, particularly automation, are becoming ubiquitous. Enterprises are expecting not only cost reduction, but also next-generation benefits from their relationships; and solutions providers have recognized the need to pivot quickly to a digital-powered model to provide those benefits to their buyers. To achieve success, it is critical to select the right IPA solution provider.
In this report, we study 27 IPA solution providers and position them on Everest Group's PEAK Matrix®, categorizing them into Leaders, Major Contenders, and Aspirants based on their capabilities and offerings.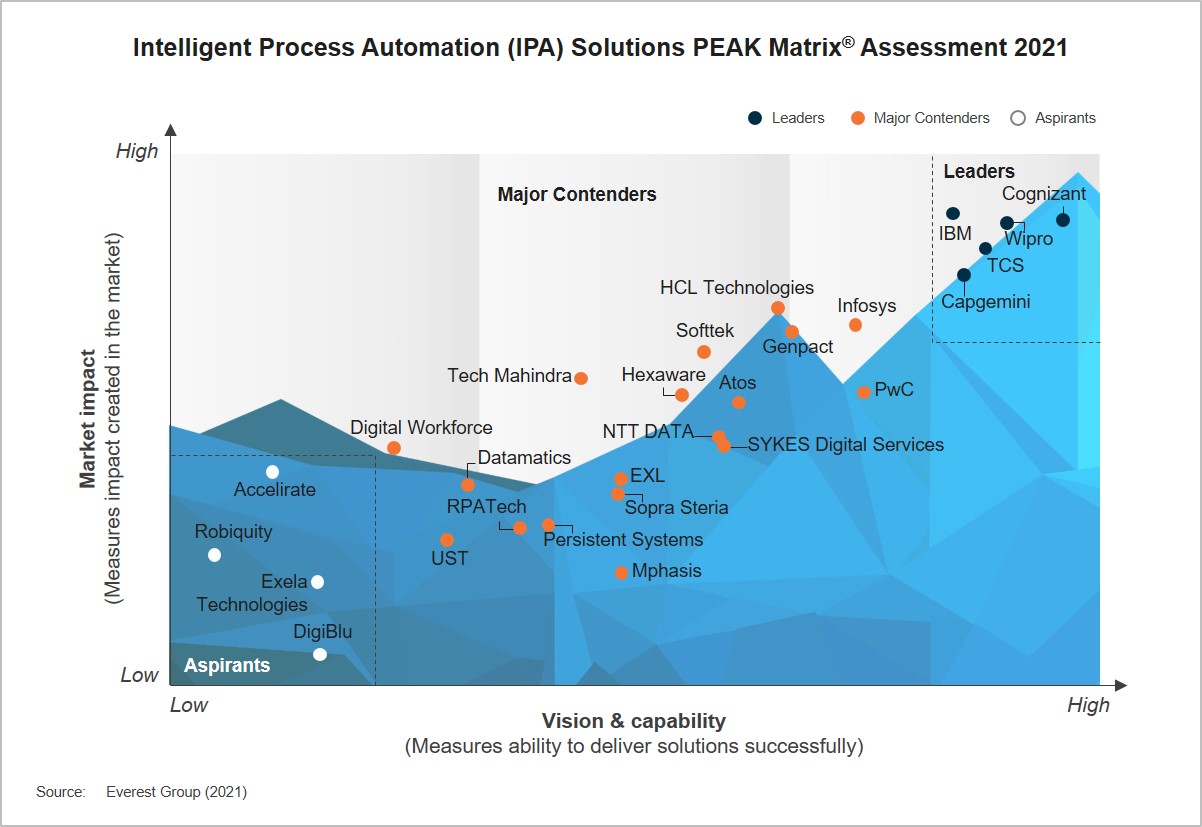 Everest Group defines IPA as intelligent automation in business processes achieved through any combination of automation technologies, including Robotic Process Automation (RPA) and cognitive/AI-based automation. The scope of this report includes
IPA solutions: sourcing of IPA technology products, along with consulting, implementation, and maintenance services, but no traditional BPO services
IPA services only: sourcing of IPA services such as consulting, implementation, and maintenance
This report does not cover IPA technology products that are licensed independently or embedded within broader BPO deals.
Geography: Global
Contents
In this report, we study:
Everest Group's PEAK Matrix evaluation of IPA solution providers and their categorization into Leaders, Major Contenders, and Aspirants
Competitive landscape of the IPA solution provider market
Key strengths and limitations of each IPA solution provider
Membership(s)
Service Optimization Technologies (SOT)