The Financial Crime and Compliance (FCC) operations space is a fast-growing area within the Banking and Financial Services (BFS) industry. Banks and other financial institutions are working to meet the tightening regulatory norms and safeguard themselves from financial crimes, while maintaining their operational costs. Evolving regulations in the financial sector call for a dynamic regulatory compliance check, which is difficult for these institutions to manage globally. The pandemic has only added to the woes of financial institutions, with agent availability and transaction volumes getting impacted simultaneously.
The growing requirement for FCC support and digital has opened opportunities for service providers to augment their capabilities and add offerings for advisory, platform-led services, and advanced digital solutions. For buyers, the need to increase efficiency and productivity by reducing false positives and manual intervention remains paramount. Service providers have the opportunity to go beyond managing only the operations and transforming engagements into more strategic partnerships.
This report provides a detailed analysis of the vision, delivery capabilities, and market successes of 23 FCC operations service providers and their relative position on the Everest Group PEAK Matrix® for FCC Operations. The study will assist key stakeholders, such as banks, financial institutions, service providers, and technology providers, in understanding the current state of the FCC operations service provider market.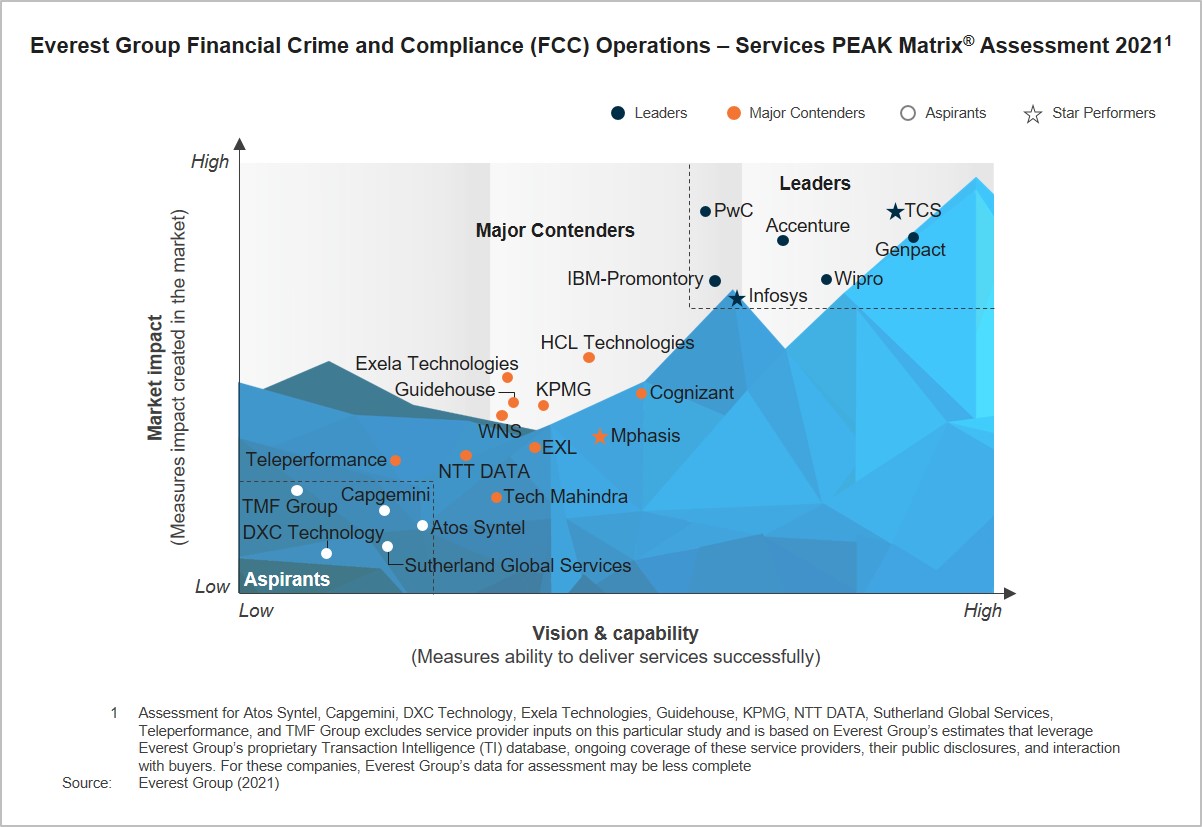 Scope
We have studied the following FCC operations service providers as part of this research: Accenture, Atos Syntel, Capgemini, Cognizant, DXC Technology, Exela Technologies, EXL, Genpact, Guidehouse, HCL Technologies, IBM-Promontory, Infosys, KPMG, Mphasis, NTT Data, PwC, Sutherland Global Services, TCS, Tech Mahindra, Teleperformance, TMF Group, Wipro, and WNS.
In this report, we cover vertical-specific FCC operations. We have not covered horizontal business processes such as Finance and Accounting (F&A), Human Resources (HR), procurement, and contact center.
Industry:banking and financial services
Geography: global
Contents
This report features 23 FCC operations service provider profiles, each of which includes:
Relative positioning of the service provider on Everest Group's PEAK Matrix

®

for FCC Operations
Service provider market impact
Service provider vision and capability assessment across key dimensions
Enterprise sourcing considerations
Membership(s)