In the past two decades, the application of cloud-based systems has evolved rapidly, driving many enterprises to move from an on-premise operating model to a cloud-supported operating model. In the Customer Experience Management (CXM) space, this has led to the inception of Contact Center-as-a-Service (CCaaS), an omnichannel cloud contact-center solution. CCaaS is a fast-growing market, with wide adoption across industries and flexibility in offering services for enterprises with varying levels of technological maturity. It has been a key enabler for end-to-end digital transformations, supporting the remote workforce and improving operational efficiencies.
Following the COVID-19 pandemic and the shift to a remote work setting, enterprises have realized the importance of adopting an agile technology infrastructure, which is location-agnostic, can be deployed quickly, and is less vulnerable to natural disasters. This trend of investing in technology infrastructure will continue even after the pandemic and presents a huge opportunity for the CCaaS market to grow and offer more customized solutions to enterprises.
In this research, we present a detailed view of the Contact Center as-a-Service (CCaaS) solution, along with a comprehensive picture of service providers and their CCaaS offerings.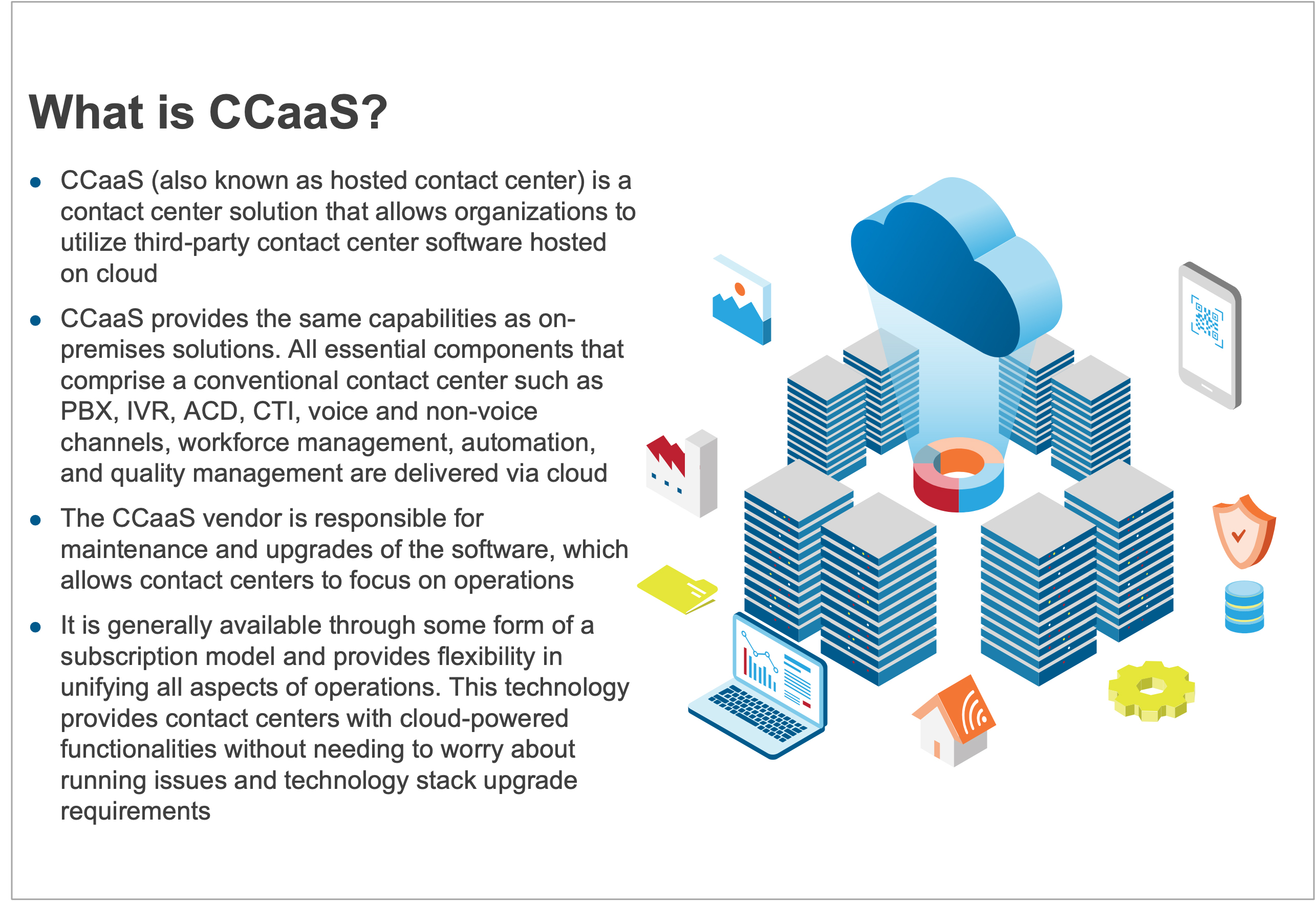 Scope
All industries and geographies
The assessment is based on interactions with leading CCaaS technology vendors, CXM service providers, and other firms in the market
Contents
This report examines:
CCaaS and its impact on customer experience and agent experience
Core components of CCaaS and how CCaaS differs from other solutions in the market
The business case for CCaaS adoption
Methodology to operationalize CCaaS
The CCaaS provider landscape
Future outlook for CCaaS
Membership(s)
Customer Experience Management (CXM) Services, including Contact Center Outsourcing