The proliferation of user generated content in digital platforms has raised new concerns regarding safety. There has been a spike in misinformation, hate speech, and violent content in the cyberspace, leading to an increase in government regulations directing online platforms to curb such content. Increasing instances of account take overs, fake reviews, and frauds in this space have created a situation in which lapses in trust and safety could lead to significant financial losses for digital platforms as well as brands that have an online presence. There has been a growing demand for trust and safety services driven by these trends.
A surge in the average time spent online by users during COVID-19 has further increased the demand for trust and safety and content moderation services.
In this research, we present assessments of 18 service providers on the Trust and Safety – Content Moderation Services PEAK Matrix®. The assessment is based on Everest Group's annual RFI process for the calendar year 2020, interactions with leading marketing BPS providers, client reference checks, and an ongoing analysis of the trust and safety market.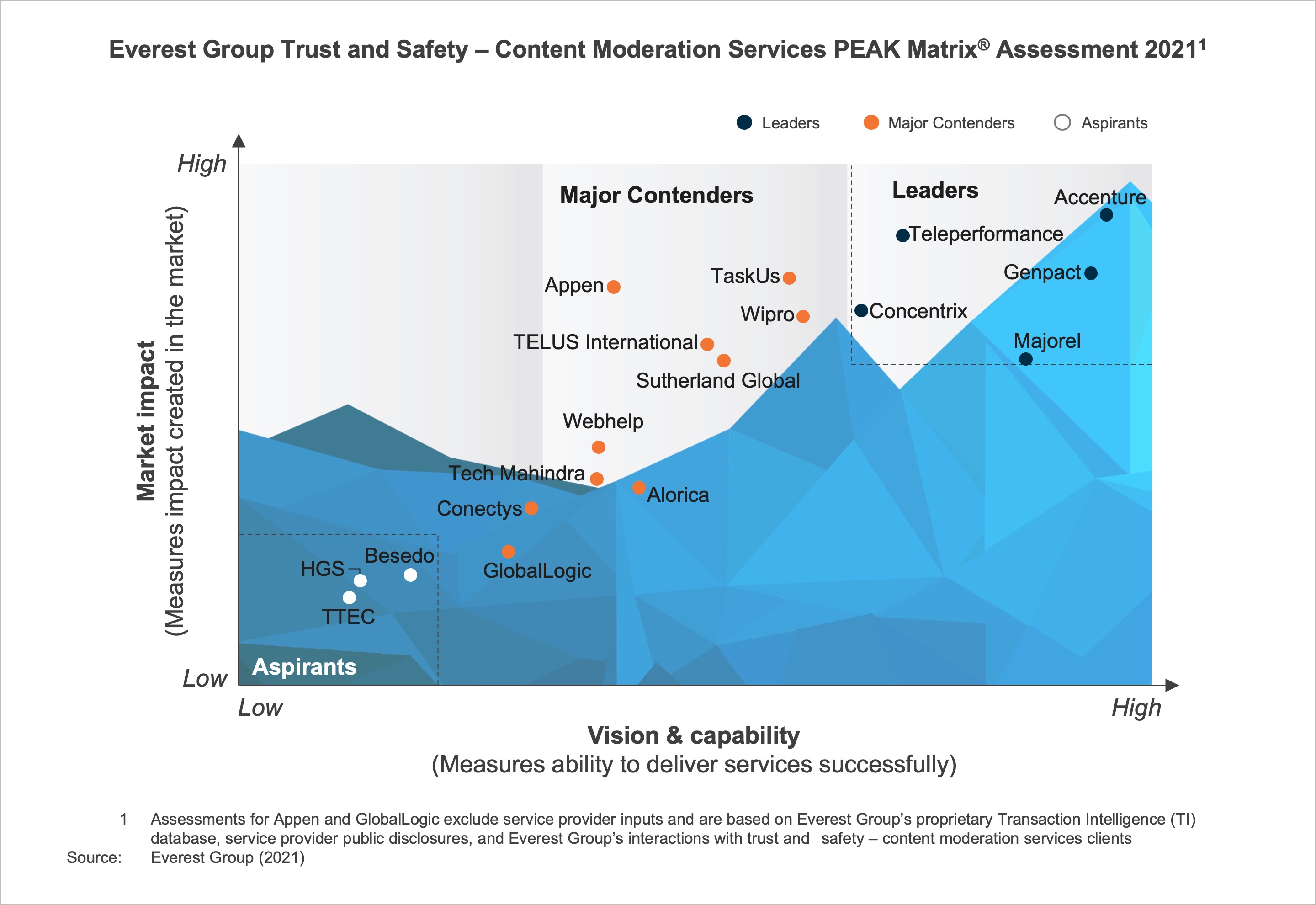 Scope
This research covers the following trust and safety service providers: Accenture, Alorica, Appen, Besedo, Concentrix, Conectys, Genpact, GlobalLogic, Majorel, HGS, Sutherland Global, TaskUs, Tech Mahindra, Teleperformance, Telus International, TTEC, Webhelp, and Wipro
Contents
In this report, we focus on:
Everest Group's PEAK Matrix

®

evaluation, a comparative assessment of 18 leading trust and safety service providers
Competitive landscape of the trust and safety market
Everest Group's remarks on key strengths and limitations of each trust and safety service provider