A decade ago, enterprises expected ServiceNow to help them manage digital workflows such as IT service management and IT operations management. Over time, enterprises expectations have evolved, and they are now looking for automation-focused data / outcome-driven integrated solutions, with emphasis on stakeholder experience even in a multi-channel, complex portfolio. To address client expectations, ServiceNow's portfolio has expanded to deliver enterprise solutions including IT, employee, and customer workflows to help clients drive business growth, increase resilience, and enhance employee productivity.
In this research, we present detailed assessments of 20 IT service providers featured on Everest Group's ServiceNow Services PEAK Matrix® and categorize them as Leaders, Major Contenders, and Aspirants based on their capabilities and offerings. Each profile provides a comprehensive picture of the service provider's service focus, key Intellectual Property (IP) / solutions, and domain investments. The assessment is based on Everest Group's annual RFI process considering investments made until May 2020, interactions with leading ServiceNow service providers, client reference checks, and an ongoing analysis of the ServiceNow services market. Our research reveals that Leaders have a strong focus on talent, even in emerging areas, and have heavily invested in upskilling and cross-skilling resources across multiple ServiceNow certification streams. They have forged strong partnerships on ServiceNow and are co-developing industry- and/or function-specific solutions. Technology vendors and industry partners have recognized them with global and regional awards, and the providers offer higher buyer satisfaction on ServiceNow engagements. Overall, as organizations look for enterprise-wide integrated solutions, service providers should help them implement with a long-term technology roadmap and leverage strong IP assets contextualized to the industry to expedite time-to-market.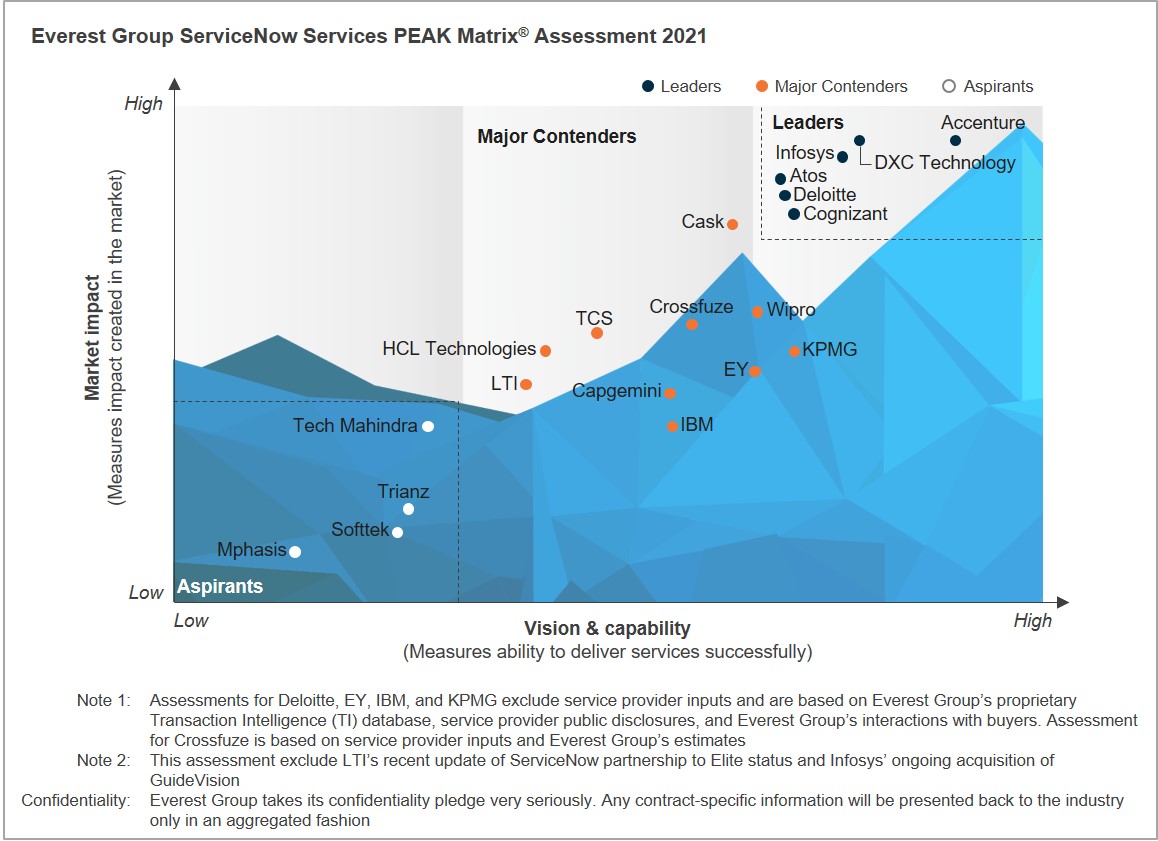 Scope
This research studies the following IT service providers / system integrators associated with ServiceNow services: Accenture, Atos, Capgemini, Cask, Cognizant, Crossfuze, Deloitte, DXC Technology, EY, HCL Technologies, IBM, Infosys, KPMG, LTI, Mphasis, Softtek, TCS, Tech Mahindra, Trianz, and Wipro.
Contents
This report features detailed assessments, including strengths and areas of improvement, of 20 service providers focused on ServiceNow services.
Membership(s)
Enterprise Platform Services (EPS)