The rising costs of drug development, coupled with increasing regulatory pressures, has driven life sciences organizations to reimagine the way clinical trials are conducted – the focus is increasingly shifting toward failing fast and failing cheap. However, challenges such as siloed data management, delayed timelines due to patient recruitment concerns, and a complex environment of multiple technology solutions aggravate a pharma organization's woes further. Digital technologies and products have been deployed across the clinical trial landscape to resolve these challenges and bring in efficiencies and automation to reduce manual errors.
Recently, product vendors have started integrating siloed point solutions into an integrated, modular, and interoperable end-to-end clinical development platform – a single platform to address a pharma organization's needs, right from study start-up to study closeout. A single-platform estate enables efficient data management, reduces the total cost of ownership, and improves the visibility of operations. However, pharma executives are yet to be convinced about a unified platform approach. Everest Group's Clinical Development Platforms – Products PEAK Matrix® Assessment 2020 looks at current vendor landscape offerings and integrated clinical development platforms, and presents the executive sentiment and insights for such platforms.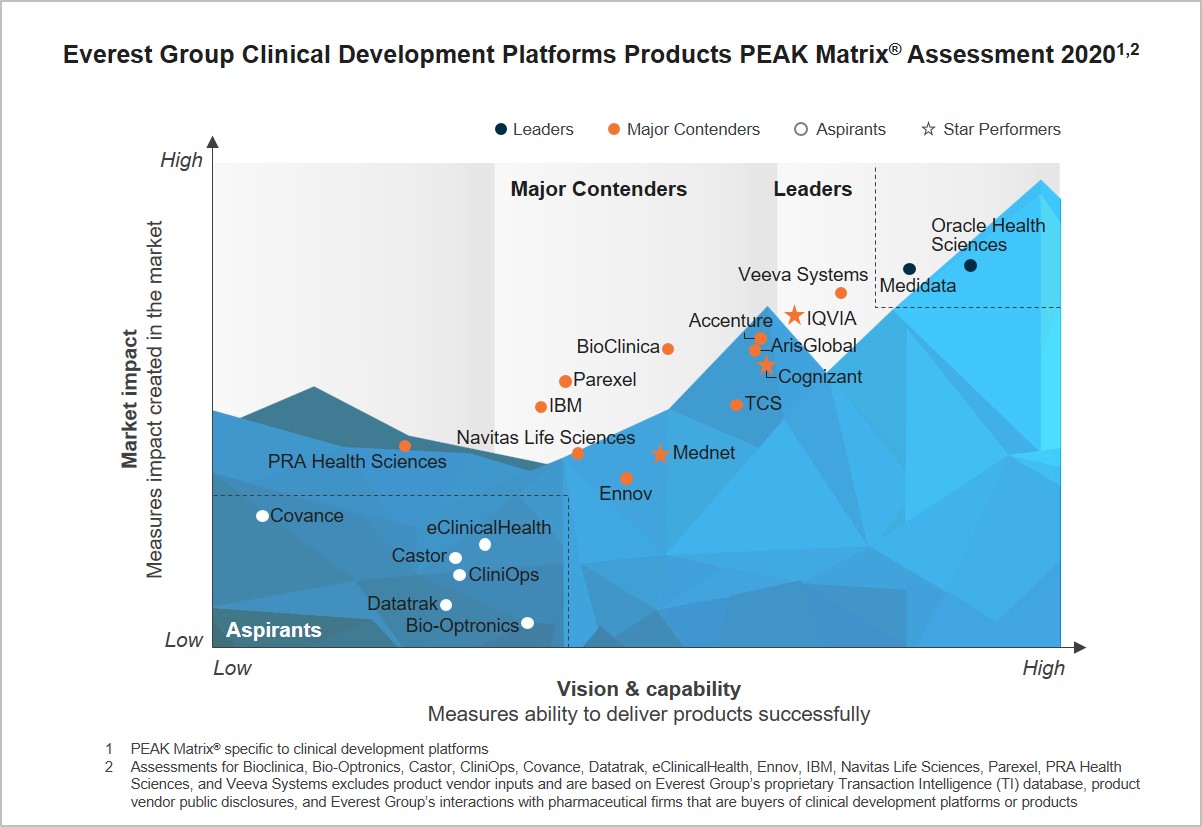 Scope
This research studies the following clinical development platform vendors: Accenture, ArisGlobal, BioClinica, Bio-Optronics, Castor, CliniOps, Cognizant, Covance, Datatrak, eClinicalHealth, Ennov, IBM, IQVIA, Medidata, Mednet, Navitas Life Sciences, Oracle, Parexel, PRA Health Sciences, TCS, and Veeva Systems.
Contents
This report features 21 clinical development product vendor profiles, and includes:
Clinical development products market trends and market size
Product vendor landscape for clinical development
Assessment of product vendors on several capability and market success-related dimensions
Membership(s)
Life Sciences IT Services (ITS)