With growing need for smart medical devices, remote health monitoring solutions, shorter product development timelines, and regulatory compliance, medical device enterprises are increasingly leveraging digital technologies to achieve higher revenue and remain competitive. To fulfill these objectives, they need to partner with the right service providers. While providers are also ramping up their capabilities by entering into life sciences-specific partnerships and acquisitions, they lay limited emphasis on the medical devices industry. This is driving the need for research and market intelligence on demand and supply trends in medical devices digital services. Everest Group's Life Sciences ITS research program addresses this market need by analyzing outsourcing trends and service provider capabilities in medical devices digital services.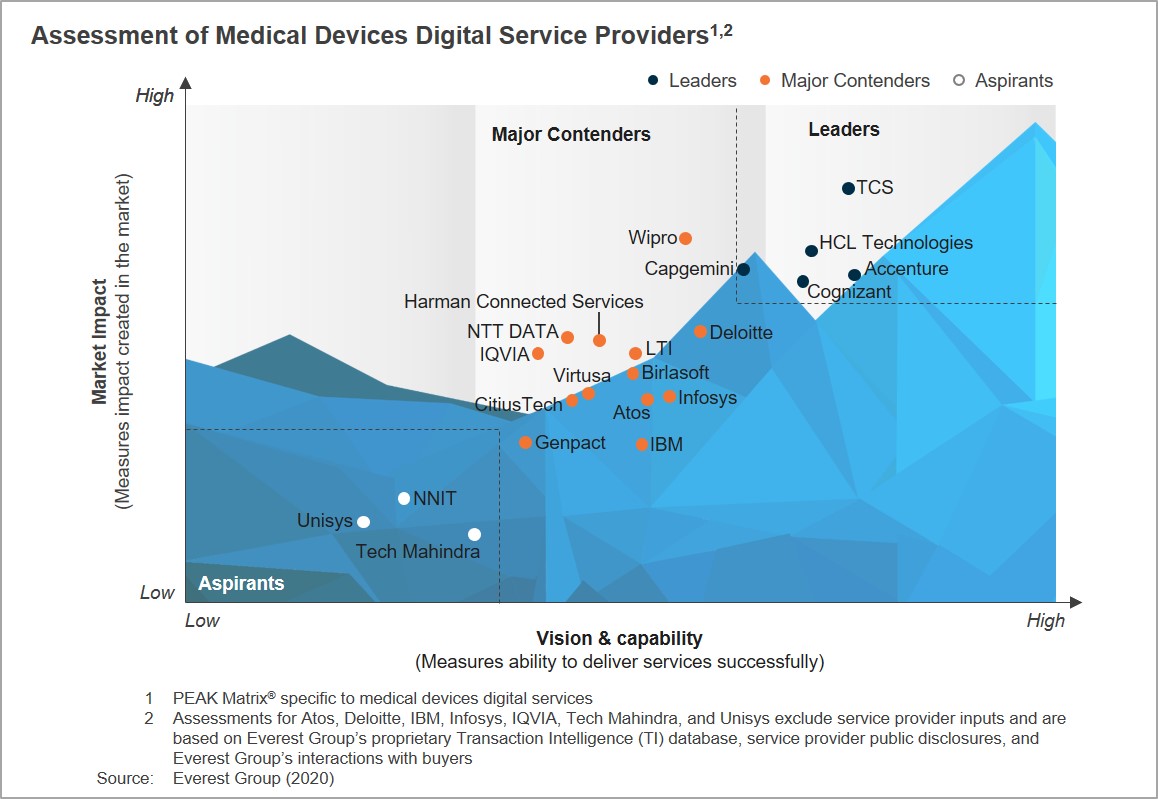 In this research, we present a detailed assessment of 21 IT service providers featured on the Medical Devices Digital Services PEAK Matrix® 2020. Each assessment includes Everest Group's remarks on the service provider and rating across metrics for market impact and vision and strategy. The assessment is based on Everest Group's annual RFI process for the calendar year 2020, interactions with leading medical devices digital service providers, client reference checks, and an ongoing analysis of the medical devices digital services market.
Scope
This research covers the following IT service providers associated with medical devices digital services: Accenture, Atos, Birlasoft, Capgemini, Cognizant, CitiusTech, Deloitte, Genpact, Harman Connected Services, HCL Technologies, IBM, Infosys, IQVIA, LTI, NNIT, NTT DATA, TCS, Tech Mahindra, Unisys, Virtusa, and Wipro.
Contents
This report features 21 IT service provider profiles, each of which includes:
Digital services market trends for medical devices
Overview of the medical devices digital services market
Service provider landscape for medical devices digital services
Assessment of service providers on several capability and market success-related dimensions
Membership(s)