The healthcare IT services space has historically been dominated by global service providers – including the likes of horizontal players such as Accenture, Cognizant, and TCS, as well as healthcare-specific giants such as Optum. However, in the past few years, we have witnessed the healthcare IT services supply ecosystem evolving, with a lot of small/mid-sized service providers coming into play and gaining mindshare with clients. These service providers are establishing themselves as specialists in the healthcare IT services domain and are gaining strong foothold in the market. A few of them have started challenging the front runners directly, while a few others are creating niche for themselves and operating in specific pockets. In a nutshell, these players are leveraging their healthcare domain expertise, healthcare services specialization, or/and high client intimacy to gain market share.
As a scope of this assessment, we are focusing on service providers IT services providers with the total size not more than US$1 billion, getting 25% or more of their revenue from healthcare business, and falling under one or more of the three buckets – broader healthcare IT services providers, healthcare platform-specific services providers, and healthcare consulting services providers.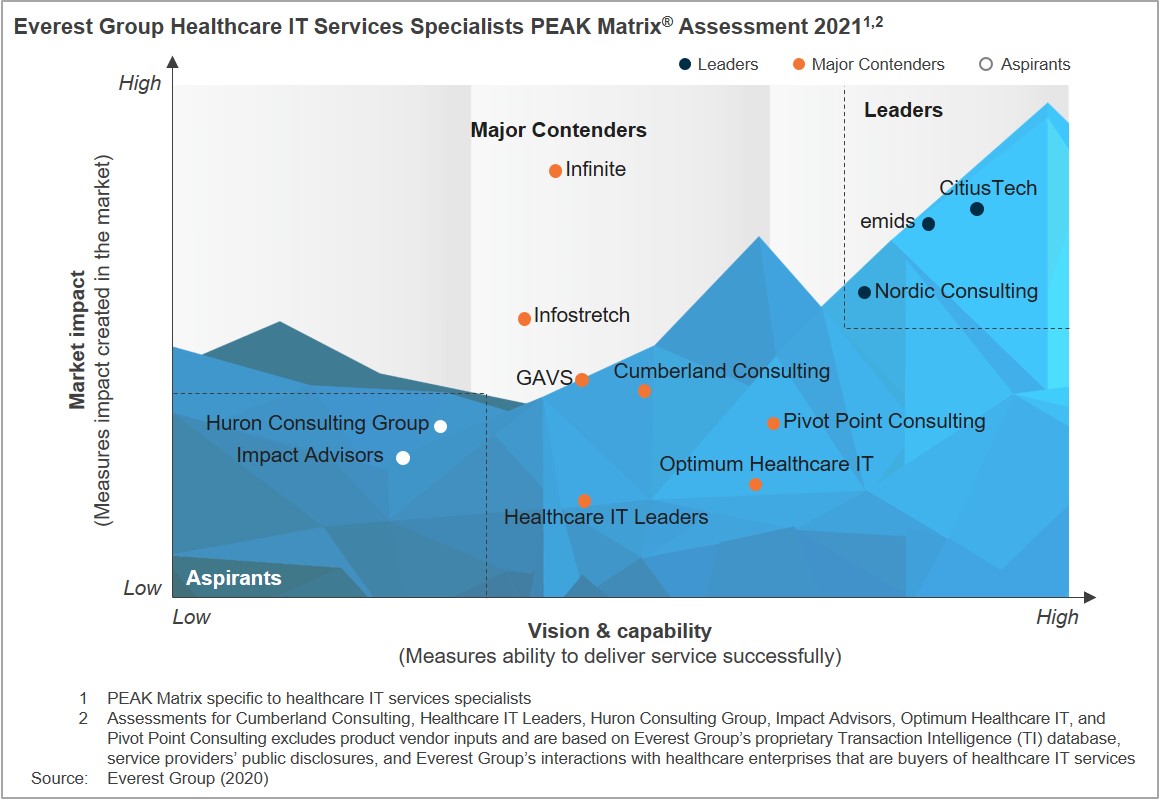 In this research, we present an assessment of 12 healthcare IT services specialists featured on the Healthcare IT Services Specialists – Provider Landscape with Services PEAK Matrix®. The Everest Group PEAK Matrix® is a composite index of a range of distinct metrics related to a vendor's capability and market impact. We focus on:
Market update/trends on growing relevance of healthcare IT services specialists
The landscape of healthcare IT services specialists
Assessment of service providers on several capability and market success-related dimensions
Scope
This research assesses the following Healthcare IT services specialists: CitiusTech, Cumberland Consulting, emids, GAVS, Healthcare IT Leaders, Huron Consulting Group, Impact Advisors, Infinite, Infostretch, Nordic Consulting, Optimum Healthcare IT, and Pivot Point Consulting.
Contents
This report features detailed assessments of 12 healthcare IT services specialists, along with their strengths and areas of improvement.
Membership(s)