Historically, healthcare providers have been impeded by legacy IT estate and regulations that have sought to maintain the status quo. However, that is not an option anymore, particularly as healthcare providers scramble to meet the unprecedented needs exacerbated by the COVID-19 pandemic. They are now jumping on the digital bandwagon to meet the demands of a challenged healthcare ecosystem.
To support enterprises on their digital journeys, service providers are ramping up capabilities, driving up the need for research and market intelligence on demand and supply trends in healthcare provider digital services. Everest Group's Healthcare ITS research program addresses this market need by analyzing demand themes and service provider capabilities in healthcare provider digital services.
In this research, we present an assessment of 22 healthcare digital service providers, featured on our Healthcare Provider Digital Services PEAK Matrix® Assessment 2020. Our assessment is based on Everest Group's annual RFI process for the calendar year 2020, interactions with leading digital service providers, client reference checks, and an in-depth analysis of the digital services market.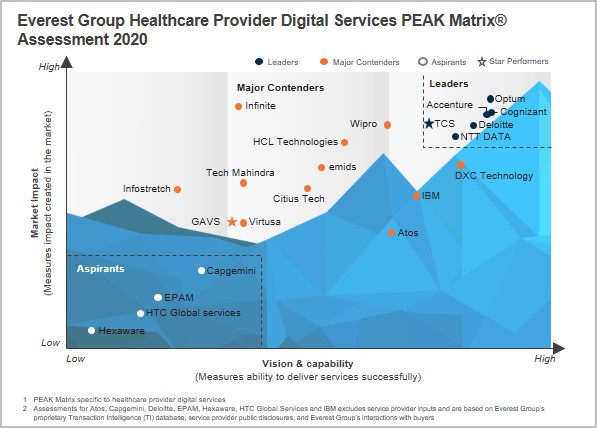 Scope
Industry: healthcare providers
Services: digital services
Geography: global
Service providers covered: Accenture, Atos, Capgemini, Deloitte, CitiusTech, Cognizant, DXC Technology, emids, EPAM, GAVS, HCL Technologies, Hexaware, HTC Global Services, IBM, Infinite, Infostretch, NTT DATA, Optum, TCS, Tech Mahindra, Virtusa, and Wipro
Contents
This report comprises three sections, each containing insights about the healthcare digital service providers' landscape, as outlined below:
Provider digital services market update
PEAK Matrix® assessment of healthcare provider digital services
Everest Group's remarks on service providers
Membership(s)