Life and Annuities (L&A) insurers are facing twin pressures – profitability pressures due to interest rate decline globally and increasing legacy technology costs due to outdated core systems and a legacy technology backbone. This has accelerated the need to adopt modern core systems, increase the reliance on analytics and newer technologies to take costs out rapidly, make new products faster and sell more using the data already generated, as well as deal with the regulatory pressure of increasing compliance mandates.
To address these needs, insurers are adopting a more cloud-native core system, increasing automation in their operations to provide superior policyholder and agent experience, and focusing on reducing their time-to-market for newer insurance products.
In this report, Everest Group studies the vision, capabilities, and market impact of 21 leading service providers with respect to their IT application and digital services portfolios in the global L&A insurance sector. The service providers were positioned on Everest Group's proprietary PEAK Matrix® to identify Leaders, Major Contenders, Aspirants, and Star Performers.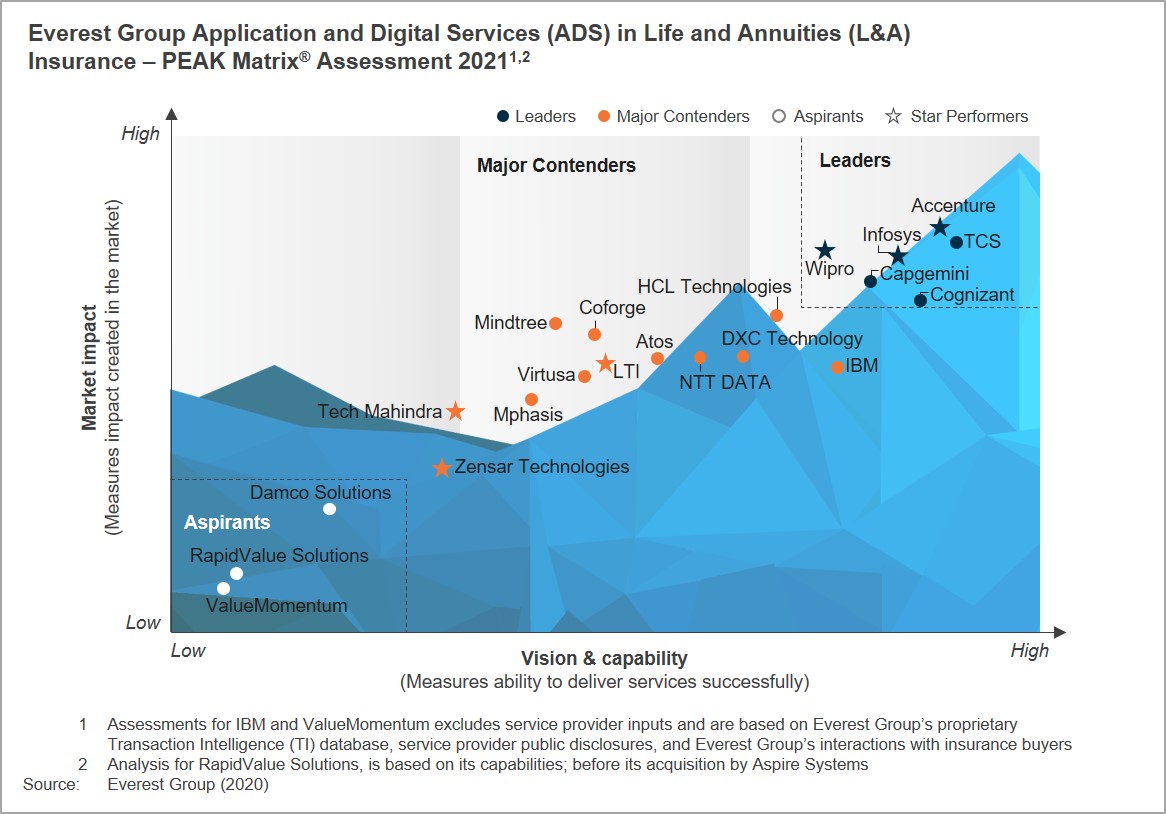 Scope
Market trends and activity in application and digital services in L&A insurance
L&A insurance application and digital services PEAK Matrix characteristics
Service provider characteristics
Contents
In this report, we focus on:
Assessment of service providers on several capability-related dimensions related to application and digital services for L&A insurers
Key market trends and their implications for key stakeholders
Everest Group L&A Insurance Application and Digital Services PEAK Matrix 2021
Characteristics of Leaders, Major Contenders, and Aspirants on the Everest Group L&A insurance application and digital services PEAK Matrix
Star Performers on the L&A Insurance Application and Digital Services PEAK Matrix 2021
Profiles of service providers
Membership