Industry 4.0 Services PEAK Matrix® Assessment 2020: the Transformational Leap in Cyber-physical Convergence
---
by

Akshat Vaid, Mayank Maria, Ojas Rajpal, Shivank Narula, Tushar Sharma
Industry 4.0 is the latest phase in the industrial revolution and a transformational leap in cyber and physical systems and their convergence. It is a technology-intensive transformation characterized by the emerging themes of interconnectivity, digitalization, and automation, and has a significant role to play in imparting resiliency to the entire industrial value chain. Industry 4.0 adoption has been experiencing rapid growth globally, driven by the visibility, predictability, and cost-efficient productivity that it offers. Service providers are playing a critical role by proactively partnering with enterprises to accelerate Industry 4.0 adoption and have developed a wide and comprehensive range of service offerings. The services span four service functions, which broadly capture the Industry 4.0 services value chain:
Consulting and design
Development and Verification and Validation (V&V)
Deployment and System Integration (SI)
Managed services and support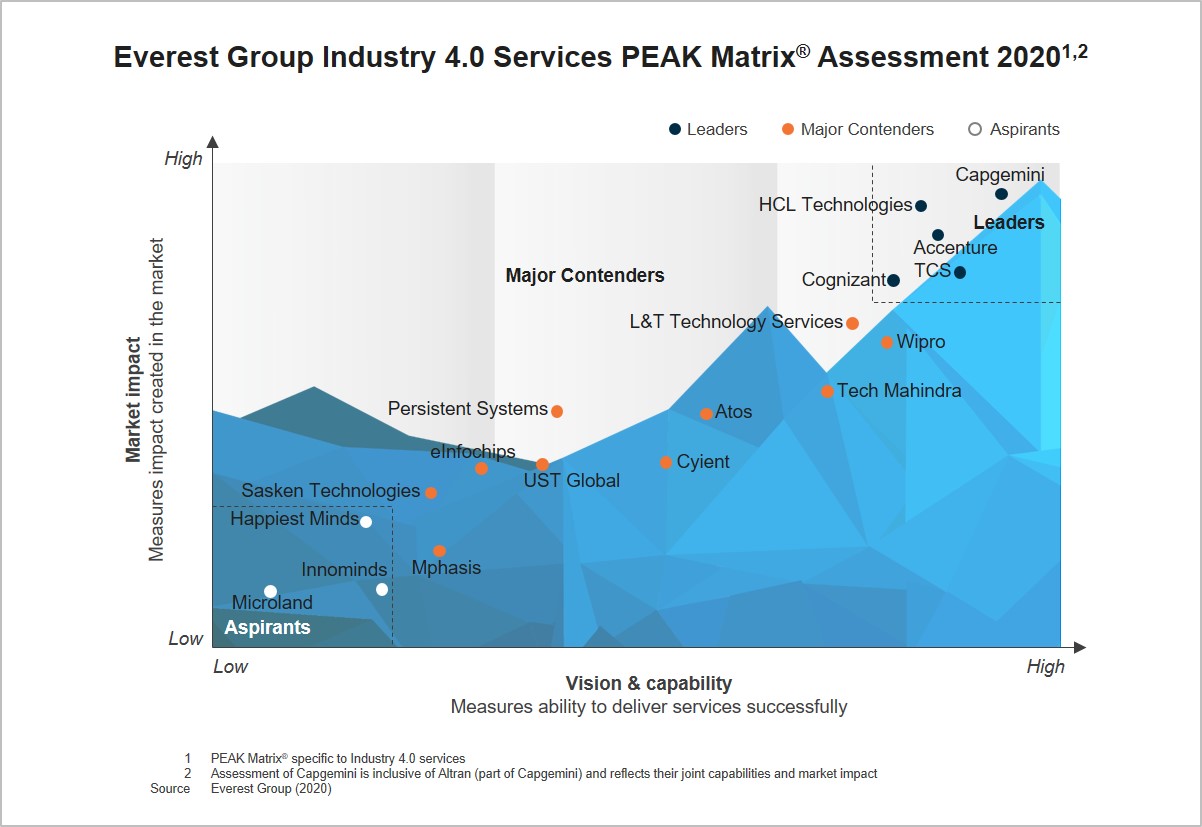 In this unique and exhaustive research, we present detailed profiles and assessments of 18 engineering service providers associated with Industry 4.0 services and feature them on five PEAK Matrix Assessments, one for the overall Industry 4.0 services and one each for the four service functions mentioned above. The assessment is based on Everest Group's annual RFI process, interactions with leading Industry 4.0 services providers, client reference checks, and an ongoing analysis of the Industry 4.0 services market.
Scope:
This research studies the following engineering service providers associated with Industry 4.0 services: Accenture, Atos, Capgemini, Cognizant, Cyient, eInfochips, Happiest Minds, HCL Technologies, Innominds, L&T Technology Services, Microland, Mphasis, Persistent Systems, Sasken Technologies, TCS, Tech Mahindra, UST Global, and Wipro.
Contents
This report features five PEAK Matrix® Assessments and 18 service provider profiles, each of which includes:
An overview of the provider's Industry 4.0 services business – vision and strategy, revenue from Industry 4.0 services, and revenue split by service function, vertical, and geography
Two representative case studies to showcase the provider's value creation for clients
An overview of the provider's capabilities – key solutions/IP, alliances & partnerships, and recent Industry 4.0 investments
A summary dashboard - assessment of the provider's vision & capability and market impact, along with Everest Group's remarks on the provider's strengths and areas of improvement
Membership(s)
---
Page Count: 102