Robotic Process Automation (RPA) has emerged as one of the fastest growing markets in the enterprise automation segment in the past decade, and the COVID-19 pandemic has further accelerated its adoption across industries and geographies. RPA has been a key enabler for organizations in reduction of costs, greater operational efficiency and quality, increased workforce productivity, enhanced customer and employee experience, and quick time-to-value. Encouraged by a growing number of success stories and positive word of mouth, many enterprises, Global Business Services (GBS), and service providers are investing in RPA. To achieve success, it is critical to select the right enterprise-grade RPA technology partners.
In this report, we study 21 RPA technology vendors and position them on Everest Group's PEAK Matrix®, categorizing them into Leaders, Major Contenders, and Aspirants based on their capabilities and offerings.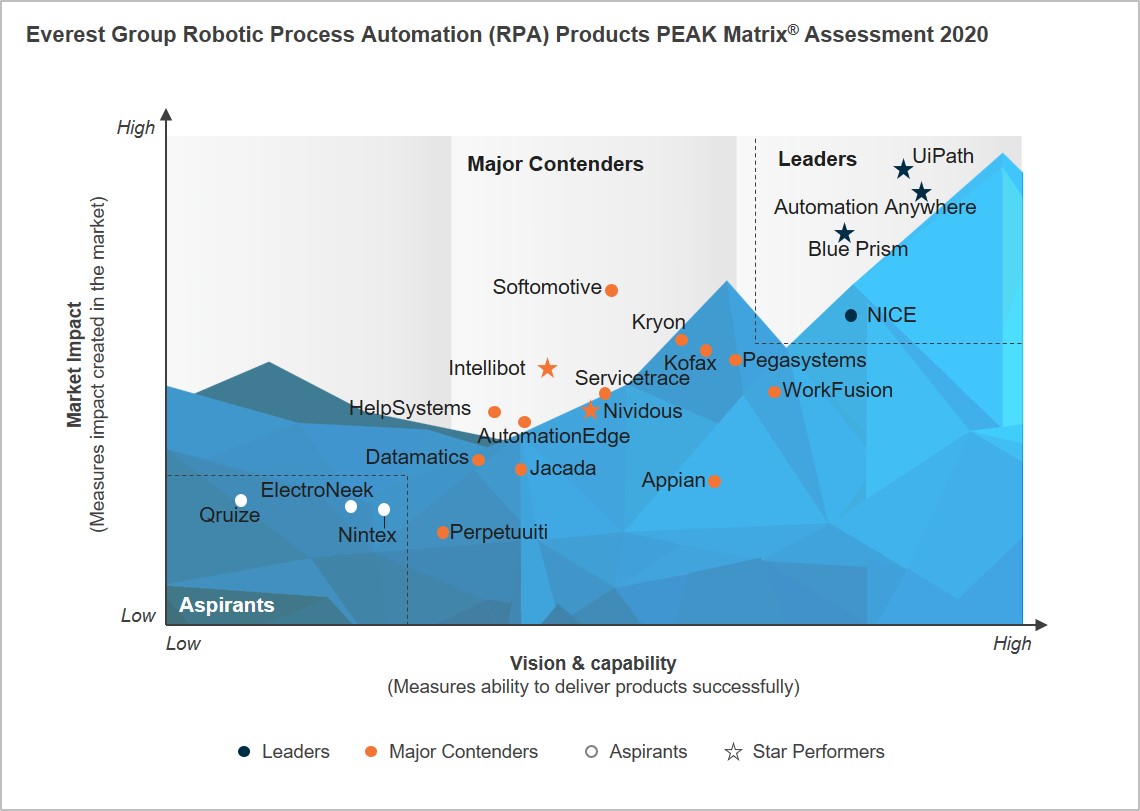 Scope
RPA products that are sold on license and irrespective of any ongoing business or IT process outsourcing or managed services were considered for this report.
We have assessed RPA products from 21 leading technology vendors globally: Appian, Automation Anywhere, AutomationEdge, Blue Prism, Datamatics, ElectroNeek, HelpSystems, Intellibot, Jacada, Kofax, Kryon, NICE, Nintex, Nividous, Pegasystems, Perpetuuiti, Qruize, Servicetrace, Softomotive, UiPath, and WorkFusion.
Contents
This PEAK Matrix report on RPA technology vendors covers the following topics:
Everest Group's PEAK Matrix evaluation of RPA technology vendors and their categorization into Leaders, Major Contenders, and Aspirants
Competitive landscape in the RPA technology vendor market
Key RPA technology trends
Remarks on key strengths and areas of improvement for each RPA technology vendor
Assessment of RDA / attended RPA capabilities
Membership(s)
Service Optimization Technologies (SOT)