The COVID-19 crisis has led to a marked shift in how work is carried out. As the coronavirus pandemic spread globally in early 2020 and governments ordered nationwide shutdowns, companies swiftly began to move their employees to the Work From Home (WFH) model. Over the past few months, it has proved viable and even advantageous in many respects. In a post-COVID-19 scenario, we expect WFH to emerge as an imperative for many organizations. In fact, organizations are cognizant of the impending challenges for the long-term scaled adoption of WFH and are focusing on targeted measures to enable effective WFH, making fundamental changes to their working models.
This report takes a deep dive into the key aspects related to WFH, concerns and best practices regarding remote working, and the implications of industry developments during COVID-19 on future delivery and locations strategies, such as key changes to delivery portfolios, shoring mix, and locations decisions.
The report will be relevant for a broad set of stakeholders interested in integrating WFH in the services delivery model, including buyers / parent organizations, service providers, GBS organizations, and industry influencers (e.g., investors and industry bodies).
Scope
All industries and geographies
This research leverages our survey and interactions with 200+ service provider executives and enterprise / Global Business Services (GBS) / shared services stakeholders across locations and industry verticals.
Contents
In this research, we study the following topics:
Impact of COVID-19 on outsourcing and global services
Growing significance and adoption of the WFH model
Key concerns regarding ongoing and long-term WFH adoption
Key action steps for operationalizing WFH with respect to work mix, technology infrastructure, real estate, talent models, performance management practices, and overall risk mitigation
Impact on delivery and locations strategies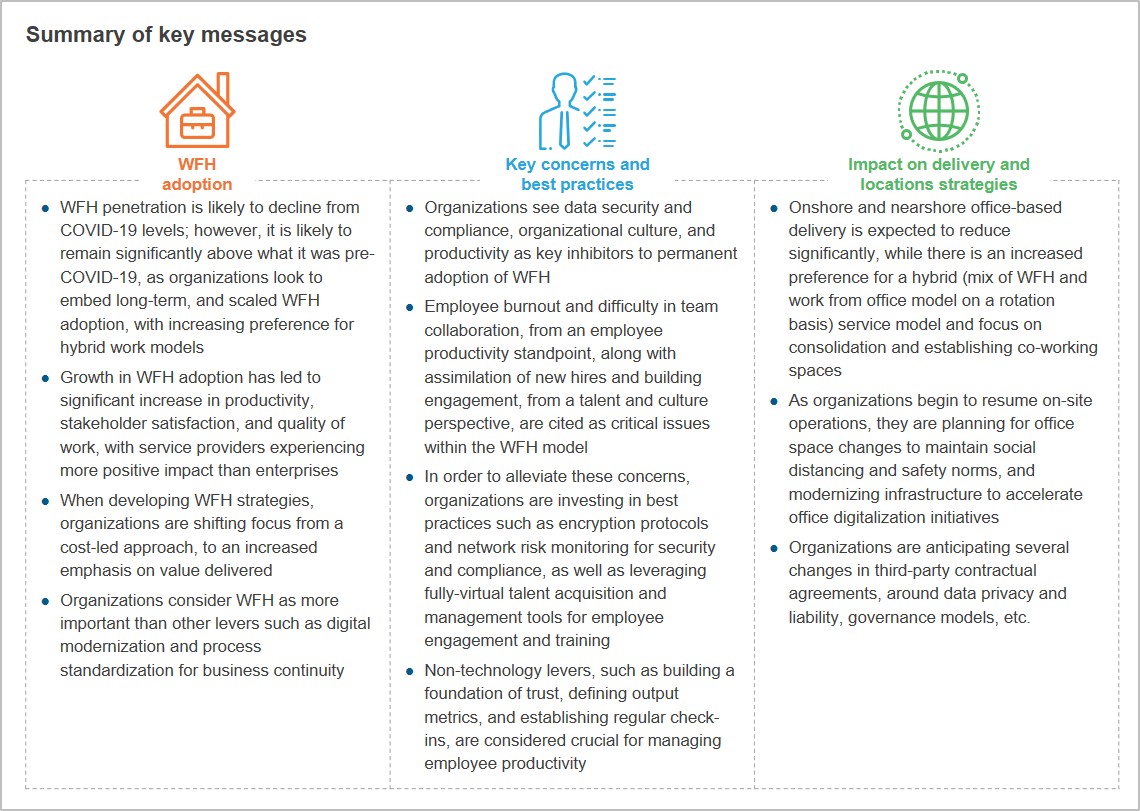 Membership(s)