Enterprises' cloud consumption has experienced a dramatic shift – from an initial skeptical outlook toward the public cloud to going all in on the public cloud – in the last few years. More than 90% of enterprises already leverage one or more public clouds in their enterprise environments. COVID-19 has further accelerated enterprise migration to public cloud, as most enterprises have seen its business continuity benefits during the pandemic.
Being the market leader, AWS has experienced a spike in the adoption of its products across compute, storage, applications, data & analytics, IoT, and blockchain. AWS has also undertaken several COVID-19 initiatives to help customers ensure business continuity in the areas of remote work & learning, research, and other initiatives. This has to led to a proliferation of AWS offerings in the market, which, coupled with management complexities and a talent crunch, is pushing enterprises to seek third-party support. Service providers can help enterprises in navigating the AWS landscape across infrastructure, platform, data, and next-generation technology segments.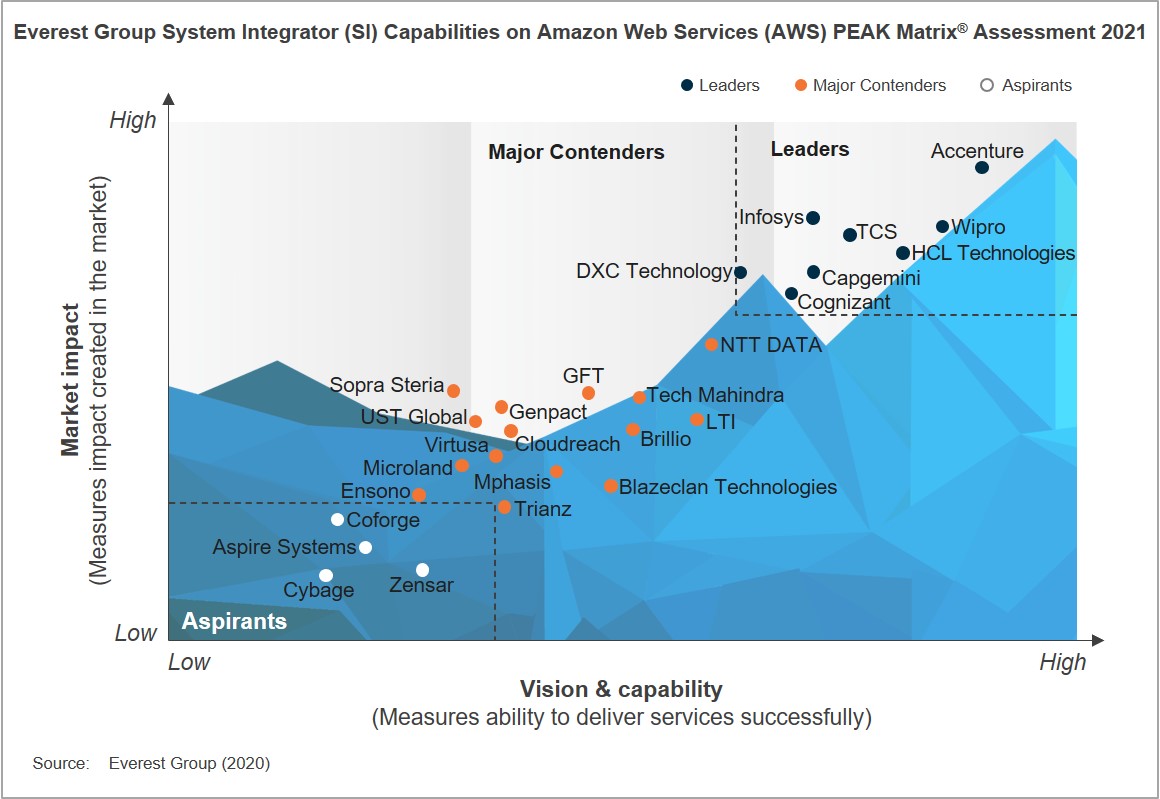 In this research, we present an assessment and profiles of 27 IT system integrators featured on Everest Group's SI Capabilities on AWS PEAK Matrix® and categorize them into Leaders, Major Contenders, and Aspirants. The report also provides analyst perspectives on the system integrators' strengths and areas of improvement in providing AWS cloud services.
Scope
This research provides an assessment of the following IT system integrators: Accenture, Aspire System, Blazeclan, Brillio, Capgemini, Cloudreach, Coforge, Cognizant, Cybage, DXC Technology, Ensono, Genpact, GFT, HCL Technologies, , Infosys, LTI, Microland, Mphasis, NTT DATA, Sopra Steria, TCS, Tech Mahindra, Trianz, UST Global, Virtusa, Wipro, and Zensar.
Contents
Each service providers profile includes the following:
A summary dashboard – assessment of market impact, and vision and capability
Detailed strengths and areas of improvement
Membership(s)
Cloud and Infrastructure Services