Enterprises are increasingly adopting the digital route to improve their operations and business models to provide better customer service and employee experience. As a result, organizations are implementing various types of enterprise software – including Salesforce and Oracle for Customer Relationship Management (CRM), Workday or SuccessFactors for Human Capital Management (HCM), and G Suite and Microsoft Office for collaboration – to support their internal and external operations. While these tools are necessary, they have experienced extremely sluggish adoption, due to which enterprises fail to see their benefits and are unable to realize Return on Investment (ROI).
A Digital Adoption Platform (DAP) – a software that helps enhance the quality and quantity of digital adoption – enables a firm to get the desired ROI. It is an overlay platform that runs on top of the company's software application and uses tooltips and in-app guidance to help users complete specific processes and adopt solutions more quickly. It is designed to ease the change for employees by driving and simplifying end-user support throughout the digital adoption life cycle.
The investor community is thus taking keen interest in DAP, and funding in the market has increased exponentially. Some of the market players are Appcues, AppLearn, AppNavi, Apty, Helppier, Newired, Pendo, Toonimo, Userlane, YesElf, WalkMe, and Whatfix.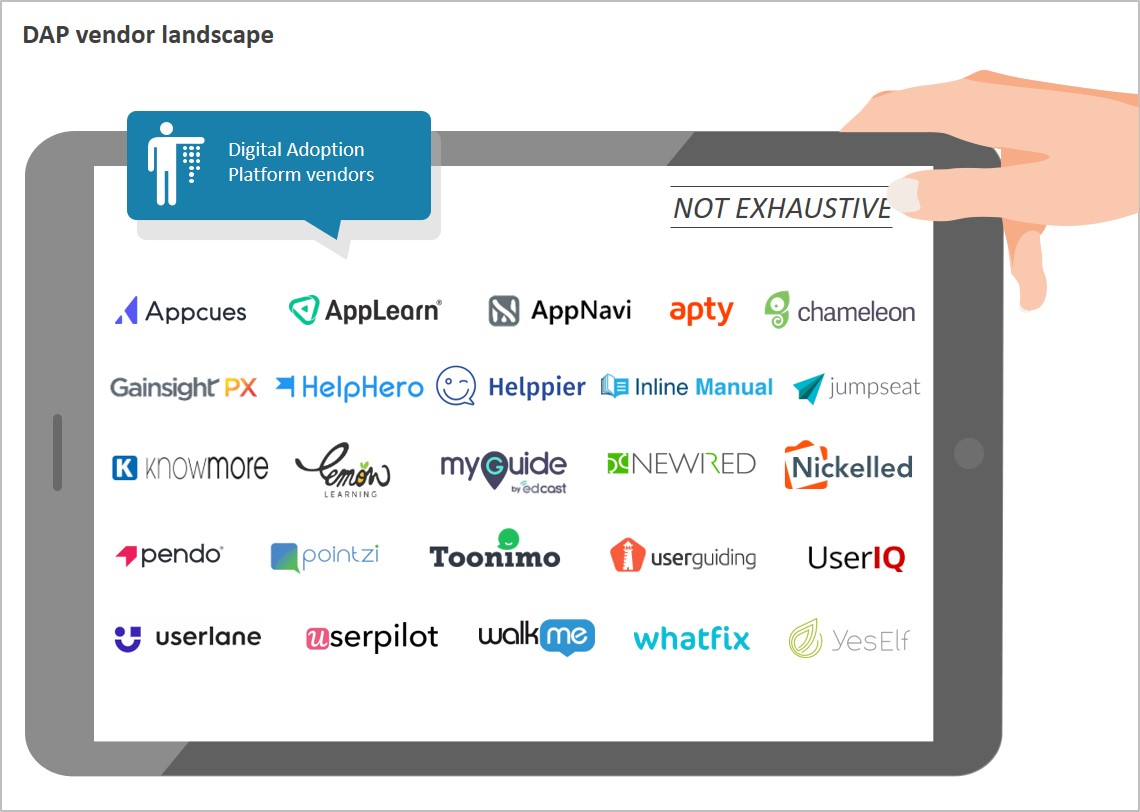 In this report, we explore the key challenges that enterprises face when undergoing digital transformation and how DAP can help address these issues. We also discuss various use cases, special platform features, partner ecosystem, and market outlook.
Contents
This paper discusses the following topics:
The rise of DAP
Key use cases and features of DAP
Enterprise case study on the benefits of DAP
Overview of the market and vendor landscape
Best practices for healthy DAP implementation
Membership(s)
Human Resources Outsourcing (HRO)