Traditionally, organizations across industries have been engaging with third-party Procurement Outsourcing (PO) service providers to reduce costs and improve operational efficiencies in their procurement functions. With increasing emphasis on delivering business outcomes, service providers are investing in value creation levers such as service delivery automation, advanced analytics, and category expertise to act as strategic partners for organizations in their procurement transformation journeys. The PO service provider landscape is changing rapidly, with providers focused on developing end-to-end process/domain expertise, dedicated platforms, and advanced digital capabilities to deliver value-added services to their clients.
In this research, we present detailed profiles and assessments of 17 PO service providers featured on the PO Services PEAK Matrix®. Each profile provides a comprehensive view of the service provider's service focus, key Intellectual Property (IP) / solutions, domain investments, and delivery capabilities. The assessment is based on Everest Group's annual RFI process for the calendar year 2019, interactions with leading PO service providers, client reference checks, and analyses of more than 1,500 multi-process PO deals signed in 2019, with a minimum of three procurement processes.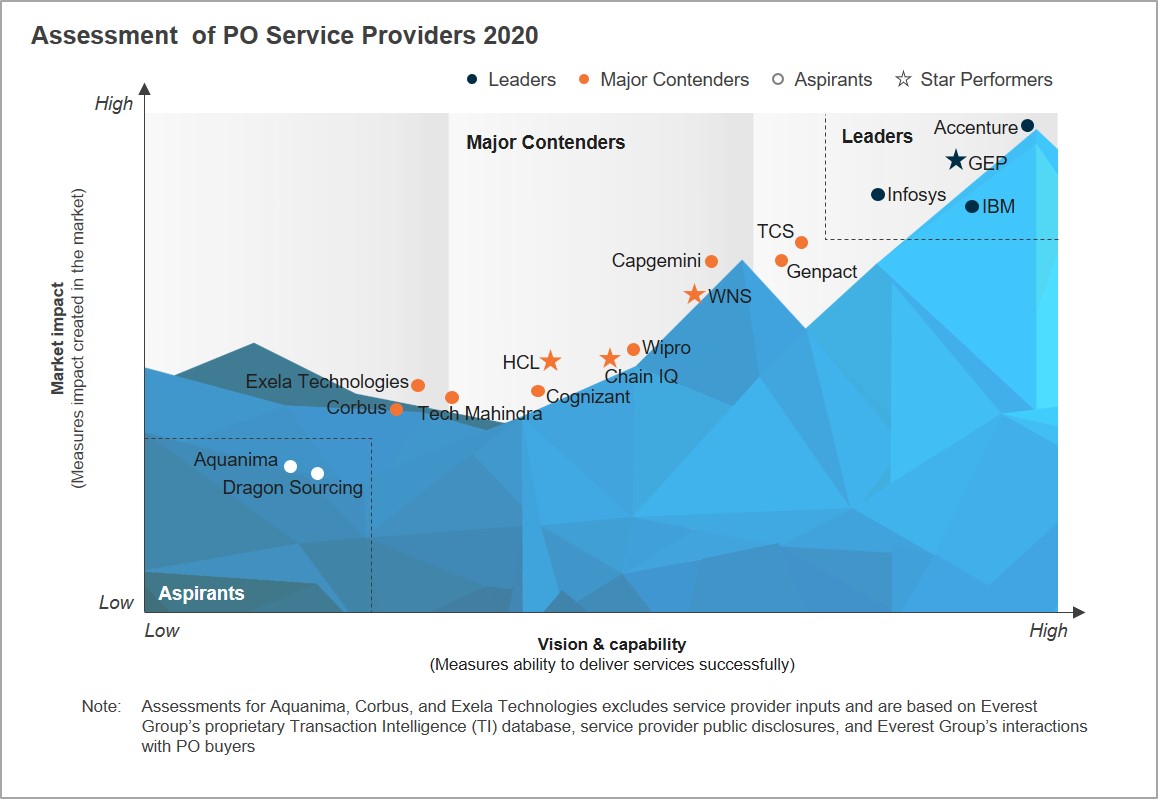 Scope
We study the following service providers associated with procurement outsourcing services in this report: Accenture, Aquanima, Capgemini, Chain IQ, Cognizant, Corbus, Dragon Sourcing, Exela Technologies, Genpact, GEP, HCL, IBM, Infosys, TCS, Tech Mahindra, Wipro, and WNS.
All industries and geographies
Contents
This report features 17 PO service provider profiles and includes:
Assessment of the providers' overall PO capabilities by evaluating them along seven dimensions – scope of services offered, innovations & investments, delivery footprint, vision and strategy, market adoption, portfolio mix, and value delivered
Overview of providers' procurement services offerings – portfolio of services and relative focus across geographies and industries
Overview of top PO providers across geographies and industries, along with respective market shares
Membership(s)