The Customer Experience Management (CXM) market in Europe, Middle East, and Africa (EMEA) has experienced steady growth over the last few years, driven by increasing adoption of digital services and emerging verticals and countries. While economic uncertainty created by COVID-19 has impacted the market, enterprises are trying to overcome the challenges presented by the pandemic and ensure superior customer experience. To this end, they are looking at areas such as digital CX and alternate delivery models such as Work At Home Agents (WAHA).
Enterprises in the region expect service providers to help them fast-track digital adoption and transform their businesses. As a result, many service providers are experiencing a steep rise in the demand for digital services and investing in digital capabilities such as analytics, automation, Artificial Intelligence (AI), and omnichannel solutions to support evolving client expectations. They are also offering value-added services beyond technology, in the form of CX consulting and design thinking-led customer journey orchestration. To effectively cater to these requirements, service providers are developing capabilities through internal investments, their partnership ecosystem, and acquisitions.
In this research, we present detailed assessments of 21 CXM service providers in EMEA that are featured on Everest Group's CXM Services PEAK Matrix® Assessment 2020. Each assessment provides a comprehensive picture of the service provider's market success, vision and strategy, service focus and capabilities, digital and technological solutions, domain investments, and buyer feedback. The assessment is based on Everest Group's annual RFI process for the calendar year 2020, interactions with leading CXM service providers, client reference checks, and an ongoing analysis of the CXM services market.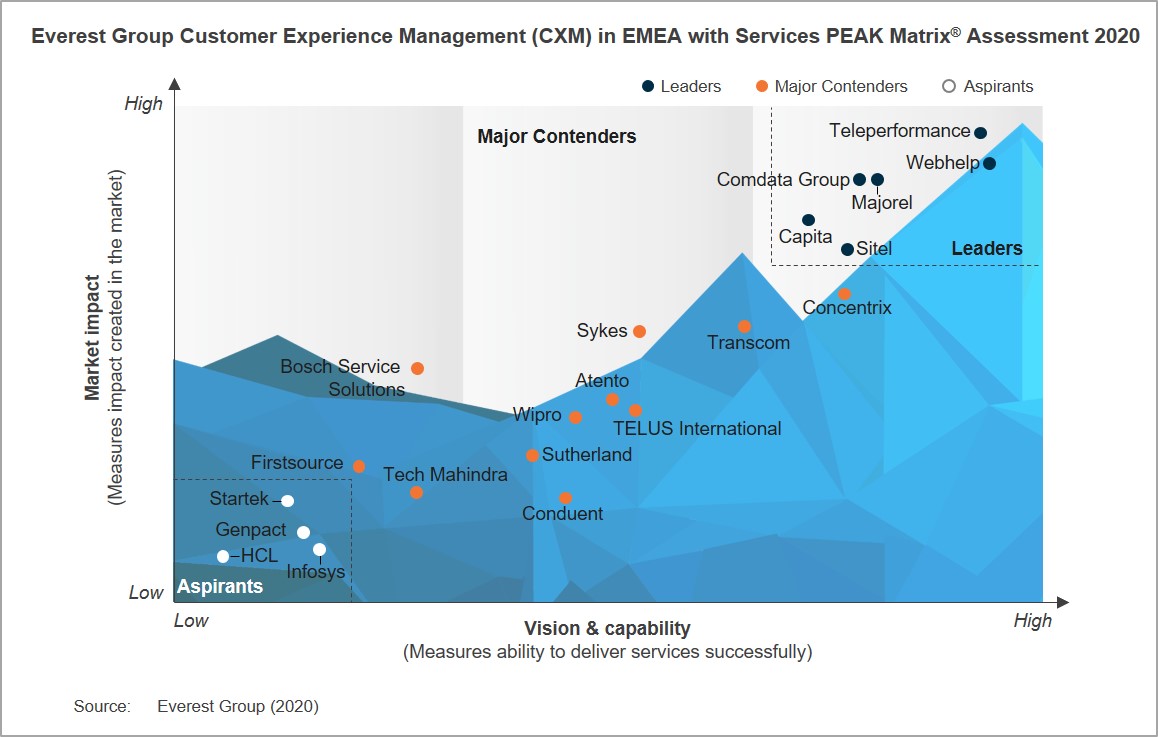 Scope
Industries: All
Geography: EMEA
Services: CXM
CXM vendors studied: Atento, Bosch Service Solutions, Capita, Comdata Group, Concentrix, Conduent, Firstsource, Genpact, HCL, Infosys, Majorel, Sitel, Startek, Sutherland, Sykes, Tech Mahindra, Teleperformance, TELUS International, Transcom, Webhelp, and Wipro
Contents
In this research, we analyze the CXM service provider landscape in EMEA and its impact on the EMEA CXM market. In particular, we focus on:
CXM Services in EMEA and PEAK Matrix® 2020
Key insights on PEAK Matrix® dimensions
Observations and comments on individual service providers
Implications of the research findings for buyers and service providers
Membership(s)
Customer Experience Management (CXM) Services, including Contact Center Outsourcing