Everest Group defines marketing Business Process Services (BPS) as the implementation of marketing activities – including content management (content production and customization, content marketing through emails, and social media), campaign management (campaign design, campaign support, and loyalty management), channel management (including SEO/SEM), and marketing support – for enterprises. Data management and analytics that aid the provision of marketing services also fall under marketing BPS. Marketing strategy and consulting services, though not a part of administrative services, are strong enablers for marketing BPS and are offered by most service providers as higher-end offerings.
Service providers are working to deliver superior customer experience, both in terms of the quality of service delivery and technology capabilities. They create an ecosystem of technology partners to bring the latest solutions to the market. They are increasing investments in analytics to foster marketing intelligence and in areas such as natural language processing, artificial intelligence, and machine learning.
In this research, we present assessments of 14 marketing BPS providers and position them on the Marketing BPS PEAK Matrix® to identify Leaders, Major Contenders, and Aspirants in the space. The assessment is based on Everest Group's annual RFI process for the calendar year 2019, interactions with leading marketing BPS providers, client reference checks, and an ongoing analysis of the marketing BPS market.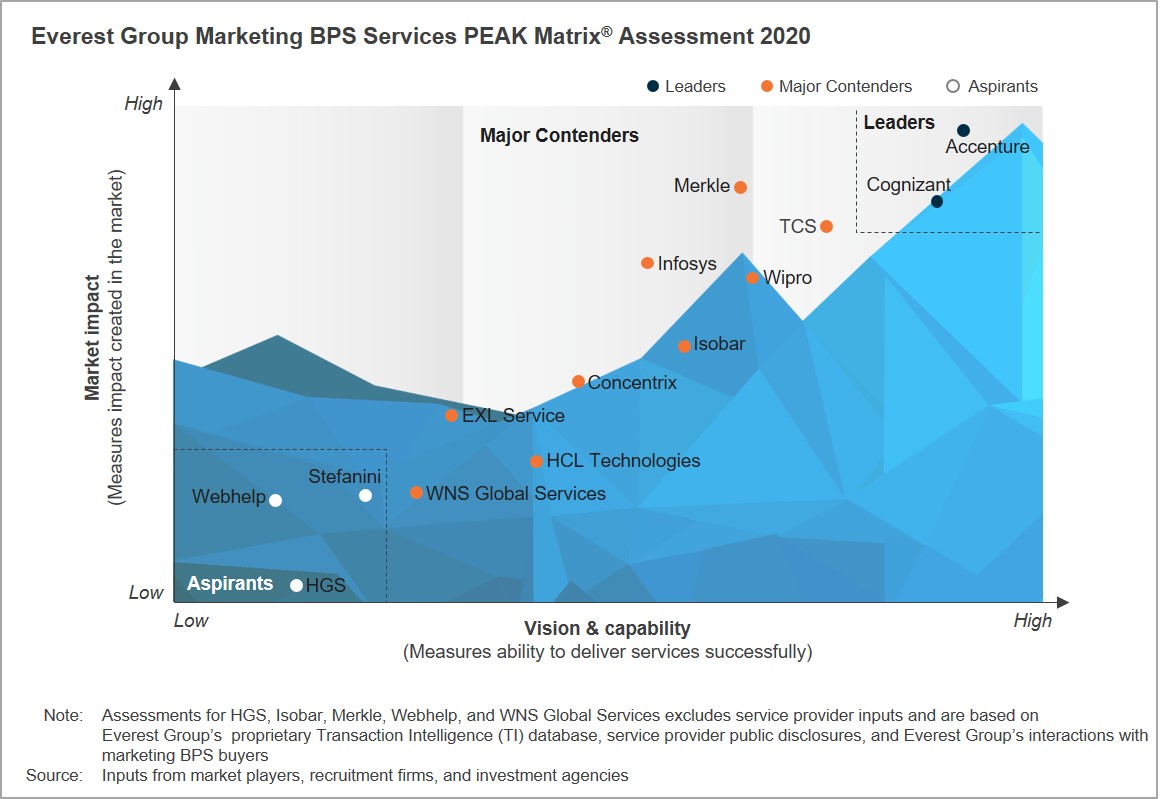 Scope
This research covers the following marketing BPS providers: Accenture, Cognizant, Concentrix, EXL, HCL, HGS, Infosys, Isobar, Merkle, Stefanini, TCS, Webhelp, Wipro, and WNS.
Contents
In this report, we study the following topics:
Everest Group's PEAK Matrix® evaluation, a comparative assessment of 14 leading marketing BPS service providers
Competitive landscape of the marketing BPS market
Everest Group's remarks on key strengths and areas of improvement for each marketing BPS service provider