The payer industry is facing several issues such as escalating costs, declining margins, widespread regulatory amendments, shift from volume- to value-based care model, and rising consumerism. Digital adoption is influencing all aspects of the payer value chain. Payers are focusing on approaching key value chain areas – product discovery (enrollment and risk profiling), medical intervention, and coordinated care (claims management and member follow-ups) – with digital initiatives to create a differentiated impact.
Enterprises have made digital adoption the bedrock of their growth strategy in the recent years, to optimize processes, reduce costs, and deliver better customer experience, all in the pursuit of higher revenue growth. The healthcare payer industry is no exception to this. Digital technologies can make internal workflows more efficient, bring care outside hospitals, offer network management transparency & efficiency, and help reduce frauds. To support enterprises on their digital journeys, service providers are ramping up capabilities through healthcare-specific partnerships and acquisitions. This, in turn, is driving the need for research and market intelligence specific to demand and supply trends in healthcare payer digital services.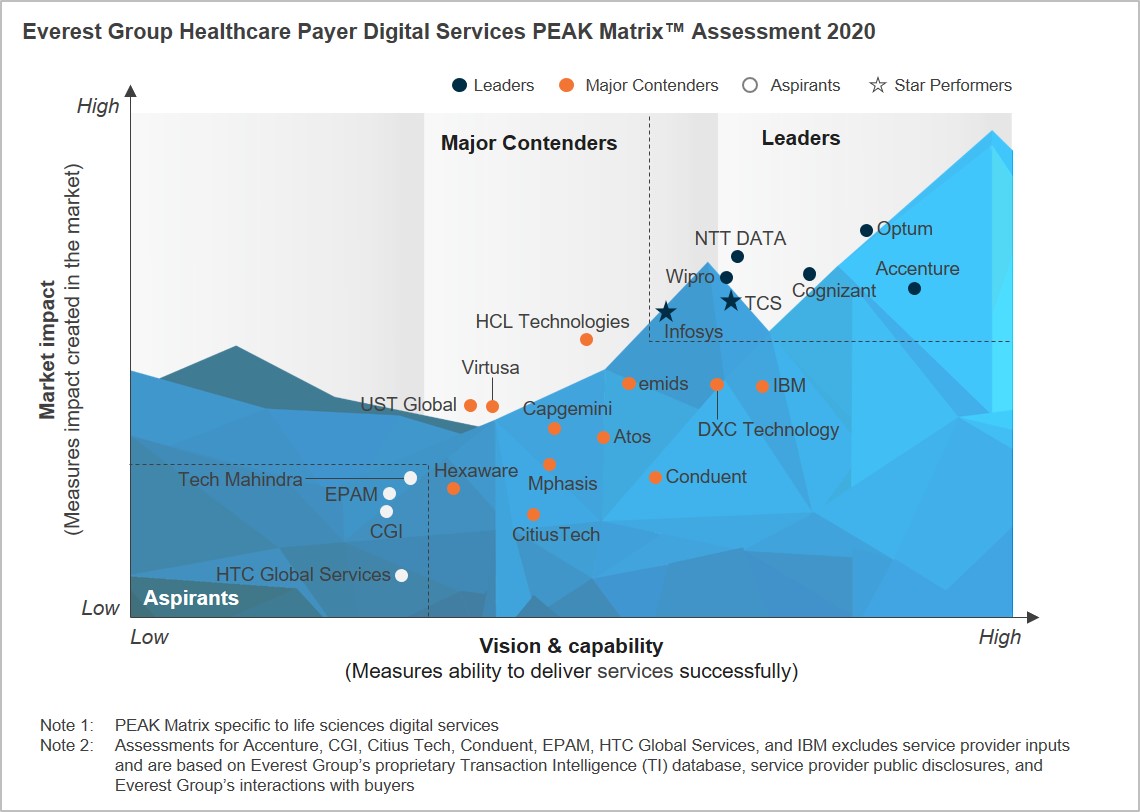 Everest Group's healthcare ITS research program addresses this market need by analyzing outsourcing trends and service provider capabilities in healthcare digital services. In this research, we present an assessment and detailed profiles of 23 digital service providers for the healthcare payer industry, featured on our healthcare payer digital services PEAK Matrix™. Our assessment is based on Everest Group's annual RFI process for the calendar year 2019, interactions with leading digital service providers, client reference checks, and an in-depth analysis of the digital services market.
Service providers covered: Accenture, Atos, Capgemini, CGI, Citius Tech, Cognizant, Conduent, DXC Technology, emids, EPAM, HCL Technologies, Hexaware, HTC Global Services, IBM, Infosys, Mphasis, NTT DATA, Optum, TCS, Tech Mahindra, UST Global, Virtusa, and Wipro
Scope
Industry: healthcare payers
Services: digital services
Geography: global
Sourcing model: third-party ITS transactions; excludes shared services or Global In-house Centers (GICs)
Contents
This report comprises an executive summary and three sections, each containing insights about the healthcare payer digital service providers' landscape, as outlined below:
Summary of key messages
Healthcare payer digital services trends
PEAK Matrix assessment of healthcare payer digital service providers
Profiles of 23 healthcare payer digital service providers
Membership(s)