Interest rate reversal has brightened Life A& Annuity (L&A) insurers' short-term growth outlook. Amid general caution in the wake of high regulatory pressure and intense price competition, L&A insurers are optimistic to meet evolving customer demands by investing in digital technologies to meet efficiency mandates as well as drive the next wave of growth.
Service providers are responding to these demand themes by helping insurers modernize their technology landscape, design a rich user experience to improve customer engagement, and offer advanced analytics solutions to generate personalized customer insights.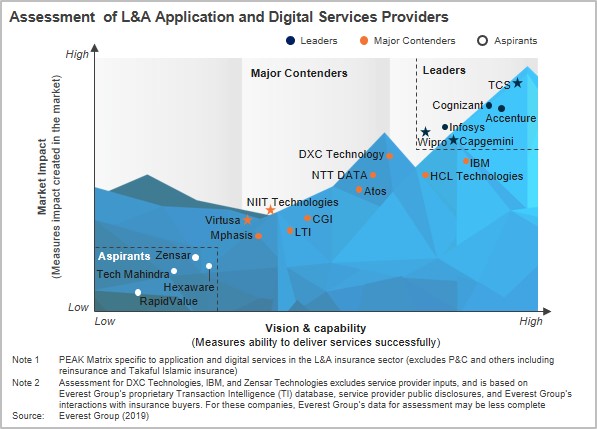 In this report, Everest Group studies the vision, capabilities, and market impact of 20 leading service providers with respect to their IT application and digital services portfolios in the global L&A insurance sector. The service providers were positioned on Everest Group's proprietary PEAK Matrix™ to identify Leaders, Major Contenders, Aspirants, and Star Performers.
Scope
Market trends and activity in application and digital services in L&A insurance
L&A insurance application and digital services PEAK Matrix characteristics
Service provider characteristics
Contents
In this report, we focus on:
Assessment of service providers on several capability-related dimensions related to application and digital services for L&A insurers
Key market trends and their implications for key stakeholders
Everest Group L&A Insurance Application and Digital Services PEAK Matrix 2020
Characteristics of Leaders, Major Contenders, and Aspirants on the Everest Group L&A insurance application and digital services PEAK Matrix
Star Performers on the L&A Insurance Application and Digital Services PEAK Matrix 2020
Profiles of service providers
Membership(s)