Intelligent Document Processing (IDP) – Technology Vendor Landscape with Products PEAK Matrix™ Assessment 2019
---
by

Anil Vijayan, Akash Munjal
Everest Group defines Intelligent Document Processing (IDP) as any software product or solution that captures data from documents (e.g., email, text, pdf, and scanned documents), categorizes, and extracts relevant data for further processing using AI technologies such as computer vision, OCR, Natural Language Processing (NLP), and machine/deep learning. These solutions are typically non-invasive and can be integrated with internal applications, systems, and other automation platforms. They find a wide variety of use cases from different business functions and verticals.
Adoption of IDP solutions can not only help enterprises achieve cost savings, but also improve their workforce productivity as well as employee and customer experience. These products are also rapidly evolving with regards to the sophistication of their capabilities, features, and functionalities.
Scope and methodology
The report provides an assessment of the IDP technology vendor landscape across various dimensions:
Everest Group's PEAK Matrix™ evaluation, a comparative assessment of 16 leading IDP technology vendors
Overview of IDP software products
Competitive landscape in IDP market
Everest Group's remarks on key strengths and areas of improvement for each IDP technology vendor
IDP product capability trends and predictions
IDP software products that leverage AI/cognitive capabilities and are available for independent licensing were considered for this report. These products are offered as either platforms that allow enterprises to deploy them as out-of-the box solutions using pre-built modules, or custom solutions with the intent of classifying and extracting data from documents.
Content
This report will assist key stakeholders (enterprises, service providers, and technology vendors) understand the dynamics of the IDP products landscape. The report provides relative position of IDP technology vendors on the Everest Group Products PEAK Matrix™, capability assessment, competitive landscape, Everest Group's remarks on technology vendors, highlighting their key strengths and areas of improvement, and insights into IDP product capability trends and predictions.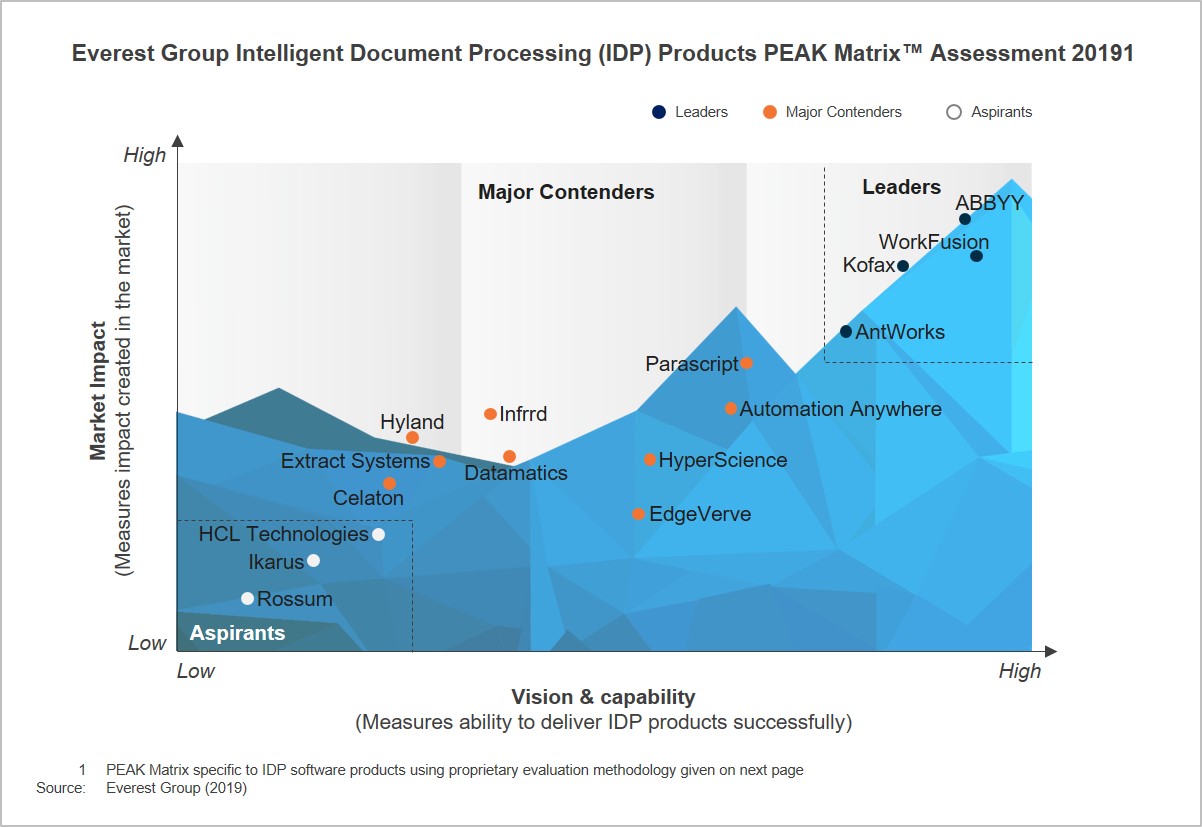 Some of the findings in the report are:
Leaders: ABBYY, AntWorks, Kofax, and WorkFusion
Major Contenders: Automation Anywhere, Celaton, Datamatics, EdgeVerve, Extract Systems, Hyland, Hyperscience, Infrrd, and Parascript
Aspirants: HCL, Ikarus, and Rossum
ABBYY leads the market share in insurance, healthcare and pharma, manufacturing, and travel and logistics verticals; WorkFusion has the highest market share in the banking and capital markets vertical
WorkFusion has achieved higher success in healthcare, procurement, and HR functions; Automation Anywhere and ABBYY lead in other functions
While ABBYY leads in Continental Europe and Middle East & Africa (MEA), Automation Anywhere and WorkFusion have found the maximum success in North America and Asia Pacific (APAC), respectively
Leaders enjoy higher overall CSAT than Major Contenders and Aspirants. Their clients are highly satisfied with their product vision and roadmap, IDP product capabilities, and their ability to deliver enhanced business outcomes
Membership(s)
---
Page Count: 78