Enterprise cloud suites have witnessed widespread adoption across industries and geographies. Enterprises increasingly recognize the strong correlation between employee experience and customer satisfaction. Changes in workforce and its evolving expectations are, therefore, driving enterprises to opt out of traditional on-premise Human Capital Management (HCM) platforms in favor of cloud HCM suites.
Workday has, since its inception, stood out in the cloud HCM suites market for its high user satisfaction scores. Its investments in building analytics and planning capabilities are helping enterprises understand their employees and optimize their workforce strategy. It differentiates itself in this fast-paced market through a clear focus on a single code and community-based development, extensibility of its platform, and extensive analytics capabilities.
However, other competing platforms are catching up to Workday's growth, as they pivot their strategy towards cloud-based offerings. When selecting a cloud HCM suite, enterprises must carefully consider the suite's functionality, experience, and overall cost.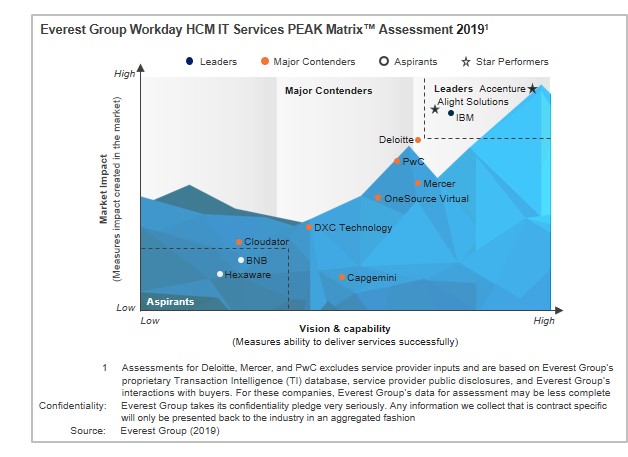 In this research, we present an assessment of 12 leading Workday IT service providers plotted on the proprietary Everest Group PEAK Matrix, along with their detailed profiles. Each service provider profile comprises details of service capabilities, scale of operations, and domain investments. The assessment is based on Everest Group's annual RFI process for the calendar year 2018, direct interaction with leading Workday service providers (including pure-play HCM service providers and boutique firms), client reference checks, and an analysis of the Workday HCM IT services market.
This report will cover the following:
Workday HCM market update
Imperatives for enterprises and service providers
PEAK Matrix assessment of Workday HCM IT services providers
Profiles of 12 Workday HCM IT service providers
Membership(s)