The role of banks as a physical entity providing financial services/products is changing, to becoming an ecosystem enabler. The rapid onslaught of digital technologies has transformed banks from being financial services providers powered by technology, to becoming technology firms offering financial services. As they embark on this transformation journey, they look to focus on three Es – Experience, Efficiency, and Ecosystem.
Banks are tackling issues related to legacy systems, regulations, the rise of digital-native competitors, and the evolving digital needs of customers as they work toward pivoting into FinTech firms. At the same time, there is a need to take these emerging solutions to market at a pace that can help them stay ahead in the competitive curve. Given the rapidly-evolving technology landscape, partnership with the technology service providers      that can bring in talent and help banks improve time-to-market becomes pertinent.
Accordingly, service providers have stepped up their investments in not just building banking-focused IP/solutions but also in capitalizing on engineering talent. Customer experience, core modernization, and open banking are the key enablers that will drive the next wave of growth for them.
In this research, we analyzed the capabilities of 27 leading application and digital service providers, specific to the global banking sector. These providers were mapped on the Everest Group PEAK MatrixTM, which is a composite index of a range of distinct metrics related to each provider's vision & capability and market impact. In this report, we focus on:
The landscape of service providers offering application and digital services to banking enterprises
Assessment of service providers on several capability-related dimensions
Characteristics of Leaders, Major Contenders, and Aspirants on the Everest Group application and digital services in banking – services PEAK MatrixTM 2020
"Star Performers" of 2020, providers with the strongest forward movement over time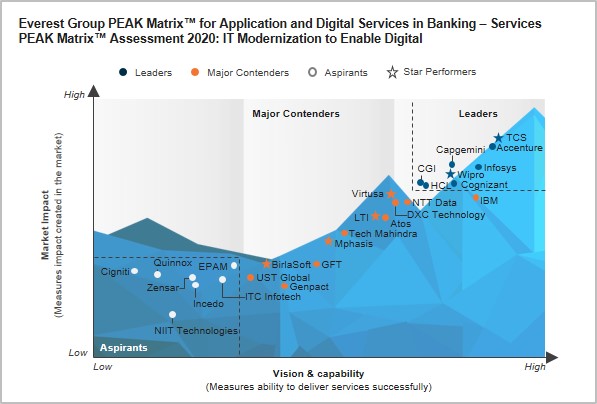 SCOPE OF THE ANALYSIS
Industry: Banking – includes retail banking, commercial banking, cards & payments, and lending
Geography: Global
Market segment: IT services market – third-party IT services transactions; excludes shared services or Global Capability Centers (GCC)
CONTENT
This report analyzes application and digital services in the global banking sector:
Key trends in banking IT services
Everest Group Application and Digital Services in Banking PEAK MatrixTM 2020
Star Performers on the Application and Digital Services in Banking PEAK MatrixTM 2020
Use cases of adopting next-generation technologies in banking and enterprise feedback summary
Profiles of banking application and digital service providers
Membership(s)