Although the focus of workplace services has shifted from user productivity to user experience, the consumers of these services are still viewed as users, rather than humans. Enterprises need to realize that employees are not mere units of productivity, and that they deserve a humanized workplace experience – where empathy is a core part of the whole design
Yet, many enterprises are misled into adopting a workplace service model based on user productivity – camouflaged as user experience. As a result, current workplace offerings provide short-term productivity gains at the cost of the employee's wellness, happiness, and morale. In order to humanize the workplace experience, the workplace design needs to be in sync with the human attributes of employees – with technology acting as an enabler
In this research, we discuss the latest digital workplace services market trends and present the assessment and detailed profiles of 21 IT service providers featured on the Digital Workplace Services PEAK Matrix™. Each service provider profile provides a comprehensive picture of their digital workplace services vision & strategy, scope of services offered, innovation & investments, and delivery capabilities.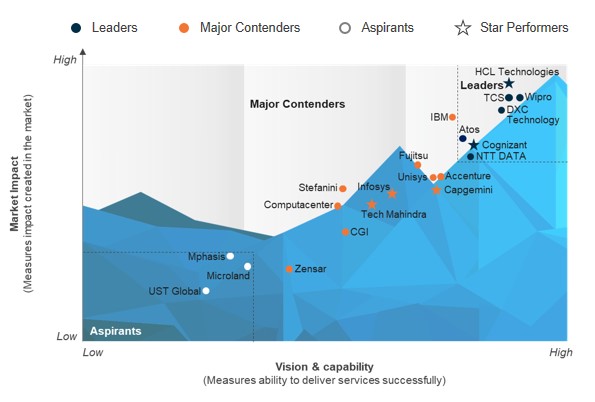 Scope of the analysis
This research provides fact-based trends impacting the digital workplace services market and an assessment of IT service providers / system integrators associated with digital workplace services.
The report covers the following IT service providers: Accenture, Atos, Capgemini, CGI, Cognizant, Computacenter, DXC Technology, Fujitsu, HCL Technologies, IBM, Infosys, Microland, Mphasis, NTT DATA, Stefanini, TCS, Tech Mahindra, Unisys, UST Global, Wipro, and Zensar.
Contents
Each service provider profile covers the following aspects:
General overview of the provider's digital workplace services business – vision, scale, overall focus, and extent of adoption of the provider's digital workplace services across enterprise segments and geographies
Portfolio of services and relative focus across service lines
Assessment of the provider's digital workplace services delivery capability, domain investments, key solutions, and key partnerships
Strategic focus areas and market success of digital workplace service areas
Membership(s)