Financial Crime and Compliance (FCC) Operations Services PEAK Matrix™ Assessment and Service Provider Landscape 2020
---
by

Manu Aggarwal, Robin Jain, Akanksha Pathak
The FCC operations space is a fast-growing area within the banking and financial services segment. Banks and other financial institutions are grappling to meet the tightening regulatory norms as well as safeguard themselves from financial crimes, all while maintaining their operational costs. Increasing sophistication of money laundering activities, followed by an increasing severity of repercussions of being non-compliant with regulations, is causing a strain on Financial Institutions. The evolving regulations in the financial sector call for a dynamic regulatory compliance check, which is difficult for these institutions to manage globally. Enterprises are looking for support to meet these challenges as well as fight financial crime while maintaining costs.
The growing requirement for FCC support has opened opportunities for service providers to further augment their capabilities and add offerings for fraud management and chargeback processes, in addition to the traditional Know Your Customer (KYC) and Anti Money Laundering (AML) offerings. The demand to increase efficiency and productivity by reducing false positives and manual intervention remain of prime importance to buyers. Service providers have the opportunity to incorporate digital elements into their solutions and add value to their services in a client relationship.
Scope and methodology
In this research, we analyze the global FCC operations service provider landscape. We focus on:
Relative positioning of 21 service providers on Everest Group's PEAK Matrix
Service provider market impact
Service provider vision and capability assessment across key dimensions
Comments about service providers
Content
This report examines the global FCC operations market and its service provider landscape. It provides detailed analysis of the capabilities and market performance of service providers and their relative position on the Everest Group PEAK Matrix and will assist key stakeholders (banks, non-banking financial institutions, technology providers, and service providers) understand the current state of the FCC operations service provider landscape.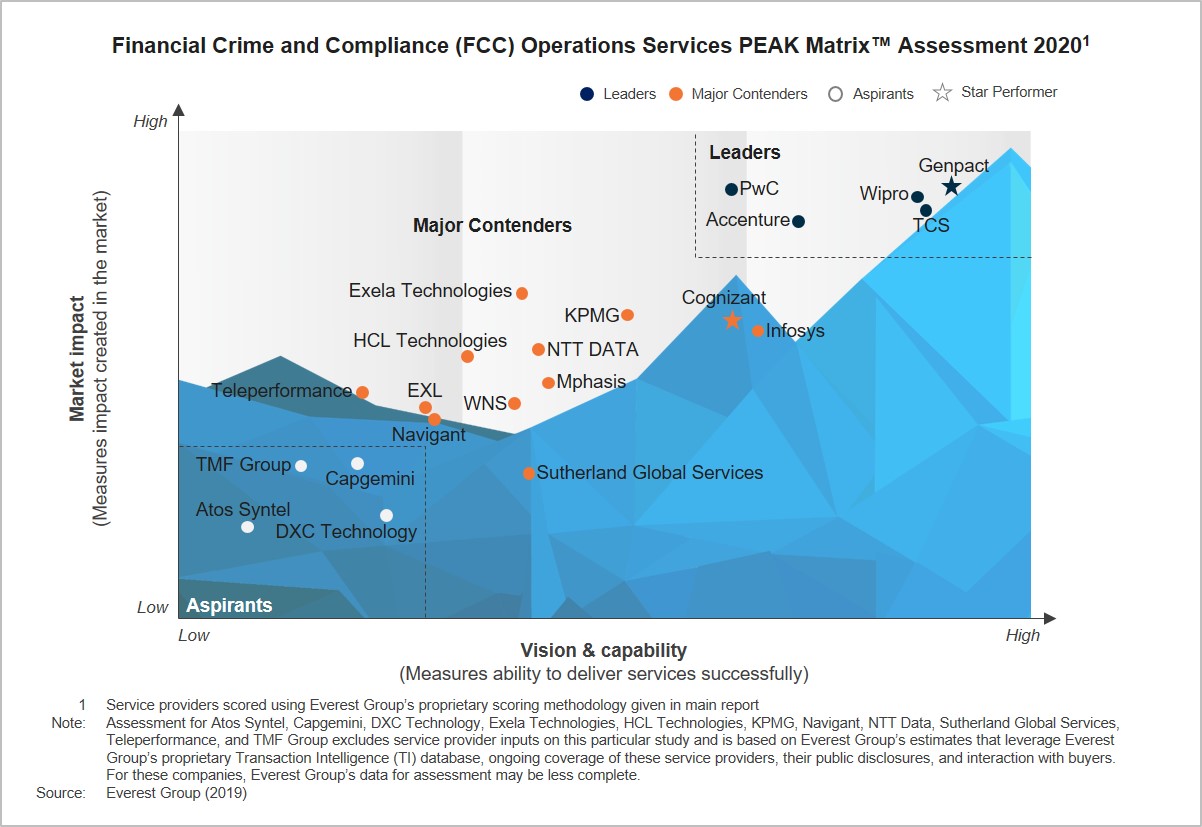 FCC operations PEAK Matrix 2020 positioning is as follows:

Leaders: There are five service providers in the Leaders category – Accenture, Genpact, PwC, TCS, and Wipro
Major Contenders: The Major Contenders category has twelve service providers – Cognizant, Exela Technologies, EXL, HCL Technologies, Infosys, KPMG, Mphasis, Navigant, NTT Data, Sutherland Global Services, Teleperformance, and WNS
Aspirants:Atos Syntel, Capgemini, DXC Technology, and TMF Group are the Aspirants on the PEAK Matrix for FCC operations

Market share assessment of 21 service providers by:

Revenue
Revenue growth
Geography (signing region)
Processes within FCC operations

Everest Group's assessment for 21 service providers
Membership(s)
Banking and Financial Services (BFS) - Business Process Outsourcing (BPO)
---
Page Count: 54