Contact Center Outsourcing (CCO) – Service Provider Landscape with Services PEAK Matrix™ Assessment 2019
---
by

Shirley Hung, Sharang Sharma
The CXM space is witnessing rapid shift to digitally driven CX, fueled by changing buyer demands. These changes are driving service providers to invest in digital capabilities across the board, instead of focusing on selective capabilities. Service providers need to invest in the full spectrum of capabilities that span different digital solutions, such as analytics, automation / Robotic Process Automation (RPA), Artificial Intelligence (AI), and omnichannel, to be able to drive transformations for their clients. They are also offering innovation beyond technology by building capabilities around consulting, design-thinking, talent upskilling, and new-age delivery models such as Work-At-Home-Agents (WAHA). However, digital-first contact center, while growing, continues to be a fraction of the traditional contact center outsourcing market that is still driven by scale and the ability of service providers to manage client business across different geographies. Given these factors, service providers continue to invest in a host of capabilities, either through internal investments, or partnerships & acquisitions as they look to close the capability gap with their peers and create differentiation for themselves in the market.
In this research, we analyze the CCO market across various dimensions:
CCO PEAK Matrix™ 2019
Key insights into the PEAK Matrix™ dimensions
Strengths and areas of improvements for individual service providers
Scope of analysis
More than 3,000 active CCO deals (as of December 2018) tracked annually by Everest Group
Coverage across 30+ CCO service providers including Alorica, Atento, Capita, CGI, Concentrix, Conduit Global, CSS Corp, EXL, Firstsource, Genpact, HCL, Hexaware, HGS, Infosys, iQor, Knoah Solutions, NTT DATA, Qualfon, Sitel, STARTEK and Aegis, Sutherland Global Services, Sykes, Tech Mahindra, Teleperformance, TELUS International, Transcom, TTEC, VXI, Webhelp, Wipro, and WNS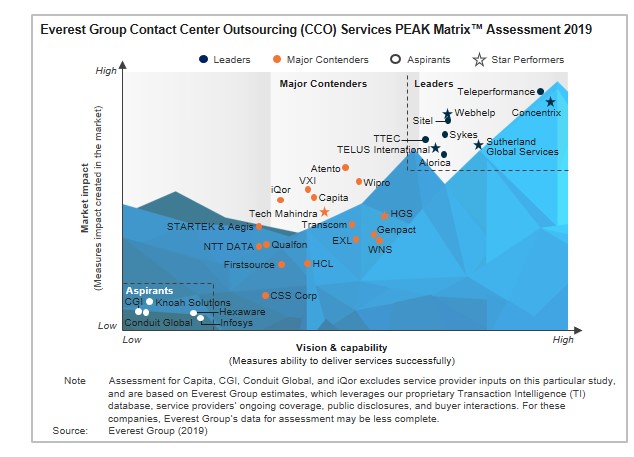 Content
This report examines the global Contact Center Outsourcing (CCO) market and evaluates the positioning of service providers on the Everest Group PEAK Matrix™. It provides insights into the changing market dynamics, service provider delivery capabilities, and Everest Group's remarks on service providers' key strengths and areas of improvement.
Some of the findings in this report are:
Everest Group classifies 30+ CCO service providers on the Everest Group PEAK Matrix™ into three categories of Leaders, Major Contenders, and Aspirants. The PEAK Matrix is a framework to assess the relative market impact and the vision & capability of service providers
The 2019 CCO PEAK Matrix™ positioning is as follows:

Leaders: Alorica, Concentrix, Sitel, Sutherland Global Services, Sykes, Teleperformance, TELUS International, TTEC, and Webhelp
Major Contenders: Atento, Capita, CSS Corp, EXL, Firstsource, Genpact, HCL, HGS, iQor, NTT DATA, Qualfon, STARTEK and Aegis, Tech Mahindra, Transcom, VXI, Wipro, and WNS
Aspirants: CGI, Conduit Global, Hexaware, Infosys, and Knoah Solutions

Based on the relative Year-on-Year (YOY) movement of each service provider, Everest Group identified five service providers as the "2019 CCO Market Star Performers" – Concentrix, HGS, Sutherland Global Services, Tech Mahindra, TELUS International, and Webhelp
Membership(s)
Customer Experience Management (CXM) Services, including Contact Center Outsourcing (CCO)
---
Page Count: 72