Healthcare Payer Business Process Services PEAK Matrix™ Assessment 2019
---
by

Manu Aggarwal, Naman Sharma
With multiple M&As and partnerships being announced, healthcare payers have had a busy last couple of years. Quest for consolidation across the value chain has led payers to merge with PBMs, acquire providers (physician practices, home health services, and ambulatory facilities), and invest in technology consortia. Additionally, entry of technology firms such as Amazon, Apple, and Microsoft, and rise of new-age digital health insurers (such as Oscar Health, Devoted Health, and Clover Health) further complicates the market scenario for traditional health insurers. All these factors, when coupled with ongoing perennial challenges related to transition to value-based care, regulations, rise of consumerism, provider consolidation, and increasing medical costs, continue to push payers to look for ways and means to not only survive in this space but also thrive.
With this slew of changes, the healthcare in the United States is at an inflection point, with everything from member engagement to administrative management to care management being transformed. For payers, the path ahead lies in transforming the way they, typically, work by imbibing technology.
Such a scenario presents BPO services providers with a host of opportunities; however, third-party vendors need to enhance investment in building capabilities in areas such as consulting/design thinking, technology, and domain-led services to ensure they plug gaps where payers lack in-house capabilities. Additionally, this will help them position themselves as a vendor with differentiated offerings and help payers through this journey of becoming a "payer of the future". Service providers will play a significant role in helping the payers achieve that.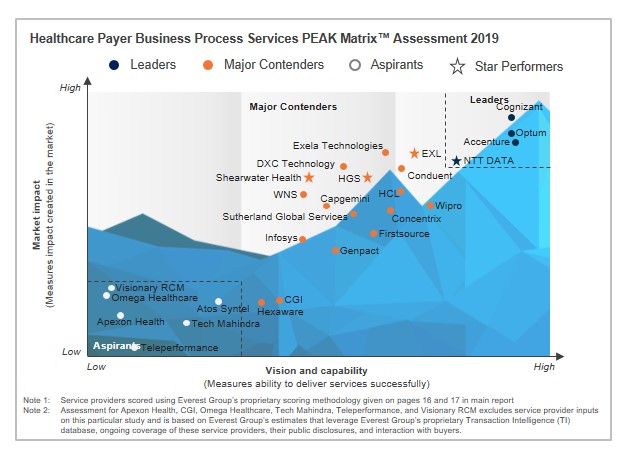 In this research, we will analyze the healthcare payer business process services landscape with focus on:
Relative positioning of 27 service providers on Everest Group's PEAK Matrix for healthcare payer business process services
Analysis of service providers' market share
Everest Group's analysis of service providers' strengths and areas of improvement
The scope and methodology of this report include:
Coverage of 27 healthcare analytics services providers: Accenture, Apexon Health, Atos Syntel, Capgemini, CGI, Cognizant, Concentrix, Conduent, DXC, Exela, EXL, Firstsource, Genpact, HCL, Hexaware, HGS, Infosys, NTT DATA, Omega Healthcare, Optum, Shearwater Health, Sutherland, Tech Mahindra, Teleperformance, Visionary RCM, Wipro, and WNS
Content
This report will assist key stakeholders (payers and BPO service providers) understand the changing dynamics of the healthcare payer business process services provider landscape. It will also help them identify Leaders, Major Contenders, and Aspirants. The report provides detailed analysis of the service provider market share, relative position on the Everest Group PEAK Matrix, capability assessment, and Everest Group's remarks on the service providers highlighting their key strengths and development areas.
Some of the findings in the report are:
The top five service providers – Accenture, Cognizant, Conduent, DXC Technology, and Optum – account for nearly 70% of the revenue of the healthcare payer BPS market
Accenture, Cognizant, EXL, HGS, NTT DATA, and Optum further consolidated their market presence with double-digit revenue growth
Accenture, Cognizant, EXL, HGS, and Optum were the highest contributors to the overall healthcare payer BPS market growth
Cognizant, Exela, EXL, and Optum accounted for more than 50% of all the clients in the healthcare payer BPS market
Cognizant, EXL, HGS, and Optum accounted for ~80% of all the new client logos added
Claims management, followed by member engagement, continues to be the largest and most competitive space. Additionally, due to increased demand from buyers, care management and risk & compliance processes are witnessing significant growth
While Optum has the largest market share among small- and mid-sized buyers, Exela leads in the large-sized buyer segment
Accenture, Cognizant, and Optum have a dominant presence across most of the healthcare payer BPS processes
Membership(s)
---
Page Count: 62