Healthcare enterprises have traditionally relied on outsourcing and offshoring to improve their business across multitude of parameters such as reducing costs, improving productivity and efficiency, and gaining access to talent and enhanced business continuity. Now, with most of these benefits being realized and slowly reaching the saturation stage, when coupled with some of the market changes, healthcare enterprises are looking at other ways to extract incremental benefits. This is where digital solutions play a critical role and within digital, automation (RPA and AI) is one such solution that has garnered maximum mindshare of enterprises during the last few years.
Some of the benefits that enterprises can achieve by implementing automation solutions include cost savings, enhanced customer experience and quality, revenue growth, better population health, improved speed, security, and governance and compliance. With healthcare enterprises struggling with perennial challenges such as rising costs and consumerization, regulatory changes, margins pressures, shift towards value-based care, and personnel shortage, automation seems like an appropriate and critical tool to help solve a host of problems. Claims and network management, member engagement, RCM, and patient engagement are the areas where automation, largely RPA, is currently deployed. However, as technology adoption increases and reaches at much more mature level, use of AI will impact more judgment-intensive tasks such as claims FWA detection and management, and disease and utilization management.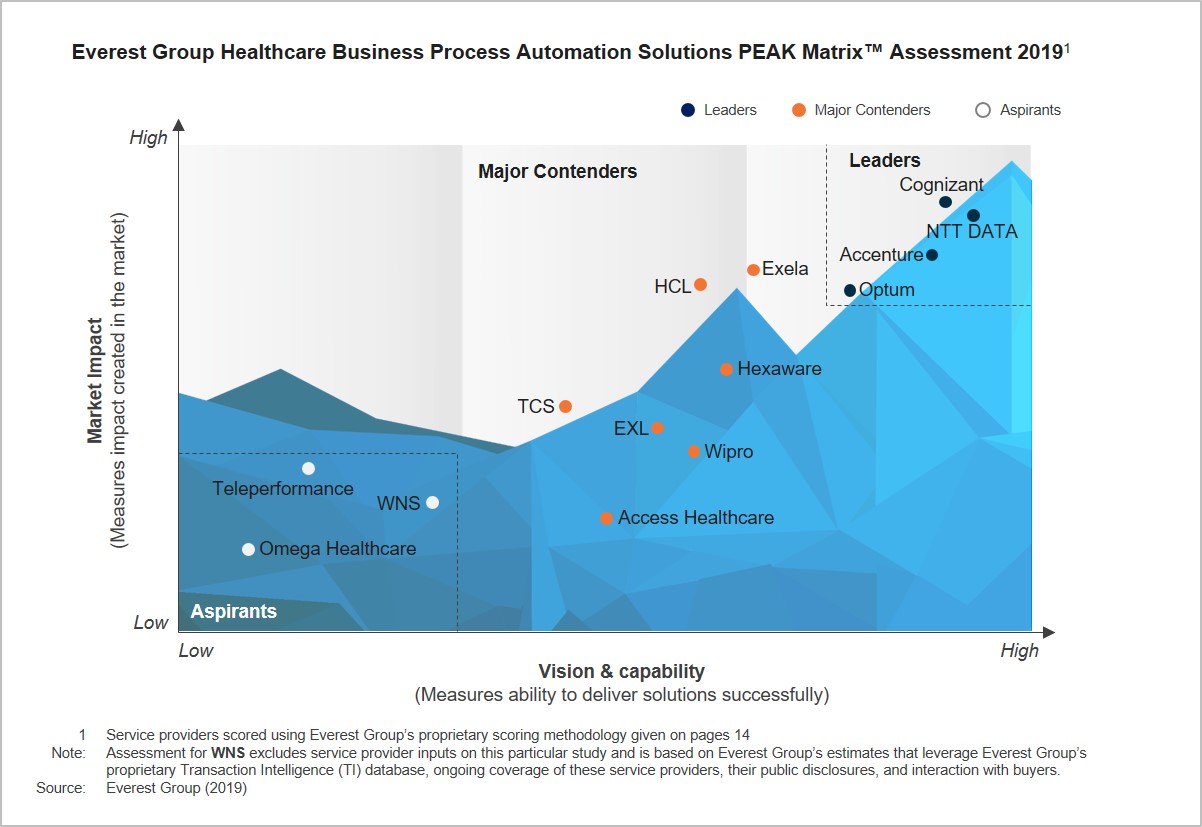 In this research, we will analyze the healthcare analytics services landscape with focus on:
Relative positioning of 14 service providers on Everest Group's PEAK Matrix for healthcare automation solutions
Analysis of service providers' market share
Everest Group's analysis of service providers' strengths and areas of improvement
The scope and methodology of this report include
Coverage of 14 healthcare analytics services providers: Accenture, Access Healthcare, Cognizant, EXL, Exela, HCL, Hexaware, Teleperformance, NTT DATA, Optum, Omega Healthcare, TCS, Wipro, and WNS
Content
This report will assist key stakeholders (payers, hospital networks, BPO service providers, and technology vendors) understand the changing dynamics of the healthcare automation services provider landscape. It will also help them identify Leaders, Major Contenders, and Aspirants. The report provides detailed analysis of the service provider market share, relative position on the Everest Group PEAK Matrix, capability assessment, and Everest Group's remarks on the service providers highlighting their key strengths and development areas.
Some of the findings in the report are:
Access Healthcare, Cognizant, HCL, and Optum are the largest service providers by the number of active POCs, together holding more than 70% of the market share
Cognizant, Exela, NTT DATA, and Optum lead the industry by the number of active clients; together they account for ~85% of the healthcare business process automation clients
With providers still playing catch up, payers continue to drive adoption of automation. Exela, NTT DATA, and Optum feature among the top four service providers across both the areas
Owing to their large scale of operations and a distributed buyer portfolio, Cognizant, Exela, NTT DATA, and Optum have dominant shares in all the buyer segments
Accenture, EXL, and Optum lead the market in terms of the total automation solution team size. While Accenture and EXL lead the market in the size of services FTEs, Optum and Exela have the highest number of FTEs dedicated to product development
Membership(s)
Healthcare & Life Sciences BPO