With products becoming increasingly intelligent and inter-connected, global product organizations are compelled to reimagine their traditional quality assurance practices. Increasing digitization and proliferation of new business models are giving way to intelligent quality engineering and digital Verification and Validation (V&V) methodologies, enabling enterprises to deliver superior product quality and differentiated customer experiences.
Enterprises are increasingly looking toward service provider engagements to help transform their V&V function into a technology-driven, scalable, and agile function. Testing as-a-service is another tenet that they are exploring with service providers to leverage end-to-end V&V capabilities without the need for heavy upfront investments.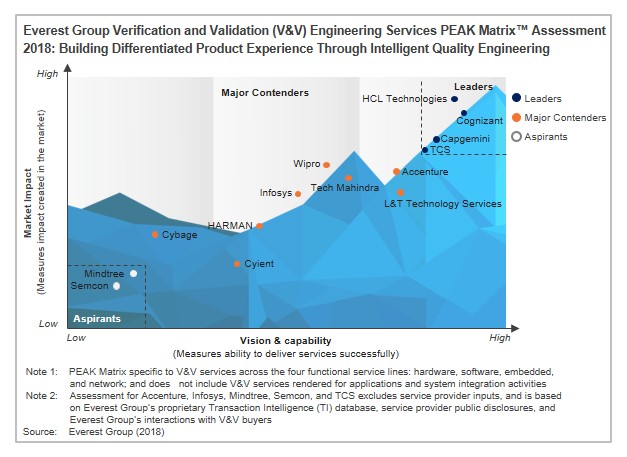 In this report, we analyze the capabilities of 14 leading engineering service providers in the V&V segment. These providers were mapped on the Everest Group PEAK MatrixTM, which is a composite index of a range of distinct metrics related to each provider's capability and market impact. We have also captured the key trends and digital technologies disrupting the V&V market, and related investments made by service providers.
In this report, we focus on:
V&V engineering services market landscape and key emerging trends
Assessment of service providers on multiple capability-related dimensions
Characteristics of Leaders, Major Contenders, and Aspirants on the Everest Group V&V engineering services PEAK Matrix™
Scope of the analysis
Market segment: V&V engineering services
Geography: Global
Service providers: 14 leading V&V engineering service providers
Contents
This report focuses on V&V engineering services outsourcing landscape and includes:
V&V engineering services market landscape

V&V global outsourcing market size and segmentation
Trends shaping the V&V market with a focus on key digital technologies that are transforming quality management activities

Everest Group PEAK Matrix

Service provider capability summary dashboard
V&V engineering services PEAK Matrix characteristics

Profiles of V&V engineering service providers
Membership(s)