Robotic Process Automation (RPA) – Technology Vendor Landscape with Products PEAK Matrix™ Assessment 2018
---
by

Amardeep Modi, Akash Munjal
Robotic Process Automation (RPA) has the potential to offer various key benefits – improved speed and accuracy, enhanced customer experience, and reduced cost, among others. Moreover, the value is realized in a fairly short time period, as the deployments are quick and at low risk due to the fact that the integration is typically non-invasive and easily remediable. As a consequence, many enterprises and global service providers are investing in this arena. However, RPA is a burgeoning market with technologies that are relatively new to many potential buyers in terms of solution features, deployment models, supporting frameworks, and commercial aspects. The technologies are also evolving, with an expanding feature set and increasing richness of functionality.
Scope and methodology
The report provides an assessment of RPA technology vendor landscape across various dimensions:
Everest Group's PEAK Matrix™ evaluation of RPA technology vendors
Remarks on key strengths and areas of improvement for each RPA technology vendor
Competitive landscape in the RPA technology vendor market
Key RPA technology trends and predictions
RPA products that are sold on license, and irrespective of any ongoing business or IT process outsourcing services, were considered for this report. These include software that can be deployed and run by the clients in-house or which requires professional services for deployment, as well as ongoing services that are part of a hosted offering. RPA products from 18 leading technology vendors across the globe have been assessed for this study.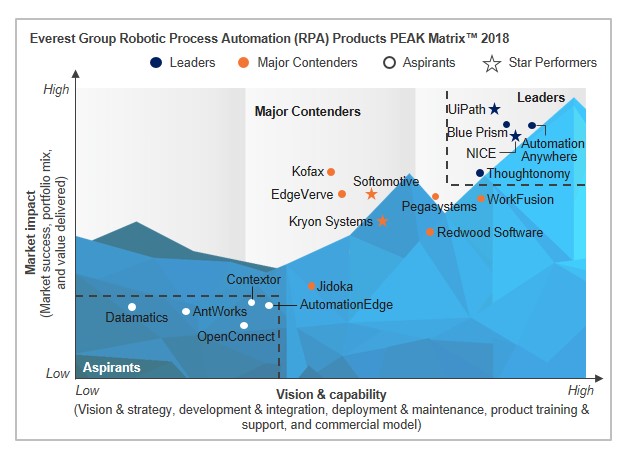 Content
This report will assist key stakeholders (enterprises, service providers, and technology vendors) understand the dynamics of the RPA products landscape. The report provides relative position of RPA technology vendors on the Everest Group Products PEAK Matrix™, capability assessment, competitive landscape & market share analysis, Everest Group's remarks on technology vendors highlighting their key strengths and areas of improvement, and insights into advances in RPA technologies.
Some of the findings in the report are:
Leaders: Automation Anywhere, Blue Prism, NICE, Thoughtonomy, and UiPath
Major Contenders: EdgeVerve, Jidoka, Kofax, Kryon Systems, Pegasystems, Redwood Software, Softomotive, and WorkFusion
Aspirants: AntWorks, AutomationEdge, Contextor, Datamatics, and OpenConnect
Everest Group also identified four RPA technology vendors as the "2018 RPA Market Star Performers" – NICE, Kryon System, Softomotive, and UiPath. This was based on the relative year-over-year movement of different technology vendors on the PEAK Matrix™
Automation Anywhere has the highest number of RPA clients. With over 600% year-over-year growth, UiPath closely follows
Automation Anywhere, Blue Prism, and UiPath are the top three vendors in terms of RPA license revenue
While Automation Anywhere and UiPath lead in North America and Asia Pacific, Thoughtonomy and Blue Prism have found the maximum success in the United Kingdom
While all vendors enjoy high overall client satisfaction (CSAT), Leaders command superior CSAT, more so with their product vision & roadmap and delivering better business results
Leaders have moved away from perpetual licensing to Membership-based licensing models. Advances in RPA technologies and increasing client maturity are fueling the rise of more output-oriented pricing models such as flexible usage-based and per-process or transaction-based models
RPA solutions continue to evolve with a host of capabilities to help enterprises achieve strategic business outcomes
Everest Group has a complimentary five-page PEAK Matrix preview document for this service provider landscape report.
Membership(s)
---
Page Count: 80